Your 18th birthday is the momentous day in your life when you officially become an adult. Of course, that doesn't mean you start acting like an adult – that usually comes much later, if ever. What it does mean is you get many of the rights and privileges of an adult, along with the consequences.
In short, it's a big, wonderful, somewhat ominous milestone. If you know someone turning 18 – whether it's a friend or a relative – it just wouldn't do to let the big day go by without sending a special birthday message. To help you find the right words for a card, text, or social media post, here's a list of ideas for wishing someone a happy 18th birthday.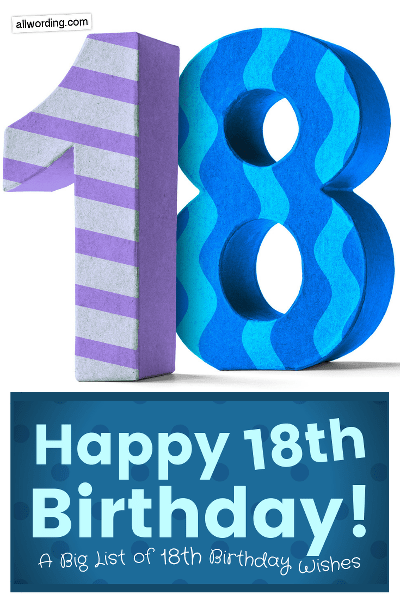 Note: If the adult-to-be is a boyfriend or girlfriend, you'll also want to check out these romantic birthday wishes.
Sincere
To start, here are some simple and heartfelt 18th birthday wishes.
Now that you're 18, it's a good time to start looking toward your future. From my vantage point, I see nothing but great things.
Welcome to adulthood, kiddo.

Happy 18th Birthday! You just went from being one of my favorite kids, to being one of my favorite adults!
Being an adult suits you. You always were wise beyond your years.
Now that you're 18, I hope you don't start worrying about acting like a grownup. You're amazing just the way you are.
Time to transition from being an awesome kid to being an awesome adult.
Even though you're officially a grownup, I hope you never lose that childlike sense of wonder, joy, and mischief.
Now that you're an adult, don't be surprised if I start coming to you for advice!
Take it from me: Just because you're technically an adult doesn't mean you have to grow up.
Kid, teenager, adult – you're the same awesome person to me.
Funny
Here are some humorous messages for an 18th birthday. For some ideas that are more on the corny side, see our list of birthday puns.
Congratulations on surviving to adulthood!
You're 18! How does it feel to finally be responsible for your actions?

You can now vote, get a tattoo and buy a lotto ticket… though I highly recommend doing those things one at a time.
You're now old enough to legally buy tobacco, but as far as I'm concerned, you were already smokin'.
Congratulations on being old enough to really make a mess of things.
I was going to put some cash in your birthday card, but then I remembered… you're a grownup now, we don't do that anymore!
Being 18 means you have the judgement of a teenager combined with the legal rights of an adult. Good thing you're a lot smarter than I was at your age!
You're all grown up now. Time to sit down with a cup of decaf and listen to some sweet, sweet NPR.
You're 18? Better start brushing up on those Age of Consent laws, kid.
Don't get into too much trouble on your birthday. Remember, you're old enough to do time now!
For Daughter
Here are some special 18th birthday wishes from parent to daughter.
Sorry, but just because you're legally an adult doesn't mean I'm going to stop thinking of you as my little girl.
It's impossible to calculate how much joy you've brought us over the past 18 years. We couldn't be prouder of the woman you've become.
Happy Birthday to my beautiful daughter. I've spent the last 18 years looking at you and thinking "I made this???"
Happy 18th Birthday, sweetheart. Watching you grow into a young woman has been the honor of our lives.
My little girl is officially a woman! I don't know whether to laugh or cry. Guess I'll do both.
For Son
Finally, here are some birthday messages from parent to son.
Raising you was always an adventure. Seeing the man you've become is the reward.
You might be a man now, but you're not on your own. We will always be there for you.
You can't really be 18, can you? I'm much too young to have an adult son.
We got you to adulthood. You take it from here, son.
We must have done something right to raise such a wonderful, thoughtful, strong young man.
Want even more birthday wording ideas? Check out these short birthday wishes.