What separates an ordinary Halloween yard haunt from a truly spook-tacular one? Expensive animatronic props, of course. But aside from that, it's the small details, like the epitaphs you use for your fake tombstones.
Just like real epitaphs, the sayings on gravestone props can take a variety of forms, from simple phrases to verbose poems. However, unlike real epitaphs, these Halloween sayings are all about fun. They can be clever, spooky, or cute, just as long as they're inspired by the playful spirit of Halloween.
To illustrate, here's a big list of Halloween tombstone sayings of various types. Some of these have been making the rounds for years, while others are new and original. We hope you're able to dig up an idea or two for your own haunted yard.
Funny | Scary | Short | Names | Themes
Funny
Humorous gravestones are always a big hit on Halloween. Here's a selection of epitaphs that are sure to generate a nervous chuckle from visitors to your "cemetery."
Mary, Mary, quite contrary
How does your garden grow?
Quite well, I bet, since it's well fed
By your body down below
He caught a fishbone in his throat
Which made him sing an angel's note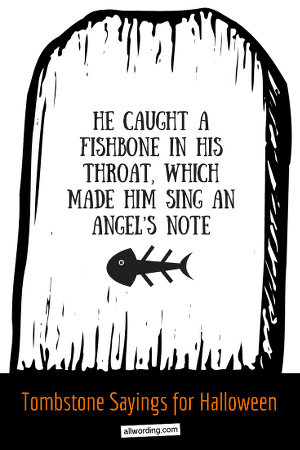 Beneath this stone my wife doth lie
Now she's at rest and so am I
I was Carolina Born
And Carolina bred
And here I lay
Carolina dead!
Jason Voorhees
1946 – 1957
1980 – 1981
1985 – 1986
Etc.
Here lies the body of Lester Moore
Three slugs from a forty-four
No Les, no more
Here Lies Mozart
Decomposing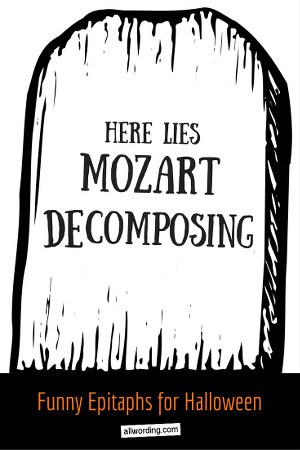 Here Lies Our Beloved Randy
Kicked the Bucket From Too Much Candy
Shot in the head by a golfer's gun
He sure put a hole in Juan!
He said "No net!" and knew no fear
He made a misstep and wound up here
Here at rest lies Cowboy Joe
Grabbed the bull by the horns
But forgot to let go
Too much candy made Billy burst
They boxed up the pieces in the hearse
Owen Moore has passed away
Owin' more than he could pay
On the 22nd day of June
Jonathan Fiddle went out of tune
Here lays Butch
We planted him raw
He was quick on the trigger
But slow on the draw
He was so brave
He was so cute
Until he forgot
His parachute
Wherever you be
Let your wind go free
For holding it in
Was the death of me!
First a cough
Carried me off
Then a coffin
They carried me off in
William Gunder
Made one little blunder
Now he's six feet under
Beneath this stone lies a merry lass
Who aimed for the brake and hit the gas
Scary
If you'd rather give trick-or-treaters a shiver than a laugh, check out these spooky epitaphs.
Remember me as you pass by,
As you are now, so once was I,
As I am now, so you must be,
Prepare for death and follow me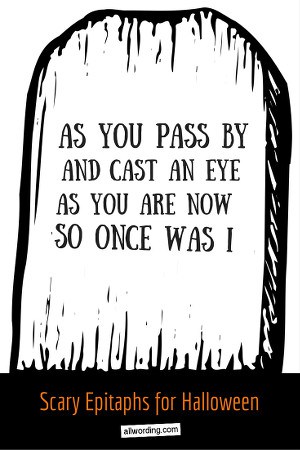 As you pass by
And cast an eye
As you are now
So once was I
I Shall Return on All Hallows Eve
Born June 16, 1856
Buried September 8, 1889
Died September 11, 1889
While living folks my tomb do view,
Remember well – there's room for you!
We all have a debt
To nature due
I've paid mine
And so must you
Not Resting in Peace
The wise, the sober and the brave
Must try the cold and silent grave
Roses are red,
Violets are blue,
He came for me,
And he'll come for you
Here lies blood, and let it lie
Speechless still, and never cry
For more ideas, check out this list of the scariest quotes of all time.
Short Ones
Don't have much space? Need to write in large letters so people can see? Then one of these short tombstone sayings might do the trick.
I told you I was sick!
Rest in Pieces
Bubba Turner
"Hey y'all… watch this!"
Here I lay, rotting away
Well This Sucks
Don't make me come up there!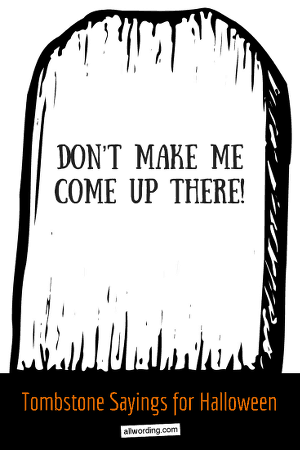 Your Name Here
You're Next
Immortally Challenged
Oops!
Names
Another option is to just use a name for your inscription. Here are a few good ones that make use of puns and morbid humor.
Ima Rottin
Barry M. Deep
Elvis
Dee Cayen
M.T. Grave
Izzy Deadyet
Jimmy Hoffa
Seymour Butz
Barry D'Alive
Yul B. Next
May B. Walken
Al B. Backe
Dee Parted
Cross Dover
Pearl E. Gates
For more ideas along these lines, see our list of funny skeleton names.
Graveyard Themes
If you have several tombstones to work with, one clever option is to make them all fit a particular theme. The possibilities are endless, but we've outlined a few standout ideas here.
The Walking Dead
Any television show with a high body count is perfect for a themed Halloween graveyard, but because of its zombie-centered plot, The Walking Dead is especially apropos. Here's just a short list of well-known characters who have died on the show:
Carl Grimes
Glenn
Abraham Ford
Tyreese
Merle Dixon
The Governor
Lori Grimes
Andrea
Hershel Greene
Beth Greene
Shane Walsh
Game of Thrones
Everyone's favorite fantasy series is another great candidate for a themed graveyard. If you're a GoT geek, you know that many of the show's major characters have bitten the dust in memorable ways. Here's a quick reminder of some of the options:
Joffrey Baratheon
Ned Stark
Robb Stark
Drogo
Movie Slashers
A graveyard featuring some of most notorious characters in horror can be both creepy and clever. While there are lots of fictional killers to consider for your headstone props, here are some of the biggies:
Jason Voorhees
Michael Myers
Leatherface
Freddy Krueger
Norman Bates
As you can see, there are plenty of options for Halloween tombstone sayings. You can even make up your own (see these short Halloween quotes for even more inspiration). Using your own creativity is a great way to come up with epitaphs that will really knock 'em dead.