Contrary to popular belief, Cinco de Mayo (Fifth of May, for the Spanish impaired) is not Mexican Independence Day. It's actually the day the Mexican Army won a shocking victory against invading French forces in 1862. Not only does the holiday commemorate a great military victory, but also celebrates Mexican unity in the face of overwhelming odds.
At least, that was the original idea. Today, Cinco de Mayo is much more popular in the United States than in Mexico. And while it's nominally about honoring Mexican-American culture, let's be honest – it's Taco and Margarita Day as far as most people are concerned.
In other words, it's not a holiday to be taken too seriously. Much like it's Irish cousin Saint Patrick's Day, Cinco de Mayo is a good time for rollicking humor and all-around silliness. In that spirit, here's a list of funny Cinco de Mayo sayings to share with your amigos.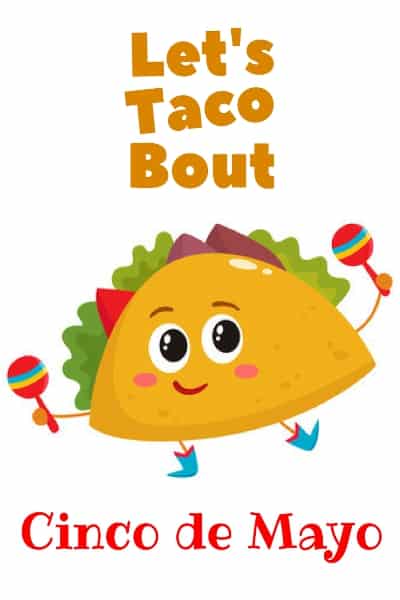 Puns
When it comes to inspiring godawful puns, Cinco de Mayo is nacho average holiday. Here are some examples of cheesy Cinco-themed wordplay:
Happy Drinko de Mayo!
Happy Cinco de Drinko!
Happy Gringo de Drinko!
Hope you have a Mexcellent Cinco de Mayo!
Cinco de Mayo is here! Let's give 'em something to taco bout!
How much Mexican food do I plan to eat this Cinco de Mayo, you ask? That's nacho business!
Cinco de Mayo is boring… said no Juan ever.
Let's taco bout how we're going to shell-ebrate Cinco de Mayo.
Cinco de Mayo is nacho ordinary holiday. It's time to rock out with your guac out!
Jokes
There are two Spanish words that perfectly describe the following Cinco de Mayo jokes: muy malo. Like shots of cheap tequila, they go down quick but leave a foul aftertaste – and may induce vomiting in those with weaker constitutions.
What do you call a group of skunks drinking tequila?
Stinko de Mayo!
How many Mexicans does it take to celebrate Cinco de Mayo?
Just Juan!
How do they serve beer on Cinco de Mayo?
In Mexi-cans!
Which Disney princess only comes out on Cinco de Mayo?
Taco Belle!
What do you call a cargo ship full of mayonnaise that goes down in the ocean?
Sinko de Mayo!
Knock knock.
Who's there?
Juan.
Juan who?
Juan to go out for margaritas on Cinco de Mayo?
Other Funny Cinco de Mayo Sayings
Still haven't had enough? Here are a few more Cinco de Mayo greetings, quotes, and assorted sayings.
Remember, Cinco de Mayo isn't just about drinking margaritas. It's also about tacos, burritos, and quesadillas.
It's funny how Cinco de Mayo always seems to fall on May 5.
As you all know, May 5 is the traditional Mexican holiday celebrated by filling up your sink with mayonnaise.
Cinco de Mayo: The greatest Mexican holiday that few Mexicans even know about.
Cinco de Mayo: As if I needed an excuse to get wasted on tequila.
Don we now our gay sombreros!
Cinco de Mayo: The only holiday where we celebrate binge drinking and cultural stereotypes. Er, besides Saint Patrick's Day.