Cheesy expressions of love are at the heart of Valentine's Day. And yes, that pun is very much intended – and appropriate, given the "punny" humor of many Valentine's messages.
Whether it's printed on a greeting card or etched on a chalky piece of candy, a cornball saying has the ability to make you smile and groan at the same time. For some, they're a cringeworthy part of the holiday to be avoided at all costs. For others, they're a guilty pleasure – much like a big box of assorted chocolates you know you shouldn't polish off in one sitting.
If you fall into the second group, here's a collection of cheesy Valentine's Day messages to sink your teeth into. Unlike that box of chocolates, they're calorie-free. However, we can't promise you won't wind up with a stomachache after reading through these saccharine sayings.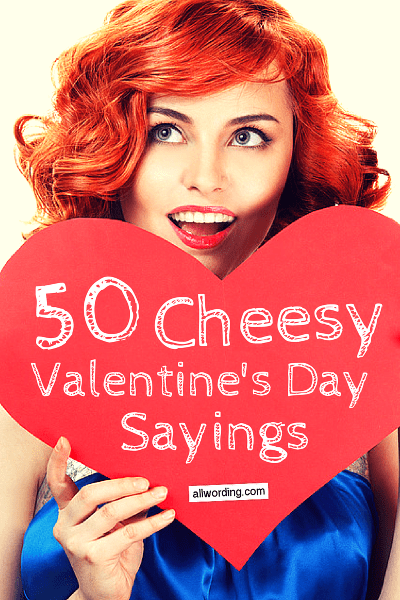 Puns
Most cheesy Valentines include a pun related to romance or love, often accompanied by a cartoon or other picture. Here are some "punny" examples.
(Any Wild Animal) I'm WILD about you, Valentine.
(Any Wild Animal) You drive me WILD.
(Bee) You're the BEE'S KNEES.
(Car) You make my heart RACE.
(Cat) You're PURR-fect for me.
(Dog) You're DOGGONE cute!
(Fox) You are one FOXY lady.
(Lion) You're adorable, and I ain't LION.
(Moon) You send me over the moon.
(Playing Cards) You're the [KING/QUEEN] of my heart.
(Sheep) I love EWE from the bottom of my heart.
(Socks) We make a fine PAIR.
(Superhero) You're my hero, Valentine.
(Teddy Bear) Life without you would be un-BEAR-able.
(Train) I CHOO-CHOO-choose you.
Candy & Snack Sayings
Another corny way to express your feelings is by sending the object of your affection a cute saying with candy or another snack item.
(Any Candy) Sweets for my sweetie.
(Any Candy) Nothing could be sweeter than being your Valentine.
(Any Candy) Give me some sugar, baby.
(Almond Joy) You bring JOY to my life.
(Apple) You're the APPLE of my eye.
(Cheetos) I heard you like CHEESY Valentines.
(Chocolate Covered Strawberries) I love you BERRY much.
(Corn Nuts, Fritos) I heard you like CORNY Valentines.
(Crush Soda) I'm CRUSHING on you.
(Gum) I'm STICKING with you.
(Gummy Worms) You've really WORMED your way into my heart.
(Orange) ORANGE you glad we met?
(Pop Rocks) You ROCK my world, Valentine.
(Red Hots) I have the HOTS for you.
(Starbursts) When I look in your eyes, I see STARBURSTS.
Pickup Lines
When you think about it, pickup lines are really just a more adult form of the goofy sayings on children's Valentines. Of course, they tend to be a little more racy.
Do you know first aid? Because Cupid just shot me straight through the heart.
I sure hope my parachute opens, because I'm falling fast for you.
When I saw you, I knew I was on the right track… because my heart was off and racing.
The Surgeon General ought to put a warning on you, because you are smokin' hot.
You're like a broken staircase. You make me go head over heels.
I need a compass when I look at you, because I keep getting lost in your eyes.
Did it hurt when you fell from heaven?
Who needs chocolates when there's eye candy like you around?
If being sexy was a crime, you'd be on the Most Wanted List.
Do you like photography? Because I'd love to take you to a darkroom and see what develops.
I believe you stole something of mine – my heart.
If I said you had a beautiful body, would you hold it against me?
Good thing I'm over 21, because your beauty is intoxicating.
You must be a beaver, because all I think of when I see you is Dam!
You make every day seem like Valentine's Day.
Poems
The ultimate cheeseball way to express your love is through a poem. Here are some awesomely awful examples.
Roses are red
Violets are blue
Tamales are hot
And so are you
Roses are red
Violets are blue
But they both turn green
Out of envy for you
Here's a Valentine's poem
To make your heart glow
I love you, my sweet
Even more than you know
I love you
You love me
Let's get it on passionately
Roses are red
Violets are blue
Here's a cheesy Valentine
Just for you
If you're sending a gift this Valentine's Day, consider topping it off with one of the corny sayings above. For even more ideas, see our lists of flower and cupcake puns.