Easter conjures memories of egg hunts, bunny costumes, and baskets overflowing with candy and toys. Notice a common thread here? Many of the holiday's traditions are centered around children, a fact that gives Easter a little extra significance to people who have kids of their own.
If you have a daughter, you don't really need an excuse to tell her how much she means to you. Nevertheless, Easter provides a pretty good one. So, when you're sending out your Easter greetings, it only makes sense to save a special one for such a special person.
For ideas on what to say, take a gander at the following list of Easter wishes for a daughter. They come in a variety of styles – from sappy to silly – so you can find the perfectly worded message for your little honey bunny.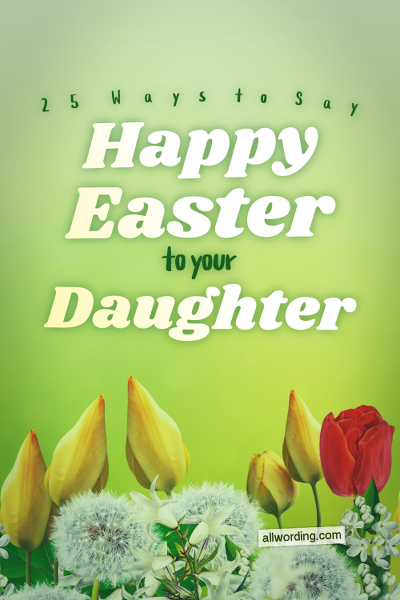 Sincere | Cute | Religious | Daughter-in-Law
Sincere
The following Easter greetings for a daughter are simple, straightforward, and sincere.
Thinking of you puts a spring in my step! Happy Easter to a wonderful daughter!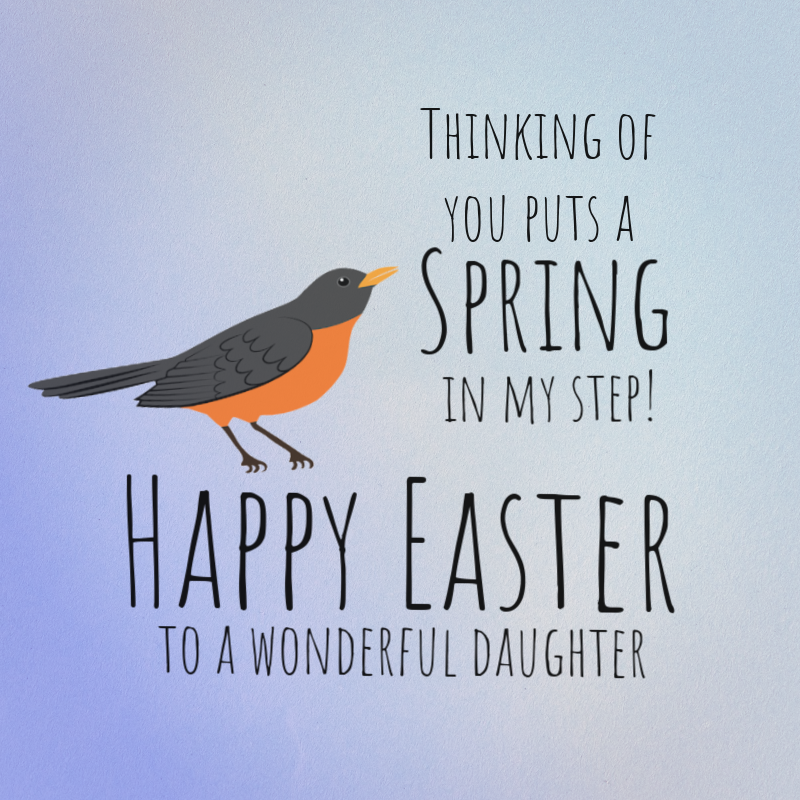 Happy Easter to a lovely daughter and her equally lovely family. Love you all!
Sending you some warm thoughts to go with the warmer weather. Have a delightful Easter, sweetheart.
The blooming flowers of spring remind me of you. Happy Easter to my beautiful daughter.
Happy Easter to the most wonderful daughter a person could ask for. Hope your spring is equally wonderful, sweetheart!
To a special daughter at Easter… wishing you peace, joy, and most of all, love.
Happy Easter to my daughter and son-in-law. Enjoy the nicer weather and everything else the season has to offer.
I hope Easter brings you even half of the joy you give me every day just by being my daughter. Love you, darling!
Happy Easter to a girl who is as brilliant as a spring morning. Love you, sunshine!
Cute
Here are some cute and clever Easter messages for your little girl. For more funny ideas, check out our list of Easter Bunny puns.
Happy Easter to one eggs-traordinary daughter!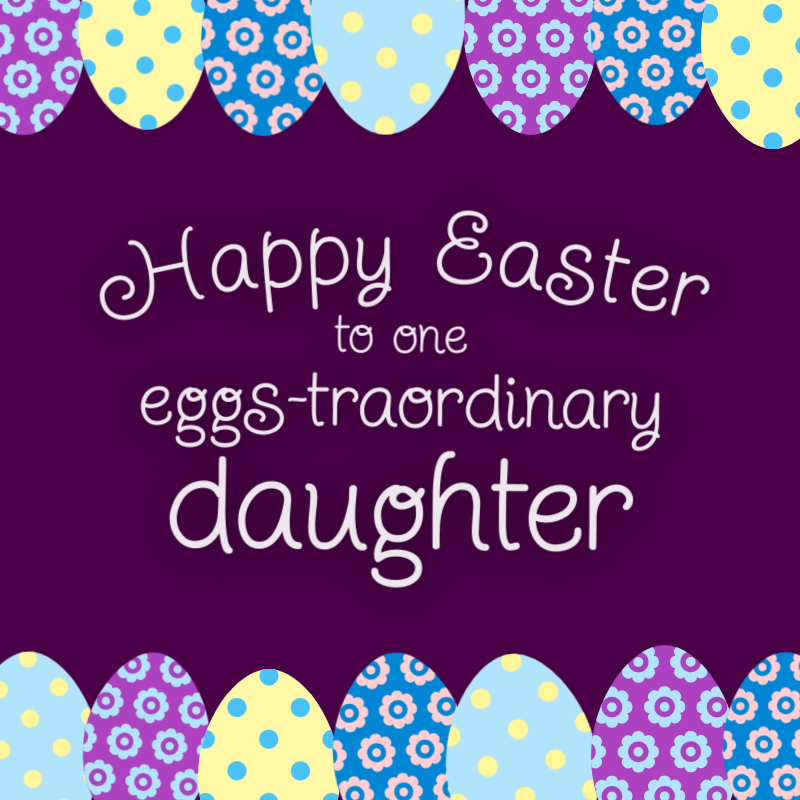 May your Easter be as sweet as a basketful of chocolate. Happy Easter and Happy Spring, dear!
To my wonderful daughter… wishing you peace, joy, love, and all the Peeps you can eat this Easter.
I will always remember coloring Easter eggs with you when you were little. Happy Easter to a daughter who is truly to dye for!
Hoppy Easter, sweetheart! Hope you know that there's no bunny I would rather have as a daughter!
Happy Easter to my sweet daughter. I wouldn't trade you for all the chocolate in the Easter Bunny's stash.
Did you hear about the daughter who hated her Dad's Easter puns? I guess she just couldn't take a yolk! Just a little Easter humor to crack you up!
Religious
Here are some Easter greetings that reflect the profound spiritual character of the holiday. For Palm Sunday messages, check out this article.
God smiled on me the day you were born. Happy Easter to my beautiful daughter.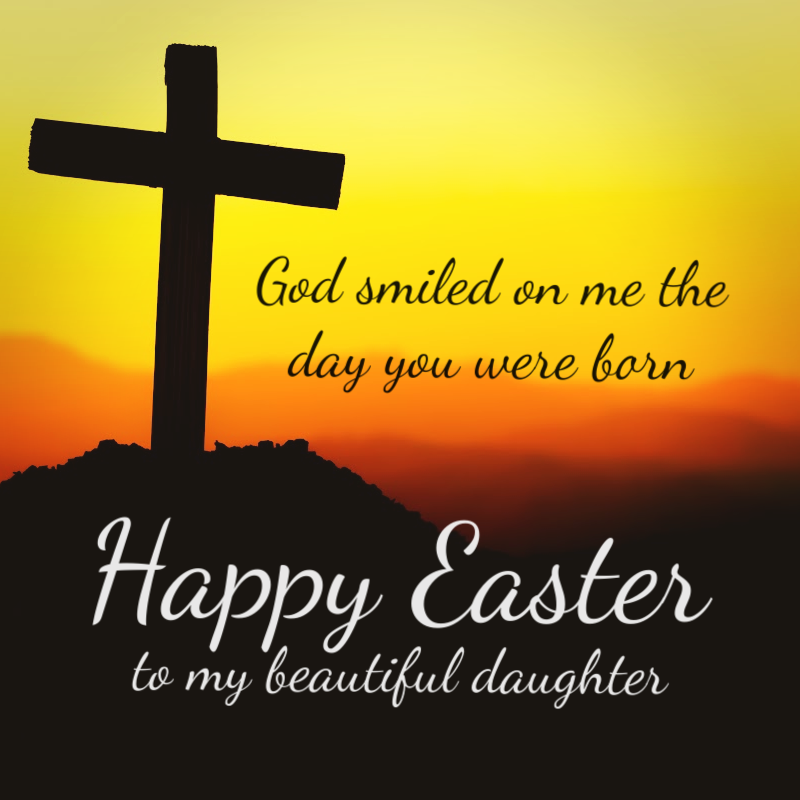 Easter reminds us of God's many blessings, and the greatest blessing I've received is you. Happy Easter, sweetheart.
To my wonderful daughter… may God bless you at Easter time and throughout the year. I love you.
Have a blessed Easter, little girl. You mean the world to me.
To our daughter… wishing you a glorious Easter Sunday and a beautiful spring.
Daughter-in-Law
Finally, here are a few Easter wishes specifically for a daughter-in-law.
To my amazing daughter-in-law… wishing you a basketful of joy this Easter!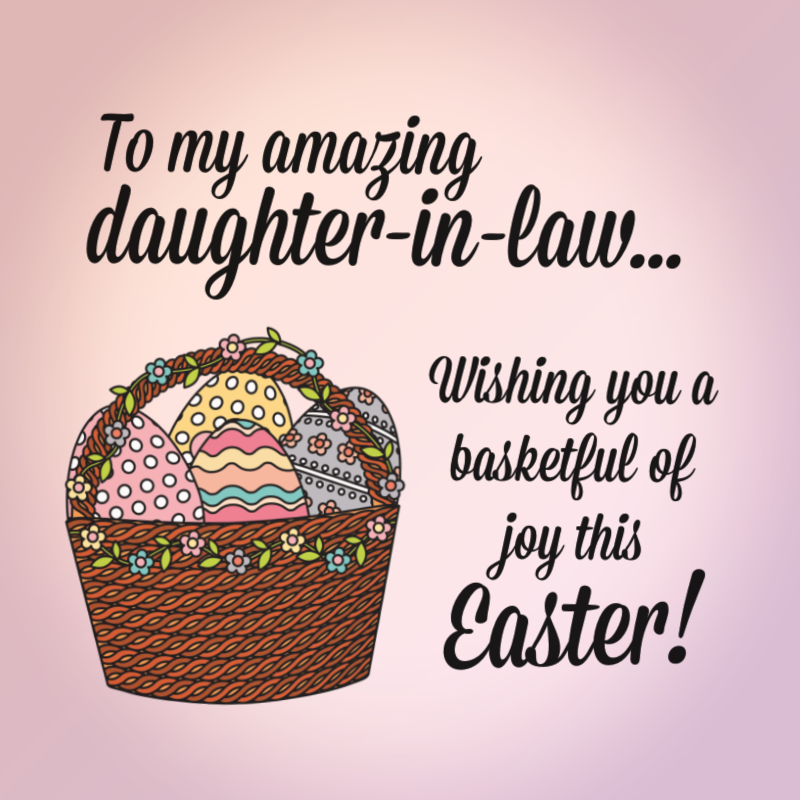 Happy Easter to a wonderful daughter-in-law! Hope your spring is full of beauty and bliss!
Like a kid opening an Easter egg with $20 inside, my son got lucky when he found you! Happy Easter to a wonderful daughter-in-law!
Wishing my great daughter-in-law a blessed Easter. We're so grateful for everything you do for your family.
Have a son as well? We have Easter greetings for him, too.