When you think about it, Easter is a perfect time to touch base with friends and family. Coinciding with the start of spring, the holiday is strongly associated with themes of rebirth, resurrection, and renewal. So why not renew your relationships with the most important people in your life?
That would include your sister, of course. Maybe you have fond memories of coloring eggs with Sis, or waking up early on Easter Sunday to tear into your baskets. Regardless, your sister is someone who deserves a special greeting from you on one of the biggest holidays of the year.
If you're not sure what to say, we can help with that. The following list of Easter messages for a sister come in a variety of styles, and are ideal for sharing in a greeting card, social media post, or text message.
Sincere | Cute | Religious | Sister-in-Law
Sincere
Here are some Easter wishes for Sis that are simple, straightforward, and sincere.
An Easter wish for an egg-ceptional sis! Happy Easter!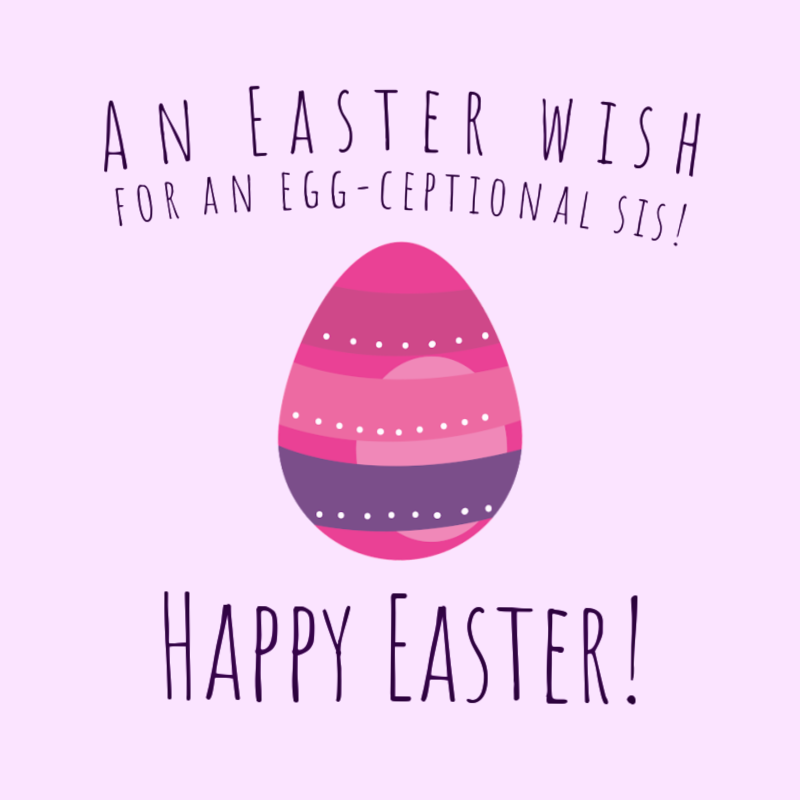 Spring is bright, lively, and beautiful – just like you! Happy Easter to my wonderful sister!
Coloring eggs, visiting the Easter Bunny, eating candy until we got bellyaches… I have so many fond memories of Easter, and you're a big part of them. Happy Easter, Sis.
Happy Easter to my sister and brother-in-law. Wishing you both all the best this Easter and in the days ahead.
Happy Easter, Sis! May you get all the chocolate bunnies and marshmallow chicks you can handle!
At Easter and every other time of the year, I'm thankful to have a sister like you. Happy Easter, and have a wonderful spring.
Happy Easter to my wonderful sister and her beautiful family. Hope you all enjoy spring to the fullest!
To my sister and her partner… wishing you both a basketful of joy this Easter!
If I had a jelly bean for every nice thing you've done for me, I'd be drowning in them (and you'd probably be there to save me). Happy Easter to a sister who has always been there for me.
As the spring sunshine warms my skin, so do thoughts of you warm my heart. Happy Easter to my remarkable sister.
Cute
Here are some clever and funny greetings to share with some-bunny special like your Sis. For more ideas, see our list of bunny puns.
You and I are like a couple of Easter eggs on a collision course: When we get together, we always crack each other up! Happy Easter!
Happy Easter to a wonderful sister, a great friend, and the most ruthless Easter egg hunter I have ever known.
I used to think you were rotten, but now I think you're a good egg. Have an egg-stra special Easter, Sis!
The Easter Bunny always did like you better. Probably why I grew up to be such a basket case. Happy Easter, Sis!
After all those Easters coloring eggs with you when we were kids, I can honestly say… I would dye for you. Have a Happy Easter, Sis!
Hoppy Easter from your hare-brained sister!
The Easter Bunny only wishes he had your energy! Happy Easter to my go-getter sis!
You're sweeter than a chocolate bunny and twice as cute! Happy Easter to my lovable sister!
We may not be spring chickens, but we'll always be birds of a feather. Happy Easter, Sis!
Hey Sis… did you hear about the girl who went looking for the Easter Bunny? She looked everywhere but saw neither hide nor hare of him! Happy Easter!
Religious
Looking for a more spiritual message? Here are some religious Easter greetings for a sister. You might also want to check out our list of ways to say Happy Palm Sunday.
Sister… may your days be bright, beautiful, and blessed. Happy Easter.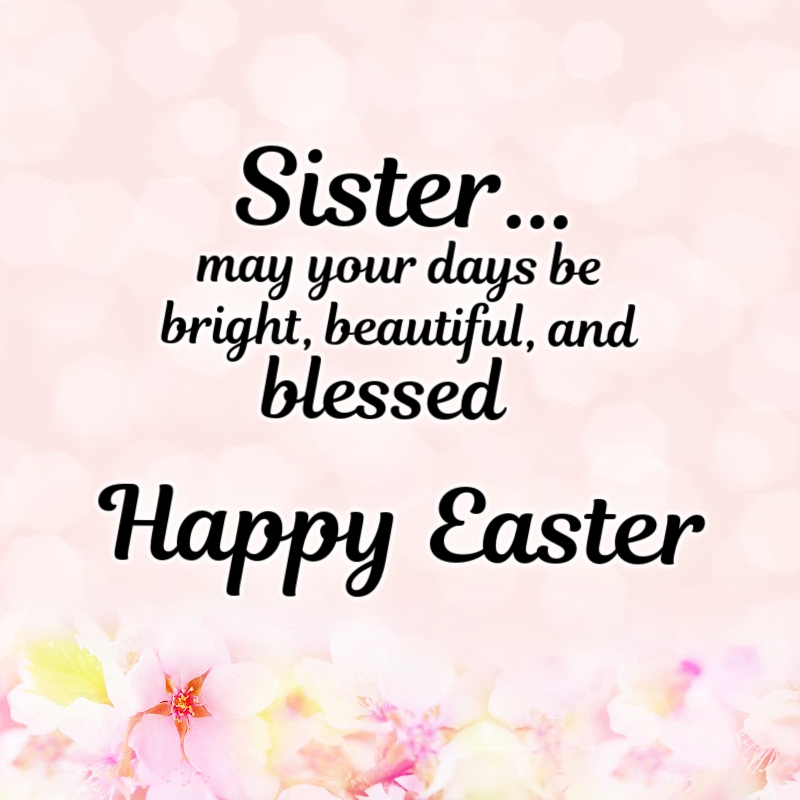 At a time of year when God's grace is all around us, I feel especially blessed to have a sister like you in my life. Happy Easter, Sis.
God has blessed me with so many things, including my beloved sister. Have a joyful Easter and a wonderful spring.
Easter is a time of miracles, and one of the greatest miracles of all is the love between siblings. Happy Easter to a great sister and a wonderful friend.
Sis… just wanted to remind you that you're in my heart and prayers, not just at Easter, but always.
Sister-in-Law
Finally, here are some Easter greetings to share with a sister-in-law.
The Easter Bunny is great and all, but you deliver for your family all year round. Happy Easter to an amazing sister-in-law!
To my sister-in-law… hope you get a chance to relax this Easter, preferably with a big hunk of chocolate in hand.
Happy Easter to my sister from another mister!
My brother was never very good at Easter egg hunts, but he sure found something special when he met you. Happy Easter to an awesome sister-in-law.
Happy Easter to my amazing sister-in-law. At Easter, and every other time of year, I'm so grateful that you're part of our family.
Don't forget about other family members! We also have collections of Happy Easter messages for mothers, daughters and sons.