Easter is a holiday that features many beloved traditions, and in a lot of families, Mom is the one who makes it all happen. She's often the one who plans the egg hunt, stuffs the baskets, lines up pictures with the Easter Bunny, and gets everyone dressed up for church services. In short, if you have fond memories of Easter growing up as a kid, many of them were probably thanks to your mother.
For all of those reasons, Mom deserves a little special treatment at Easter time. Of course, there's also all the other stuff that mothers do for their kids every single day. And if all that isn't enough, there's the simple fact that she's your Mom.
To help you show your love and appreciation, we've put together the following list of Easter wishes for your mother. Some are designed to melt her heart, while others are meant to elicit a laugh. But they all, in their own ways, let Mom know that she means a lot to you.
Warm | Lighthearted | Religious | Mother-in-Law | Mother in Heaven
Warm
Here are some Easter greetings for Mom that are simply affectionate.
Easter is warm, bright, and full of life… just like my Mom. Happy Easter to a wonderful lady!
Mom… you're part of all my favorite Easter memories. Thank you for being you – and Happy Easter!
Who needs the Easter Bunny when I have a Mom who brings me joy every single day? Happy Easter to my sweet and loving mother.
Happy Easter, Mom! Hope you enjoy some chocolate bunnies, creme-filled eggs, marshmallow chicks, and all the other sweetness the season has to offer!
Mom, hope you have a wonderful Easter. You deserve it for making all of my Easters wonderful as a kid.
Mom… sending you warm wishes for a Happy Easter. I love you!
When I think of this amazing time of year, you always spring to mind! Happy Easter to a Mom who made all my holidays special growing up!
Lighthearted
If you're looking for a fun and festive message for Mom, one of these options might be just what the Easter Bunny ordered.
I could look everywhere and never find another Mom like you. Happy Easter to an egg-ceptional lady!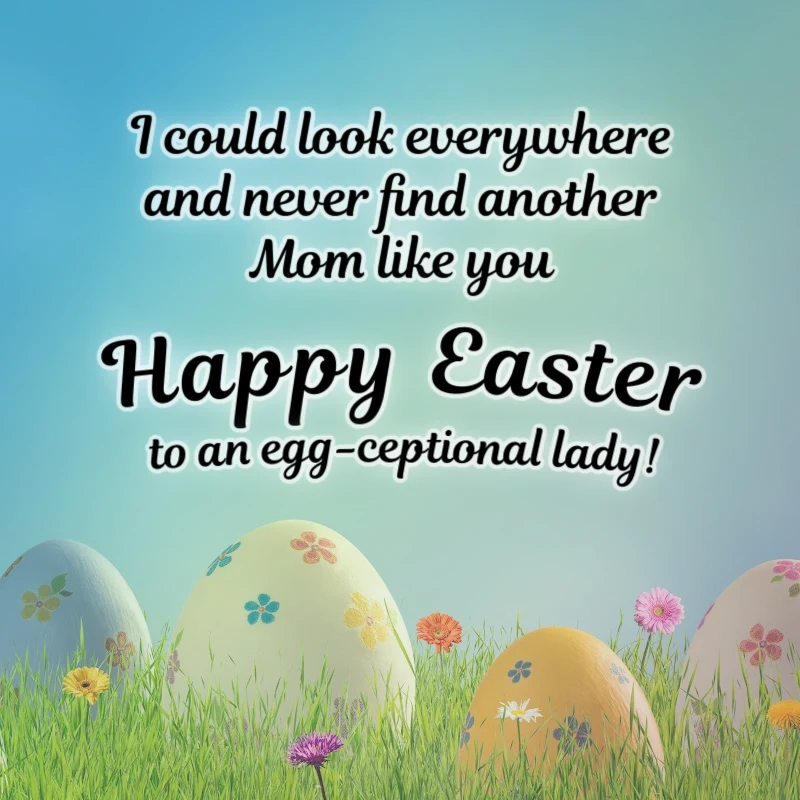 Like a chocolate creme egg, you're full of sweetness! Happy Easter, Mom!
Happy Easter to my awesome Mom! It takes a special kind of woman to buy gifts and candy for her kid every Easter and let a dumb bunny take all the credit.
Happy Easter to a lady who's way too good at hiding eggs. Seriously, there are probably still some in the backyard from when I was a kid!
Mom… wishing you joy, love, and peace this Easter. The "peace" part should be easy, now that you don't have an annoying little kid waking you up at dawn on Easter Sunday!
I know you won't have any kids to color eggs with this year, but I still hope your Easter is to dye for! Love you, Mom!
Religious
Obviously, Easter is one of the most significant holidays on the Christian calendar. Here are some Easter sayings for Mom that offer a more spiritual message. Note that we have a separate article for Palm Sunday greetings.
Mom… wishing you a blessed Easter and a beautiful spring!
I thank God for you – not just at Easter, but all the year through. Happy Easter to a wonderful mother!
Mom… you taught me faith, morals, and the true meaning of Easter. For all your lessons, and all you do, thank you. Have a blessed Easter!
Happy Easter, Mom. May your heart rejoice knowing that God is present here on Earth.
Mother-in-Law
Here are a few Easter greetings for a mother-in-law.
Happy Easter and Happy Spring to my wonderful mother-in-law!
Happy Easter to a fantastic mother-in-law. Hope you get a chance to relax and enjoy all the blessings of the season.
Happy Easter to my amazing mother-in-law! Even the Easter Bunny can't keep up with you!
You raised a good egg, and I'm so lucky I found him! Hope you have an eggs-tra special Easter!
Mom in Heaven
Holidays like Easter always call to mind loved ones who have passed. Here are a few Easter messages for a mother looking down from heaven.
Easter is a reminder that love is stronger than death. Happy Easter to my beautiful mother in heaven.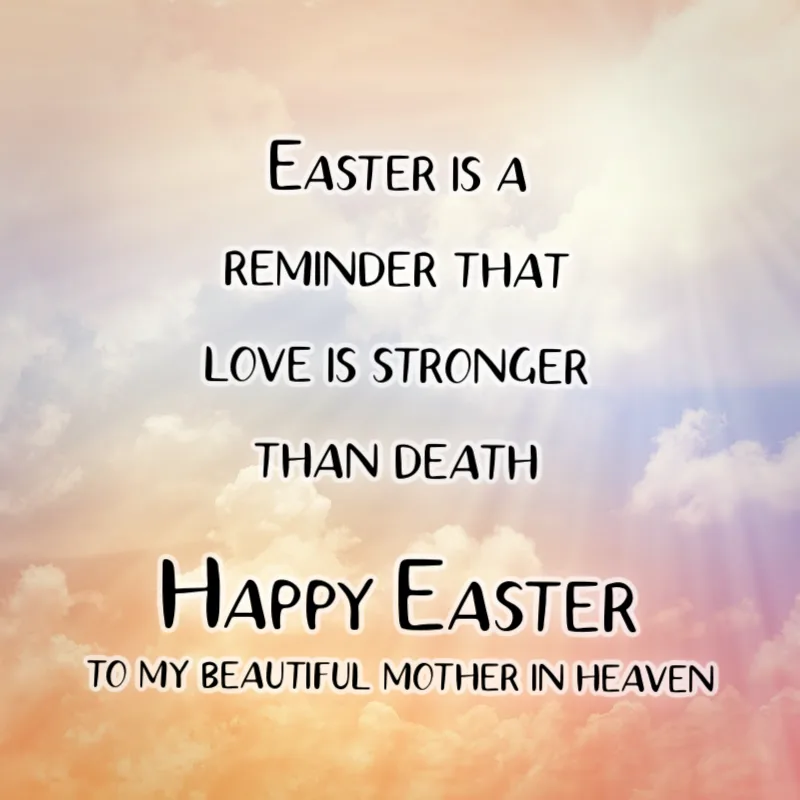 Happy Heavenly Easter, Mom. I still love and miss you, and I know I always will.
Happy Easter to my Mom in heaven. I feel your warm smile when the sun shines down on me on a spring morning.
Happy Easter to my wonderful Mom in heaven. She passed some time ago, but remains in my heart.
Don't forget to send a special Easter wish to all your other family members. We have ideas on what to say to a daughter, son, and sister.