A good event name is like an Easter egg. It's colorful. It sparks curiosity. And perhaps most importantly – at least as far as event planners and egg hunters are concerned – it's often hidden in plain sight.
If you're searching for a good name for your upcoming Easter egg hunt… you're getting warmer. The following list of Easter egg hunt names feature clever wordplay about eggs (natch), bunnies, and other springtime staples – with a heavy emphasis on puns. Happy hunting!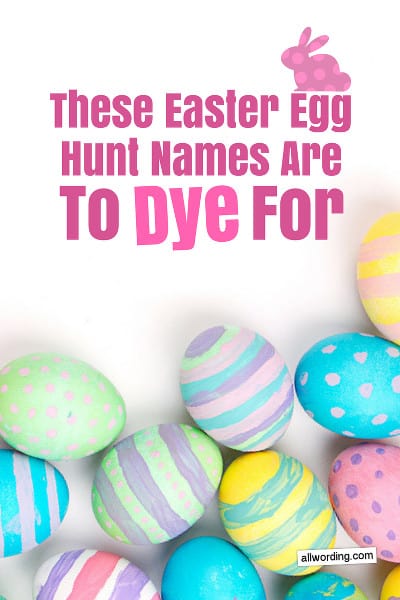 Note: To come up with the best name for your Easter event, you'll probably want to beef up these wording ideas with a little more specificity, such as the host name and/or year. For example: The 2022 "Hide Nor Hare" Easter Egg Hunt, Anna and Tim's 2022 Eggs-stravaganza, 1st Annual Easter Eggs-perience, etc.
Egg-cellent Adventure
Basketful o' Fun
Hide Nor Hare
Color Me Egg-cited
Egg-stra Special Easter Egg Hunt
The Hoppening
Egg Scramble
Happy Hoppy Easter Party
Count Your Chickens Before They Hatch
Eggs-stravaganza
Totally Cracked Easter Egg Hunt
A Contest of Eggs-plorers
Spring Fling Wingding
An Easter Eggs-perience
Hare-raising Easter Egg Party
Unbeatable Egg Hunt
Bunny Hop
Colorful Eggs-pressions
Egg Mania
Egg-streme Easter Party
Bunny Love
Leggo My Egg-o's
A-Hunting We Will Go
Put All Your Eggs in One Basket
Dye Hard
Hoppy Hunting
Easter Egg Free-For-All
An Easter Party to Dye For
Eggfest 2022
An Eggs-traordinary Event
Hare Today, Gone Tomorrow
Easter-ific Egg Hunt
Live and Let Dye
An Easter Shell-ebration
Egg-apalooza
The Great Hunt
An Easter Egg Hunt For Basket Cases
Egg-citing Easter Egg Hunt
A Hoppin' Good Time
One Crackin' Easter Egg Hunt
Egg-streme Easter Egg Hunt
An Eggs-hilarating Good Time
Funny Bunny Egg Hunt
Do or Dye
As important as it is to come up with a great name for your Easter egg hunt, it's only the first step. For help with the invitation wording, check out this article.