Spring may not be the best loved season, but it's definitely the most eagerly anticipated. That's because the first day of spring marks the end of winter, which inevitably gets the cold shoulder in seasonal popularity contests. For many, the official end of winter and its chilly weather is something truly worth celebrating.
One way to welcome the arrival of spring is to send a cheerful, sweet, or funny message to your friends. But don't worry if the right words don't immediately spring to mind. We've got a whole list of happy spring wishes to choose from below.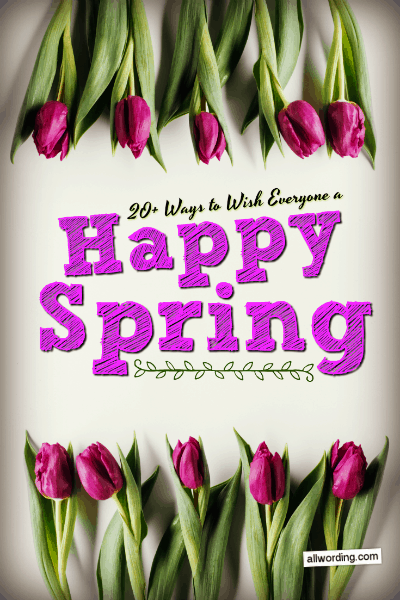 Sincere
Here are some sincere messages to mark the coming of spring.
Spring has sprung! Here's to lots of warm and sunny days to come!

Goodbye, Winter! Hello, Spring!
Wishing you a bright, warm, and beautiful Spring!
Spring is in the air. Take a good whiff.
Happy First Day of Spring! It's time to shake off the cold and Spring to life!
Sending you warm wishes for a lovely sunny Spring.
Ring-a-ding-ding, it's the first day of Spring!
Goodbye cabin fever! Hello Spring fever!

New beginnings. New opportunities. New life. Hope you embrace everything Spring has to offer.
After a long, cold Winter, Spring is on the March! Enjoy the warmer days, everyone!
Wishing all my friends a glorious Spring!
Funny
Here are a few humorous spring wishes to share with friends. If you like these, be sure to check out these spring puns and this list of flower puns.
Is it safe to come out of hibernation?
Spring Quotes
Finally, here are some famous quotes about springtime.
"Spring is nature's way of saying, 'Let's party!'"

Robin Williams
When spring arrives, Easter isn't far behind. If you're looking for more ways to brighten someone's day, check out our collection of Easter wishes.