Hosting Thanksgiving is easy… said no one in their right mind, ever. But regardless, someone has to do it, and this year it falls to you. There's plenty to do, but getting people invited to your big turkey day should be near the top of the list.
Thanksgiving is traditionally a family celebration, with distant relatives traveling from distant locations to enjoy a once-a-year feast. But in recent years, a phenomenon known as Friendsgiving has emerged as an alternative – or even an addition – to traditional Thanksgiving celebrations. As the name implies, Friendsgiving means sticking closer to home and spending the holiday with friends.
Whether it's Thanksgiving or Friendsgiving you're hosting, the first thing you should do is consider what type of invitations you need – or indeed whether you need them at all. If you're only hosting family, you might do what many (most?) Thanksgiving hosts choose to do, and let word spread through the familial grapevine. Even for a Friendsiving celebration, an electronic invitation or simple text email may serve just fine in place of a formal invite.
Now, if you're still reading, that probably means you're set on sending out invitations of some sort. This article has tips on how to do it right, along with some wording examples to help you hit the ground running. So let's talk turkey.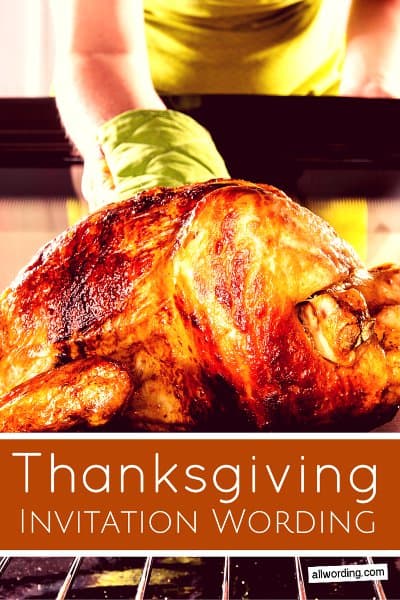 Thanksgiving Invite Tips
Like any other party invitation, an invite for Thanksgiving dinner should give invitees the basic information about the event without overwhelming them with details. Seasoning your invite wording with a little Thanksgiving flavor is also recommended. Here a few quick tips:
1. Careful who you invite! This might not matter as much for larger social events where people can easily avoid each other, but for an intimate dinner party, you should only invite people who are likely to get along. Small gatherings + clashing personalities + copious amounts of wine = more stress for you and everyone else in attendance. Of course, if you're hosting family, arbitrarily excluding people may not be an option (that is, if you want to stay on speaking terms with everyone).
2. Set the RSVP deadline strategically. There are a couple of advantages to setting an RSVP date well in advance of the big day. One, it gets people to commit to your party before they have a chance to make other plans for the holiday. And two, knowing how many people are going to be there makes it easier to plan the meal. These points are especially pertinent if you're hosting Friendsgiving, as many of your invitees may not be able to attend due to family commitments.
3. Handle potluck and other details separately. If dinner is a potluck, you should mention it on the invite so people know what they're getting into. But beyond that, there's no need to go into details, which are much better handled in followup communications with confirmed guests. The same goes for information about food allergies, travel plans, and other details you can work out later.
Samples
Okay, enough with the general pointers. Here are some specific wording ideas you can adapt for your own Thanksgiving dinner invitations:
Friendsgiving
Potluck
Want to jazz up your invitation with some fowl humor? Try incorporating one of these turkey puns. Alternatively, consider adding a touch of class with one of these quotes about being thankful.