Whoever invented the potluck was a genius. Having everyone bring a dish to the party not only saves the beleaguered host from cooking for a bajillion people, but ensures there's enough grub to go around. On top of all that, it reduces cleanup, as guests pack up their leftover dips and casseroles at the end of the proceedings.
But if you're reading this article, you already know all that. What you're looking for are some ideas for potluck invitation wording. Well, you're in luck – pot luck, that is.
A potluck invitation needs to convey all the usual party details, along with instructions for bringing a dish to share. Of course, everything goes down better with a spoonful of style and humor. Just be careful not to distract invitees with a lot of verbiage (clever though it may be). With that in mind, here are some sample wording ideas for different types of potluck gatherings.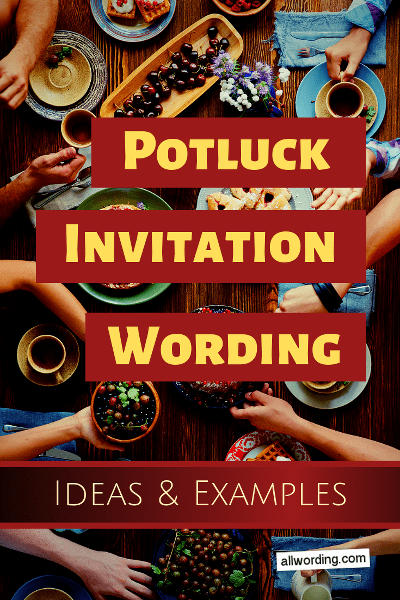 Note: Only the first example below includes a full set of event details – the rest are abbreviated to avoid repetition. For your own invite, make sure you include the date, time, location, RSVP info, and potluck instructions (along with any other information you need to pass along).
General
Here are a few invitation wording ideas that work for just about any sort of potluck, whether it's at the office or someone's home.
You're Invited To A
Potluck Dinner Party
Saturday, March 7 at 5 PM
The Johnson Home
1234 Potluck Lane, Andersonville
RSVP to Andy (123-4567 / andy@emailprovider) by February 20
Bring your family – and a favorite dish to share!
You've heard of tough luck, blind luck, and beginner's luck, but the best luck of all is… POT Luck!
Please Join Us For A
Potluck Party
Bring your favorite casserole or appetizer to share!
Please Join Us For Our
Annual Office Potluck
Please sign up to bring a dish at Patty Russell's office (302B)
Barbecue
Here's some wording you can use for a barbecue potluck invitation.
We're Grillin' Up An
Awesome Potluck Picnic
And You're Invited!
We'll have burgers and beers – you bring a tasty side or appetizer to share!
Halloween
Halloween potluck invitations have a unique flavor (so to speak). For more ideas, see our guide to Halloween party invitation wording.
Calling All Hungry Monsters!
It's Almost Time For Our
Spook-tacular Halloween Potluck
Come if you dare – with a dish to share!
Thanksgiving
Here's some potluck invitation wording for Thanksgiving (or Friendsgiving, if you prefer). You can find more options in this article on Thanksgiving invitation wording.
Thanksgiving is a time of sharing, so what better way to celebrate than with a
"Friendsgiving" Potluck
We'll take care of the turkey – you bring a favorite holiday dish to share!
Christmas
Potlucks abound at Christmastime. Here's some sample wording for a holiday potluck invitation.
You're Cordially Invited To A
Holiday Cocktail Party & Potluck
Bring an appetizer to share, and celebrate the season with an evening of food, friends, and festive fun!
Email
Finally, here's some simple wording tailored for a casual email invitation. In this example, the "this link" wording could point to an online signup service like this one.
Subject: Join Us For a Potluck!

Hey Everyone,

How would you like to get together for some good food and fantastic company? Well, we're hosting a potluck at our place, and we'd love to see you there! Here are the details:

Saturday, September 5 at 6 PM
Alice and John's House
1234 Crockpot Lane, Jamestown

Please RSVP by replying to this email by August 25. You can sign up to bring a dish by following this link. If you can't bring a dish to share for any reason, please come anyway – we want you there!

Regards,
Alice