Daughters-in-law can be tricky. Heck, in-laws of all varieties can be tricky. If they weren't, advice columnists everywhere would be out of business.
Even if you have a good relationship with your daughter-in-law, there might be times when you don't know exactly how to talk to her. Take Mother's Day, for example. We get a lot of practice wishing our own mothers Happy Mother's Day, but what to say to a daughter-in-law who happens to be the mother of the most precious child in the world?
That's what this list is all about. It's full of Mother's Day wishes, quotes, and sayings to share with your daughter-in-law – whether your relationship with her is blissful, complicated, or somewhere in between.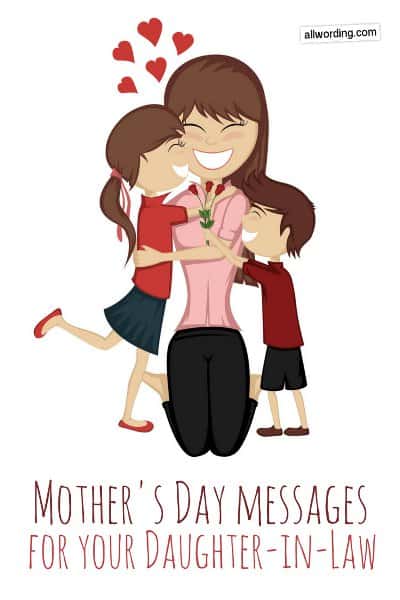 Note: Looking for Mother's Day wishes for a daughter? Check out this list.
10 Short Messages
Here are a few short Mother's Day messages that are appropriate for a greeting card or text message to your daughter-in-law.
Happy Mother's Day to the best daughter-in-law a person could ask for!
We are truly lucky to have you as a daughter-in-law, and [grandchild name] is truly lucky to have you as a mom. Happy Mother's Day!
Seeing you in action reminds us of how much work it is to raise a child. We just wanted to let you know how much we appreciate everything you do.
Thank you for doing such a great job raising my grandchildren. I hope you take some time for yourself on Mother's Day – you've earned it!
Happy Mother's Day, from one mother to another!
My grandchild deserves the best mother in the world, and that's exactly what [she/he] has. Happy Mother's Day!
I'm blessed three times over. You're a wonderful mother to my grandchild, an amazing wife to my son, and a dear daughter-in-law to me.
Happy Mother's Day! Our grandchild is the light of our lives, and you better believe we appreciate everything you do for [him/her].
You must be doing something right (actually lots of things), because you're raising a wonderful child.
Happy Mother's Day from the in-laws. We appreciate everything you do to keep that family humming along.
5 Funny Sayings
If your daughter-in-law has a sense of humor, one of the following messages might get a laugh (or at least a smile).
Happy Mother's Day to an overworked mom. Not only are you taking care of your own kids, but you've got one of mine as well!
I know that advice from the in-laws isn't always welcome, but… you should really relax and do something for yourself this Mother's Day.
Just to prove that I'm not a typical mother-in-law, let me say this: You're plenty good enough for my son, and I have no complaints about how you're raising your child.
Happy Mother's Day from someone who knows what it's like to raise a naughty child. Although yours is a perfect angel, of course!
I don't want to be one of those mothers-in-law who tell you what to do, but… have a Happy Mother's Day!
5 Quotes
Finally, here are some famous Mother's Day quotes to share with a daughter-in-law.
"There's no way to be a perfect mother and a million ways to be a good one."

Jill Churchill

"Making the decision to have a child – it is momentous. It is to decide forever to have your heart go walking around outside your body."

Elizabeth Stone

"We never know the love of a parent till we become parents ourselves."

Henry Ward Beecher

"All mothers are working mothers."

Unknown

"Mother is a verb. It's something you do. Not just who you are."

Cheryl Lacey Donovan
Mothers-in-law can be tricky, too! That's why we have a separate article on Mother's Day messages for a mother-in-law.