It doesn't have to be May 5 for you to invite people over for a Mexican-themed party. Heck, it doesn't even have to be Taco Tuesday. When you love spicy food, margaritas, and mariachi music, any time is a good time for a fiesta.
Whether you're planning a huge Cinco de Mayo blowout or just a small gathering of amigos, taking the time to send out Mexican-themed invitations is worth the effort. But what if your Spanish is a little rusty (or non-existant)? No problemo – the following examples will help you come up with the perfect Mexican fiesta invitation wording.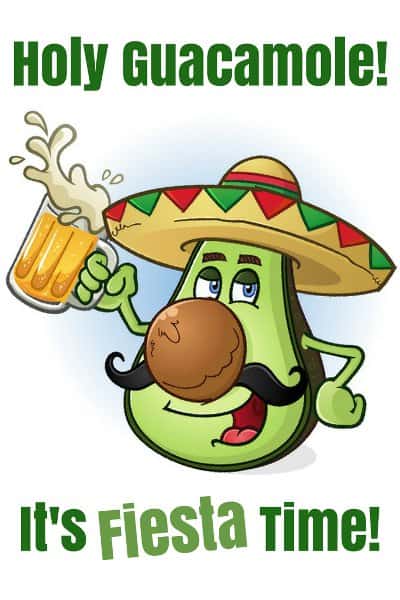 Fiesta Party
Here are some general invitation wording ideas for a Mexican-themed party, whether it's Cinco de Mayo or any other time. The first example shows complete wording that you can use as a model or template for your own Mexican party invites.
Ole! Ole!
Join Us For the Big Day!
With Plenty of Tequila, Salt, and Lime
It's Sure to be a Muy Bueno Time
We're Throwing a Mexican Fiesta Party
Saturday, February 16 at 7 pm
The Jones Hacienda
1234 Jose Way, Callendale
RSVP to Ellen (
[email protected]
/ 123-4567) by Feb. 10
Dust Off Your Sombreros
We're Throwing a Mexican Fiesta
Let's Fiesta Like There's No Manana!
Join Us For Cervezas, Fajitas and Margaritas
You're Gonna Need a Siesta
Because We're Having a Fiesta!
Cinco de Mayo
Here are some examples of Cinco de Mayo invitation wording. For even more ideas, check out this list of Cinco de Mayo puns and jokes.
Señores and Señoritas
Please Join Us For A
Mexican-Themed Cinco de Mayo Party
Cinco de Mayo is Almost Here
Let's Celebrate with Tacos, Margaritas, and Beer
Cinco de Drinko
Join Us For Una Noche de Muchas Margaritas
We're Stocking Up on Tequila and Lime
Because in a Few More Weeks it's Margarita Time!
Won't You Join Us This Cinco de Mayo For A
Mexican Fiesta Party
Birthday
Piñata, anyone? Here are some samples of fiesta birthday party invitation wording. For more wording ideas, see our birthday invitation section.
Holy Guacamole!
Jen is Turning 30!
Please Join Us For A
Fiesta Birthday Party
Our Little Niña is Turning One!
Please Join Us For Bella's Birthday Fiesta
We'll Have Games, Traditional Mexican Fare, and a Piñata For the Kids
He's One Good Hombre
It's Carlos' Birthday!
To Celebrate, We're Having a Birthday Fiesta
Taco Party
Trust is, you don't need a full-fledged Mexican fiesta theme. Say the words "taco bar" and people will come.
Can We Taco Bout Something?
We're Hosting a Taco Bar – And You're Invited!
Trust Us, This is Nacho Ordinary Fiesta
Tacos Are Overrated
Said No Juan Ever
Please Join Us For a Taco Fiesta!
Bachelorette Party
Want to make sure your bachelorette party is extra-spicy? Make it a Mexican fiesta bachelorette party.
Señoritas, It's Time For Margaritas!
Before Jamie's Wedding, Let's Fiesta One Last Time
And Get Down with Some Tequila, Salt, and Lime!
Bridal Shower
The bride might be wearing white on her big day, but the vibrant colors will be flowing for a Mexican-style bridal shower.
Julie Has Found the Hombre of Her Dreams
Join Us As We Celebrate With A
Fiesta Bridal Shower
Baby Shower
A Mexican-themed baby shower is a great way to celebrate the upcoming arrival of a little niño or niña.
It's A Fiesta Baby Shower!
Join Us As We Honor Mamacita to Be
Julie Wendt
As you can see, any just about any type of party can become a fiesta with the addition of Mexican food, drinks, and music. Regardless of what sort of party you have planned, we hope the above wording ideas help you send out invitations that are simply perfecto.