There are many types of guys: macho guys, hipster guys, smart guys, nice guys, funny guys, and of course, hot guys. But no matter what type of guy we're talking about, it's safe to say he likes being recognized on his birthday. Sure, he might claim to be too cool for birthday traditions (talking about you, hipster guy), but that's just a front.
So, what's the best way to say Happy Birthday to a male friend? It all depends on – say it with me – what type of guy it is. Here's a list of birthday wishes in a variety of styles, for dudes of all stripes.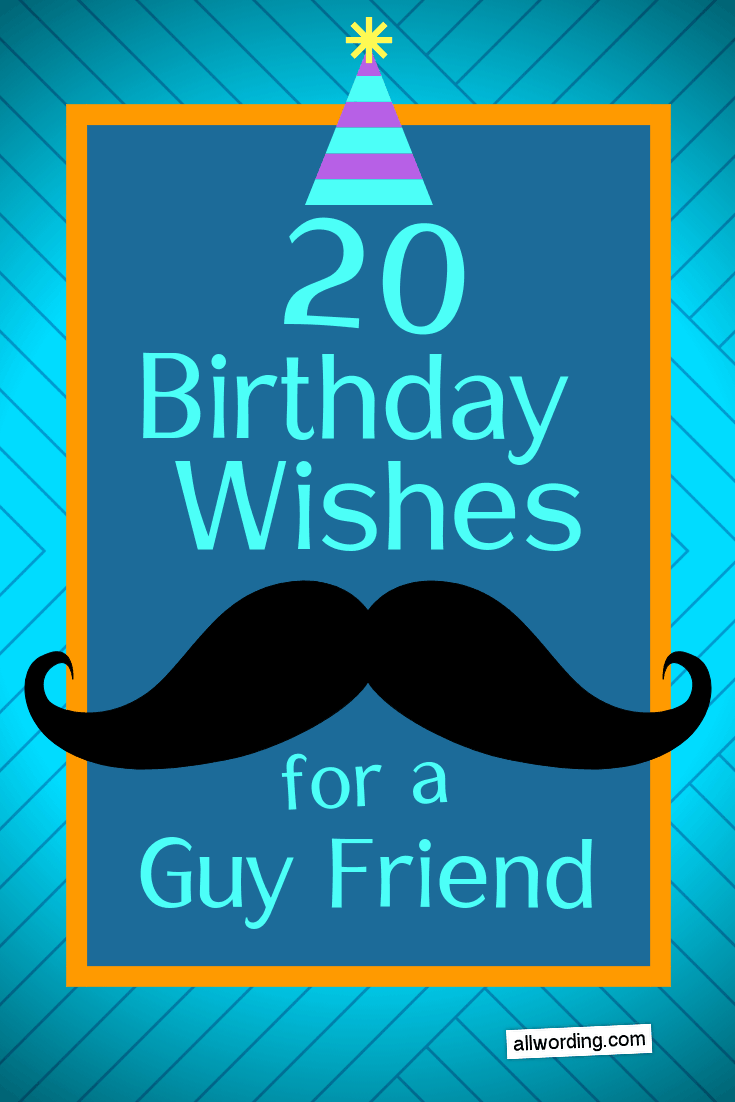 Note: If the birthday boy happens to be your best friend, you can find many more ideas in this article. For an extra special guy friend (wink wink), check out these romantic birthday wishes.
Short
To be clear, this section isn't about short guys. It's about short birthday wishes for guys. Big difference.
Happy Birthday to my best guy friend! Hope your day rocks!

Best birthday wishes to one of best guys I know!
Happy Bro-thday!
Happy Birthday, you party animal you.
Happy Birthday, Silver Fox!

Another year of being an all-around awesome guy. Happy Birthday!
Happy Birthday to a friendly man and a manly friend!
Hope you have a man-tastic birthday!
Happy Birthday to my brother from another mother!
Longer
Here are some longer birthday messages to send to a special male friend.
Happy Birthday to a great guy! You do so much for others. I hope you can take some time for yourself on your big day. You deserve it as much as anyone, and more than most.
Happy Birthday to one of my favorite guys! I hope your day is as awesome as you are. And yes, I know that sappy stuff makes you cringe. But we don't always get what we want for our birthday, do we?
Happy Birthday to a wonderful man! As you celebrate another year, I hope you look back on your life with a sense of pride. I know your friends and family are proud of you – and rightly so.
Funny
Finally, here are some funny messages for the birthday boy.
I was going to get you something special for your birthday, but then I remembered that you pride yourself on self-reliance. So get it yourself.

Happy Birthday to a real swell guy! I'm sending you this ironic birthday wish because I know you're way too cool for ordinary human sentiments.
Best wishes on your birthday! May you have maximum fun today, and minimum hangover tomorrow!
I have two messages for you on your birthday: 1) Have a great time, 2) Don't call me for bail money.

Hey Birthday Boy! Hope you're enjoying your "distinguished-looking" years, because you move right to "old fart" after this.
Happy Birthday! You know, you don't look that old. But then, you don't look that young, either.
How have you survived this long? Keith Richards has nothing on you. Happy Birthday!
I hope the candles on your cake aren't the only things that get blown on your birthday.
Looking for more ideas? If you want to give your guy friend a ribbing about his age, consider one of these brutally funny birthday wishes.