Coworker relationships can be harmonious, tense, chummy, or downright hostile. Regardless, when a colleague's birthday comes around, it's only right to offer your best wishes.
That doesn't mean you should offer the same birthday wishes to all coworkers, however. The closeness of the relationship should dictate the tone of your birthday message. Another big factor is whether the message will be public or private.
Whether you're writing in a greeting card or dashing off a quick text, taking some time to come up with the perfect birthday wish is well worth the effort. Here are some suggestions on how to say happy birthday to a coworker depending on the situation.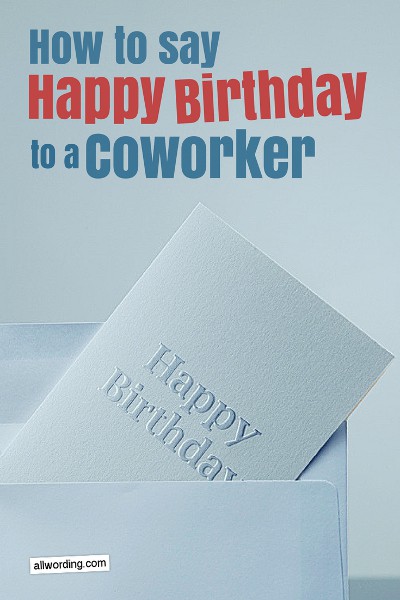 Note: If the coworker celebrating a birthday happens to be your boss, that's a whole other kettle of fish. Here are some suggestions for wishing your boss a Happy Birthday.
Basic
When in doubt, use simple, formal wording to wish your colleague a happy birthday. The following short messages are ideal for a birthday card, email, or social media post.
Happy Birthday to a great colleague and friend.
Best wishes on your birthday. Working with you is truly a pleasure.
Having the support of a colleague like you is way more important than any degree or certification. Thanks for all you do, and Happy Birthday!
Happy Birthday! I hope you can take some time off for yourself – you deserve it!
Happy Birthday to someone who makes work feel like fun.
You're older, wiser, and that much closer to retirement. Happy Birthday!
From Group
A birthday message from a team or the whole office should also be straightforward, unless it's an unusually tight-knit group. Here are some wording ideas.
Happy Birthday! Today is a perfect day to let you know how much we all appreciate you and the work you do.
Happy Birthday to an indispensable member of our team!
We all want to wish you a Happy Birthday and thank you for the job you do, the support you provide, and the upbeat attitude you bring to the table every day.
Happy Birthday from all your office friends. Have a great day and a great year ahead!
Happy Birthday to someone who makes every day happier for [his/her] colleagues.
Casual
A more casual tone works well for a private message to someone you see daily and/or hang out with outside of work. That said, some of the more edgy and humorous birthday messages below may not be appropriate for posting on social media, where they can be seen by your employer.
Working with you cuts the stress by at least 32%. Thank you, and Happy Birthday!
Hope you can take some time off around your birthday – but not too much, because this place isn't the same without you.
Our friendship is the best thing that ever grew out of a cube farm. Happy B-Day to a great coworker and an awesome buddy.
Getting to work with you is one of the best perks of this job. Thanks, and Happy Birthday!
I want to buy you two drinks for your birthday – one for my coworker, and one for my friend.
Happy Birthday to someone who almost makes work tolerable.
Hope you get everything you want for your birthday. Except that winning lotto ticket. We still need you here.
Best birthday wishes to my lunch buddy and fellow cubicle denizen.
Happy Birthday to a coworker who kicks ass without stabbing backs. You make everyone around you look good.
[Older Colleague] You're one of the main reasons I look forward to coming to work each day. Don't even think about retiring!
It's your birthday! I better not catch you coming into work with a hangover tomorrow. Call in sick instead. 😉
Happy Birthday! If they had annual reviews for being a good person, you'd be due for a big promotion.
Still on the hunt for ideas? If your birthday coworker is a personal friend, you might want to check out this list of short birthday wishes.