She's your lifelong friend, mentor, and guardian angel. She's your godmother, and her birthday is the perfect time to let her know how much she means to you.
So, what's the best way to say Happy Birthday to this special lady in your life? It depends. Some godmothers appreciate sweet sentiments, but for others, a funny birthday message is more fitting. Of course, your own personality and the unique relationship you have with your godmother also play a role.
To help you find the right words for your godmother's big day, we've put together the following list of ideas. These birthday wishes for a godmother come in a variety of styles, and are ideal for sharing in greeting cards, text messages, and social media posts.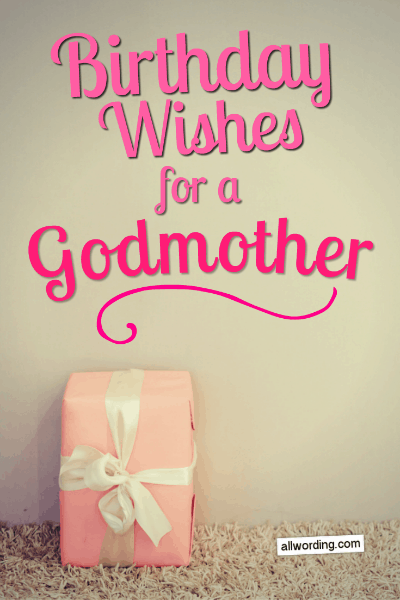 Sweet
To start, here are some heartfelt birthday wishes for a godmother. For even more sweetness, see these "Happy Birthday, beautiful" messages.
Happy Birthday, Godmother! I'm so lucky to have you looking out for me, and I can't imagine my life without you in it.

Best birthday wishes to the best godmother ever. It's an amazing feeling to know that you're on my side.
Wishing you all the best on your birthday, Godmother. I hope you're planning to stick around for many more years, because I will always value your support and encouragement.
Happy Birthday to one of my favorite people in the whole world, my godmother!
Happy Birthday to my beautiful godmother! When I think of you, I think of your smile, and that makes me smile. I'm so lucky to have you in my life.
Happy Birthday to my godmother, a lady who taught me everything I know about being smart, funny, fashionable, and tough as nails.

Who needs a guardian angel when I have a godmother like you? I hope you have the best birthday ever. You deserve it.
Happy Birthday, Godmother! I guess this is as good a time as any to tell you how much I love and appreciate you. You've been like a second mother to me, and my life has been all the better for it.
Happy Birthday to a lady who has been there for me every day of my life, my godmother.
Thank God for my godmother! You mean so much to me. I hope your birthday is full of all of your favorite things.
Happy Birthday, Godmother! I'd tell you to have fun on your big day, but I know you always have fun no matter what you do.
Happy Birthday to a godmother who keeps getting nicer, sweeter, and lovelier with each passing year. I love you!
Funny
Here are some humorous birthday messages to share with a godmother.
Happy Birthday, Godmother! You were always my role model growing up… which might explain why I turned out so weird.
Happy Birthday to my amazing godmother, from your favorite goddaughter.
Happy Birthday, Godmother! Thanks for being there for me all these years. If anyone needs some looking after, it's me!

Happy Birthday! Thanks for being such an amazing godmother to me. You deserve at least partial credit for how awesome I turned out.
Happy Birthday, Godmother! You've given me so much good advice over the years. One of these days, I should start taking it!
Aunt and Godmother
Here are some birthday wishes for a lady who is both your aunt and your godmother. You may also want to see this list of birthday wishes for auntie.
Happy Birthday to an amazing aunt, a great godmother, and a fantastic friend. Love you, Auntie!
Happy Birthday to a lady who is equally awesome as an aunt and as a godmother. Hope your big day is awesome, too!
You're not just a wonderful aunt. You're not just a wonderful godmother. You're a wonderful person, period. Hope your birthday is equally wonderful.
Looking for a belated birthday message for your godmother? Here's a big list of ideas.