The sweet 16 party is an enduring tradition in the United States and Canada. It marks a girl's coming of age, when she begins to put childhood in the rearview mirror and looks ahead to adulthood.
In the past, sweet 16 birthday parties were often formal events in which young people acted like adults (and often mingled with them). These days, they're more likely to be casual affairs. In fact, they're often just like typical childhood birthday parties, but with teen-friendly activities.
Creating your own sweet 16 invitations is perfectly acceptable, and quite doable with all the tools and templates available online. However, figuring out what to say on the invite isn't always easy or obvious. That's where the following guide to sweet 16 invitation wording could come in handy.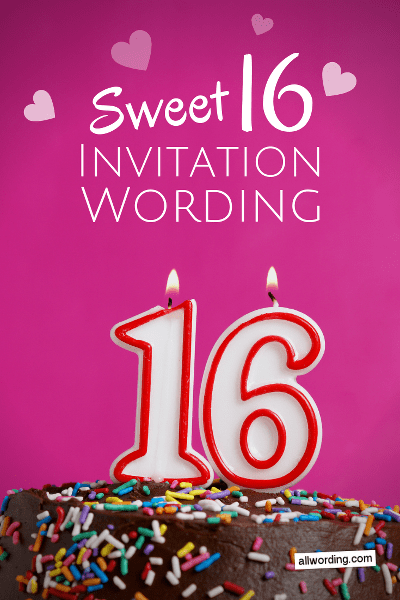 Note: For the sake of simplicity, this article focuses on sweet 16 parties for girls. However, if you're throwing a sweet 16 birthday party for a boy, you can easily adapt most of the ideas and examples below.
General Tips
To start, here's some general advice on writing an invitation for a sweet 16 party.
1. Get sassy. Unless it's a formal event, use a fun and casual style for the invitation. If you're a parent or other adult, try to adopt the tone the soon-to-be-16-year-old uses when talking to peers. Just try not to embarrass yourself (or your teen), and don't let important party details get lost in a lot of unnecessary words.
2. Tie in the theme of the party. Many, if not most, sweet 16 parties have some sort of theme, whether it's black-and-white, pool party, movies, or any number of other options. The wording you use for the invite should reflect that theme. Using an awful theme-based pun at the top of the invite is a good way to grab people's attention.
3. Include any special instructions. If it's a formal event, masquerade party, or any other sort of gathering where the guests need to be prepared, the invite should give them a heads up. That said, if the instructions are complicated, it might be smarter to send them out in a separate communication. You don't want to overload the invitees with information before they've even RSVP'd.
Save the Date
A "Save the Date" card or message isn't strictly necessary, but may be a good idea if the birthday is close to a major holiday or during the summer when kids are out of school. Here's some straightforward wording you could use.
Simple Invite Wording
There's nothing wrong with a straightforward invite. Here are some examples of no-frills sweet 16 invitation wording.
Rhyming
Using rhymes is a cute way to jazz up any invite. Here are a few sweet 16 rhymes to consider.
Masquerade Party
Here's an example of invitation wording for a sweet 16 masquerade party.
Winter Wonderland Party
"Winter Wonderland" is a popular theme for a sweet 16 birthday party. Here's some sample invite wording for this theme.
Surprise Party
Surprise 16th birthday parties are especially sweet, if you can pull them off. Here's an example of invitation wording that emphasizes the sensitive nature of the party information.
Another way to generate interest in a sweet 16 party is to give it a catchy name. Check out this list of party name ideas for inspiration.