What's so sweet about turning 16? If you live in the United States or Canada, the obvious answer is that you can get your driver's license. It's also an age when young people are often allowed to get a job and/or begin dating.
In other words, it's kind of a big deal. By tradition, it's an especially big deal for girls, who often have extravagant sweet 16 parties thrown for them.
As with other biggies like a person's 18th and 21st birthdays, a special type of congratulations is in order for a young lady reaching this unique milestone. If you're stumped on what to say, we've put together the following list of sweet 16 birthday wishes.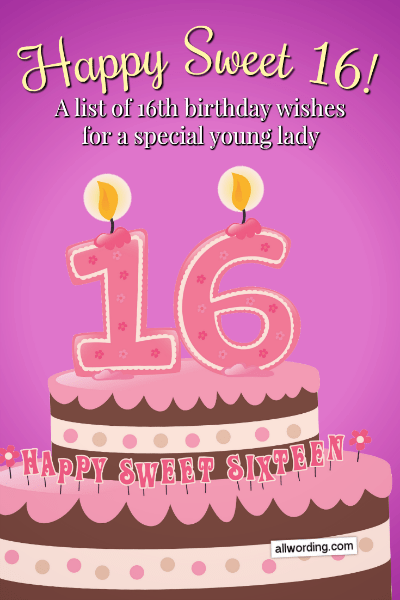 Note: While the wording ideas below were written with girls in mind, there's nothing that says a 16th birthday can't be sweet for boys as well. Most or all of these birthday messages can be easily adapted for a boy turning 16.
General
Here are some sweet 16 birthday wishes for a friend, classmate, or what-have-you.
Happy Sweet 16! You've grown up so fast – let's hope you don't drive that way!

Happy Birthday to someone who puts the "sweet" in Sweet 16.
Happy Sweet 16! Hope you enjoy all the freedoms and opportunities that come with reaching this big milestone!
Baby, you can drive my car! (Just kidding – don't go anywhere near it!) Happy Sweet 16!
Happy Birthday to one sweet 16-year-old!
Happy Sweet 16 to a young lady who is beautiful inside and out.

Being 16 is sweet indeed. May the year ahead bring you fun, adventure, love, learning, and growth.
The sweet thing about being 16 is having lots of freedom, without lots of responsibility. Enjoy it while it lasts!
Happy 16th Birthday to a special young lady! May the coming year be full of sweetness!
You're not just sweet. You're also smart, talented, funny, and kind. I hope you have the great 16th birthday you deserve.
Happy 16th Birthday to a truly sweet person. I wish nothing but the best for you.
For a Daughter
Here are some special birthday messages for a daughter turning 16. For more birthday wishes for a daughter, see this list.
You've always been sweet. Now you're sweet 16. Happy Birthday to my beautiful daughter.

Happy 16th Birthday to my amazing daughter. You are the sweetest part of my life.
Happy Sweet 16! And no, you're not getting a car.
Happy 16th Birthday! You're turning into such a smart, talented, and lovely young lady, but as far as I'm concerned, you will always be my baby.
Your 16th birthday is truly one of the most joyous days of my life… because it means I no longer have to drive you all over town. Happy Sweet 16 – and stay safe!

The last 16 years have been the sweetest of my life. Happy Birthday to my smart, talented, and beautiful daughter.
Seeing my baby girl turn 16 is wonderful, sad, and frankly kind of terrifying. I hope you know that your [mom/dad] will always love you and be here for you, even as you grow into a beautiful, intelligent, independent woman.
Happy Sweet 16 to my precious daughter! The thought of you driving is almost as terrifying as the thought of you dating. Please have pity on your old dad and be safe.
For a Granddaughter
These birthday messages are written for a granddaughter celebrating her 16th birthday.
From beautiful baby to beautiful lady… it's been a joy watching you grow up. Happy Sweet 16 from your proud [grandma/grandpa]!

Happy 16th Birthday to a lovely granddaughter. I'm so proud of the person you are, and the woman you are becoming.
Happy Sweet 16 to my wonderful granddaughter! Just don't let anyone tell you that you have to be sweet all the time. Sometimes you gotta be a little sour to get what you want.
For a Niece
Finally, here are some 16th birthday wishes for a niece. For more birthday wishes for a sweet niece, see this list.
Do you know what's sweet? Having a wonderful niece like you in my life. Happy 16th Birthday!

Happy Sweet 16 to a wonderful niece! You're turning into an impressive young lady right before our eyes.
Happy 16th Birthday to my sweet niece, from your sourpuss [aunt/uncle].
If you're involved in planning festivities for the birthday girl, you'll also want to check out this article on sweet 16 invitation wording.