When you think about it, 20th birthdays are a pretty big deal. Yeah, other birthdays may get more hype (we're looking at you, 21). But your 20th birthday marks the end of your teens and the beginning of your 20s – two formative stages of your life that you will always look back on.
So, if you know someone turning 20, don't settle for a run-of-the-mill birthday wish. Send them a message that marks this unique turning point with wit and style. For ideas, check out the following list of 20th birthday wishes – we've even divided them up so you can hone in on the perfect message in no time.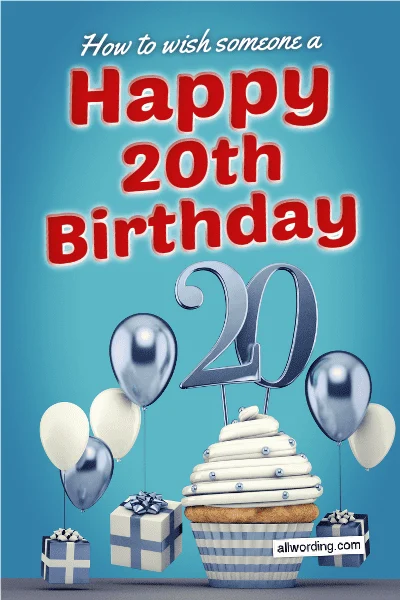 Sincere | Funny | Romantic Partner | Daughter | Son
Sincere
Here are some straightforward and simple birthday wishes for someone turning 20.
Congrats on two decades of being awesome!

Happy 20th Birthday! A wonderful milestone for a wonderful person!
You were an awesome teenager, and now you're an awesome 20-something. Happy Birthday!
Too cool, too amazing, two decades on Earth! Hope your 20th birthday is as amazing as you are!
You know how they say teenagers are awful? Yeah, that never applied to you. Happy Birthday – and keep being awesome!
Happy 20th Birthday! I look forward to buying you a drink in exactly one year's time.
Goodbye, teens! Hello, twenties! Happy 20th Birthday!

Best wishes as you end one era of your life and begin another! Happy Birthday!
Happy Birthday to one of the best 20-year-olds I know! Scratch that. Happy Birthday to one of the best people I know!
Happy Birthday to someone with a very bright future ahead of them. Enjoy your 20s!
Funny
Here are some humorous messages to make the birthday boy or girl smile. For lots more ideas, see our big collection of funny birthday wishes.
Buy you a beer in one more year! Happy 20th Birthday!

Happy Birthday! Congrats on no longer being an annoying teenager!
Happy 20th Birthday! Time to say goodbye to your horrible teens and hello to your overrated twenties.
I'd buy you a drink for your birthday, but you're still too young to hit the bars. Which makes this the most disappointing birthday, bar none!
Happy 20th Birthday! Just think, in one more year you get to have your very first taste of alcohol.
Happy Birthday to someone who was always way too cool to be a teenager!
Congrats on turning 20. Because let's face it, teenagers are the worst.

Happy 20th Birthday! You are officially out of your teenage years. That means you no longer have an excuse for your bad behavior!
Best wishes on your 20th birthday. Welcome to that weird age where you're too young to drink and too old to blame your dumb behavior on being a teenager.
Don't get into too much trouble on your 20th birthday. You have to save some shenanigans for next year!
Romantic
Is your main squeeze turning 20? Here are some messages you can send on the big day. If none of these strike your fancy, we have a whole lot more romantic birthday wishes for you to check out.
Happy 20th Birthday to my sweetie. Looking forward to many more years of loving you.

Happy Birthday to my favorite 20-year-old! I love you!
You've spent 20 amazing years in this world, and I'm giving you a kiss for each one of them! Happy Birthday!
Happy 20th Birthday, baby! Let's make it amazing!
Happy Birthday, sweetheart! At last, I no longer have to tell people I'm dating a teenager!
For a Daughter
Here are a few birthday messages for a daughter turning 20.
Happy 20th Birthday to my smart, kind, beautiful, and all-around wonderful daughter!

Happy 20th Birthday to my wonderful daughter. It's been the best 20 years of my life.
I remember when you were two years old. Now it's two decades. Happy Birthday, sweetheart – and please stop growing up so fast!
For a Son
Finally, here are a few 20th birthday wishes for a son.
Two wonderful decades behind you, one bright future ahead of you. Happy Birthday, son!

Teenage boys can be a handful. Thank God that's behind us! Happy Birthday, son!
Happy 20th Birthday to my amazing son. I was proud the day you were born, and I'm even more proud of the person you've become.
Looking for more age-specific birthday greetings? We cover a wide spectrum, from 18 to 80.