A friend's birthday isn't just an opportunity to get a piece of heavily frosted sheet cake (although that is one of the highlights). It's also a time to celebrate your friend's life and let them know what they mean to you. Of course, if it's a best friend we're talking about, it's all the more important to show them some love on their big day.
But what to say? It all depends on the unique relationship you have with your BFF. Regardless of whether you're looking for heartfelt expression of love, or just a clever little quip, you can find plenty of options in the following list of birthday wishes for a best friend.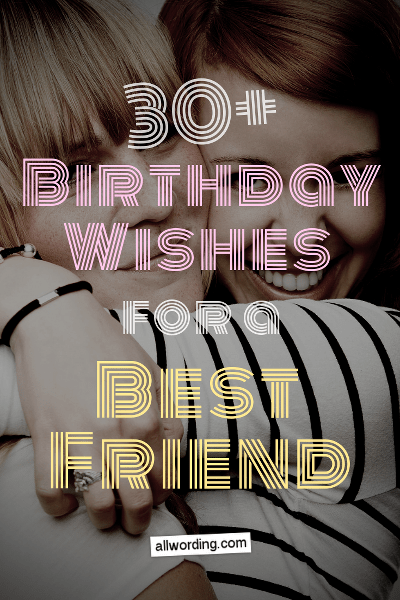 Sincere/Emotional
Here are some sweet birthday messages to let your best birthday bud know how much you love them.
Happy Birthday, best friend. Thanks for being my rock.
Happy Birthday to my best friend! You'll probably never know how much I care about you, but that doesn't mean I'm going to stop trying to tell you!
Best friends like you come along once in a lifetime. Happy Birthday!
Happy Birthday to the most awesome best friend anyone could ask for! I hope you know how much I love and appreciate you.
Happy Birthday to one of my all-time favorite human beings.
You're not just my best friend. You're the best, period. Happy Birthday!
Happy Birthday to my fierce bestie!
The last year has been crazy. Fortunately, I have you to keep me sane. Happy Birthday, and let's hope the next year brings bigger and better things.
Happy Birthday to my BFF! If the day brings you half the love you bring to others, I know you'll have a fantastic birthday.
Happy Birthday to my #1 friend, from your #1 fan.
Someone very special to me was born on this day. I won't keep you in suspense… it's you! Happy Birthday!
Happy Birthday to the one person who's always there for me. I hope your big day is as wonderful as you are.
Wishing the best day ever for the best friend ever. Happy Birthday!
Funny
Here are some humorous birthday wishes for your fun-loving friend.
Happy Birthday to my partner in crime. I look forward to the trouble we're going to get into in the coming year.
Best friends keep each other's secrets, which is why I'm not telling anyone how old you're turning today. Happy Birthday!
Happy Birthday to my bestie! You have so many great qualities, but probably my favorite is that you're older than me!
Happy Birthday to my boon companion! May you get all of the good things you deserve, and none of the bad.
I'm going to shower you with so much attention on your birthday, you'll wish you'd never been born.
When your birthday candles start a raging inferno threatening to engulf you and everything you hold dear, I'll be there to help put out the flames. Because that's what best friends are for.
Happy Birthday to my best friend in the world. I hope we stay close friends for the rest of our lives… especially since you have so much dirt on me!
Happy Birthday to my awesome best friend! I'm so glad you were born something-something years ago!
Happy Birthday to a person who regularly makes me pee myself with laughter. By the way, that's going to happen more and more the older we get.
I have so many questions on your birthday. What did I do to deserve a wonderful best friend like you? Could you be any more awesome? And most puzzling, how are you going to fit all those candles on your birthday cake this year?
Happy Birthday to the person who knows about all of my most embarrassing moments, and witnessed many of them first-hand.
I love how we're such good friends that we can forget to buy each other presents on our birthdays and it's no big deal.
Happy Birthday to someone who's talented, charming, and witty. And by the way, isn't it eerie how best friends can be so much alike?
Looking for more hilarious ideas? See our big list of funny birthday messages.
Female Friend
Here are a few birthday messages tailored to a female best friend. For more ideas along these lines, check out this list of ways to say "Happy Birthday, Beautiful!"
Happy Birthday to one crazy chick!
Happy Birthday to my sister from another mister!
Happy Birthday to my gorgeous, smart, talented, sweet, funny, and all-around awesome best friend!
Male Friend
Finally, here are some birthday wishes specifically for a male bestie.
Happy Birthday to my brother from another mother!
Dude, you're ridiculously awesome. Thanks for being my best friend – and Happy Birthday!
Happy Birthday to my best buddy. You're not just a great guy – you're the greatest!
Still looking for the perfect way to say Happy Birthday to your best friend? See this list of short birthday wishes.