A lot has been said and written about friendship over the years, much of it unbearably sappy. Of course, friends mean a lot to us, and there's a time and a place for those mushy expressions of BFF love. But there should also be a time to celebrate the fun side of friendship – the laughter, the good times, the glorious, goofy hijinks.
To that end, we've collected, in one place, some of the funniest things ever said about friendship. These short and funny friendship quotes aren't just for laughs, though – they also offer some revealing insights about what it means to be, and have, a friend. Enjoy these hilarious sayings as you think about your own crazy friends.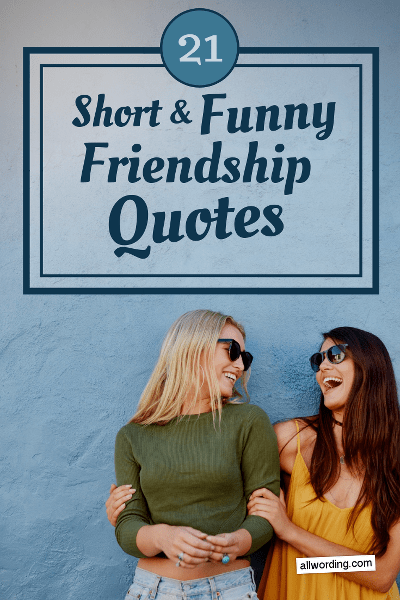 "An old friend will help you move. A good friend will help you move a dead body."

Jim Hayes

"It is one of the blessings of old friends that you can afford to be stupid with them."

Ralph Waldo Emerson

"The holy passion of Friendship is of so sweet and steady and loyal and enduring a nature that it will last through a whole lifetime, if not asked to lend money."

Mark Twain

"There is nothing like puking with somebody to make you into old friends."

Sylvia Plath

"A friend is someone who knows all about you and still loves you."

Elbert Hubbard

"Friends give you a shoulder to cry on. But best friends are ready with a shovel to hurt the person who made you cry."

Unknown

"It is more fun to talk with someone who doesn't use long, difficult words but rather short, easy words like 'What about lunch?'"

A. A. Milne

"Most of us don't need a psychiatric therapist as much as a friend to be silly with."

Robert Brault

"True friends don't judge each other, they judge other people together."

Emilie Saint-Genis

"Love is blind. Friendship closes its eyes."

Friedrich Nietzsche

"There is nothing better than a friend, unless it is a friend with chocolate."

Linda Grayson

"You can always tell a real friend: when you've made a fool of yourself he doesn't feel you've done a permanent job."

Laurence J. Peter

"A true friend is someone who thinks that you are a good egg even though he knows that you are slightly cracked."

Bernard Meltzer

"Tis the privilege of friendship to talk nonsense, and to have her nonsense respected."

Charles Lamb

"A true friend stabs you in the front, not the back."

Oscar Wilde

"One good reason to only maintain a small circle of friends is that three out of four murders are committed by people who know the victim."

George Carlin

"Friendship is like peeing in your pants. Everyone can see it, but only you can feel the warm feeling inside."

Robert Bloch

"Friends are those rare people who ask how we are, and then wait to hear the answer."

Ed Cunningham

"We'll be best friends forever because you already know too much."

Unknown

"The capacity for friendship is God's way of apologizing for our families."

Jay McInerney

"When you're in jail, a good friend will be trying to bail you out. A best friend will be in the cell next to you saying, 'Damn, that was fun.'"

Groucho Marx
If you enjoyed these humorous friendship quotes, you might also want to check out our lists of Skittles puns and candy bar sayings. A little gift with a punny saying is a perfect way to brighten a friend's day.