She's loving, kind, smart, beautiful, fun, and simply amazing. She's your special lady, and telling her how you feel about her is one of the best things you can do to keep your love going strong. Do it thoughtfully. Do it passionately. Do it now.
Of course, before you can deliver a devastatingly romantic message to your girlfriend, fiancée or wife, you have to figure out what to say. That's not so easy. Words often fail to convey the magnitude of such strong emotions, or capture the unique feelings you have for your unique lady.
To make things easier, we've put together this long list of sweet love messages for her. Take the time to find the perfect sentiment that reflects how you feel about the wonderful woman in your life. Because letting her know is really, really important.
Short | Long | Wife | Girlfriend | Deep
Note: Looking for something to say to your girl on her birthday? Check out these romantic birthday wishes or these birthday wishes for a beautiful lady.
Short
Here are some short messages of love to share with your lady. These romantic sayings are ideal for text messages and greeting cards.
I'm totally, hopelessly, helplessly in love with you. You're my kryptonite.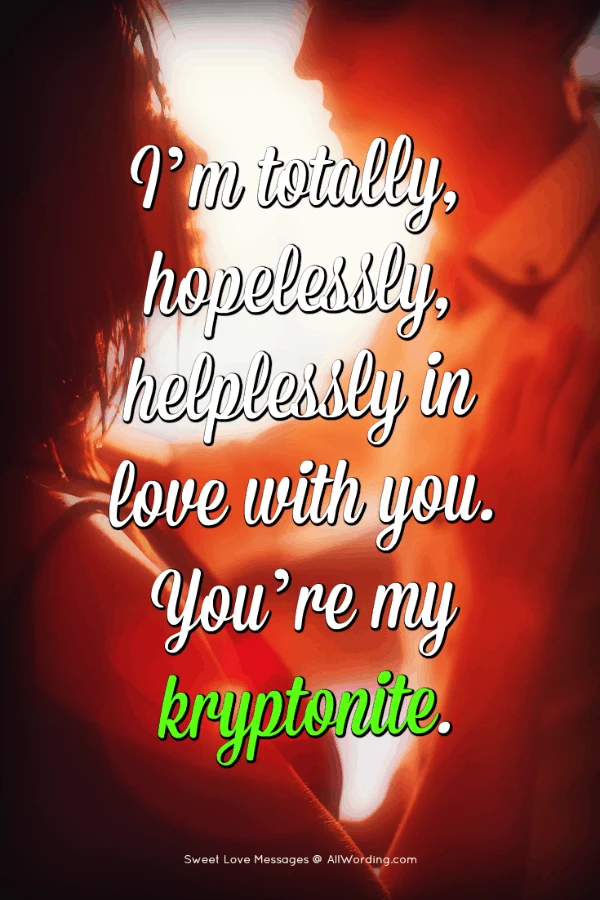 I can't stop thinking of you, baby. Fortunately, I don't want to stop thinking of you.
I'm picturing your beautiful face right now, and dreaming of the next time I can see you.
You take my breath away every single day.
Wanna know a secret? I'm seriously obsessed with you.
You're beautiful and amazing, and I consider it my duty to make sure you never forget it.
You're so amazing in so many ways.
I wish I could tell you how much I love you, but there are no words for it.
If you could see yourself through my eyes, you would never, ever doubt that you're beautiful.
You are part of me… the best part.
Every time I look into your eyes, I become even more convinced that we belong together.
I was just thinking of you… in fact, I haven't stopped thinking of you since the moment we met.
My life is so much sweeter with you in it.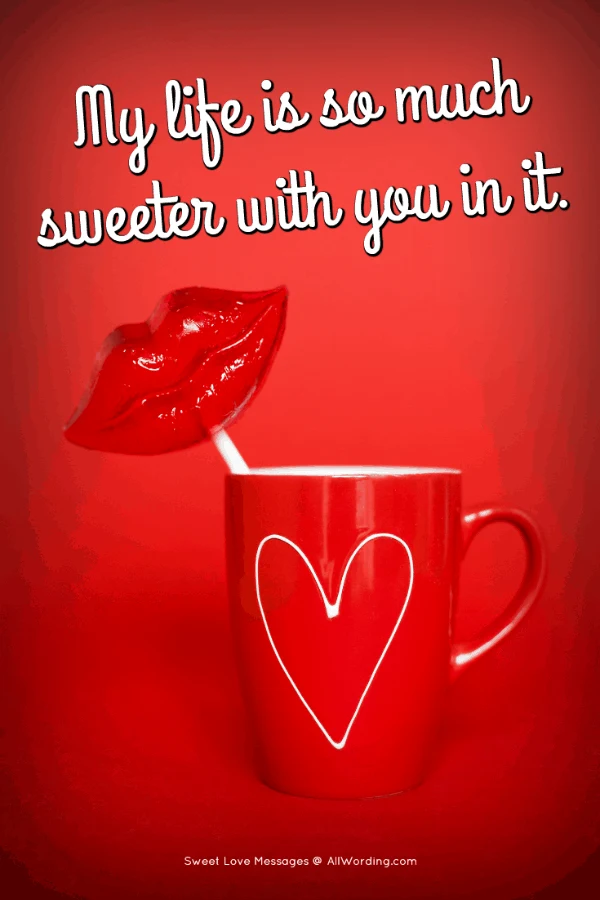 There's nothing I'd rather do right now than bury my face in your hair and kiss your neck.
From the day we met to this very moment, you've had me captivated.
Hey you! Yes you, the beautiful one! I love you.
You know what I love about you? Everything.
You have my heart. All of it.
Long
When a few short words simply don't cut it, consider sending one of these long love messages for her.
You must be an angel. You look like one. You glow like one. You soar like one. And like the angel you are, you take me to heaven every time I'm with you.
To say I'm crazy about you would be an understatement. I should be sent to an asylum for people who are crazy in love. Lock me up in a padded room with a guard outside the door 24/7. It's the only thing that could possibly keep me away from you.
Since I've been with you, all those sappy love songs have started to make more and more sense. The old me would probably be embarrassed by such "corny" feelings. But who cares what the old me would think? He was an idiot who never really knew what it felt like to love and be loved.
Having someone like you in my life is a real gift. No matter what happens in the future, I will always be grateful for the time we had together. And I know that thinking about you will always, always, always bring a smile to my face.
You are the most wonderful woman in the world to me. But even if every woman were as wonderful as you, I would still want you and only you. You're special to me because of everything we've been through together. And because, well, you're mine.
For a Wife
Here are some love messages for the wife you adore. If it's a longtime marriage, you might also want to consider sharing one of these poignant quotes about time and love.
I'm still infatuated with you, and I always will be.
I'm so lucky to have you as my wife. I didn't just get a good one – I got the best.
You're my lover, my wife, and my best friend for life.
I love and appreciate you so much. I know I don't say it enough, but I feel it every day.
I don't know why you picked me over all the other guys who would love to be with someone like you… but I'm so thankful you did.
If I lived a thousand lives, there's no way I could ever find another wife as wonderful as you.
How lucky am I to have a wife like you? You're the best, sweetheart.
After all these years, you're still my girl, my baby, my angel, my love.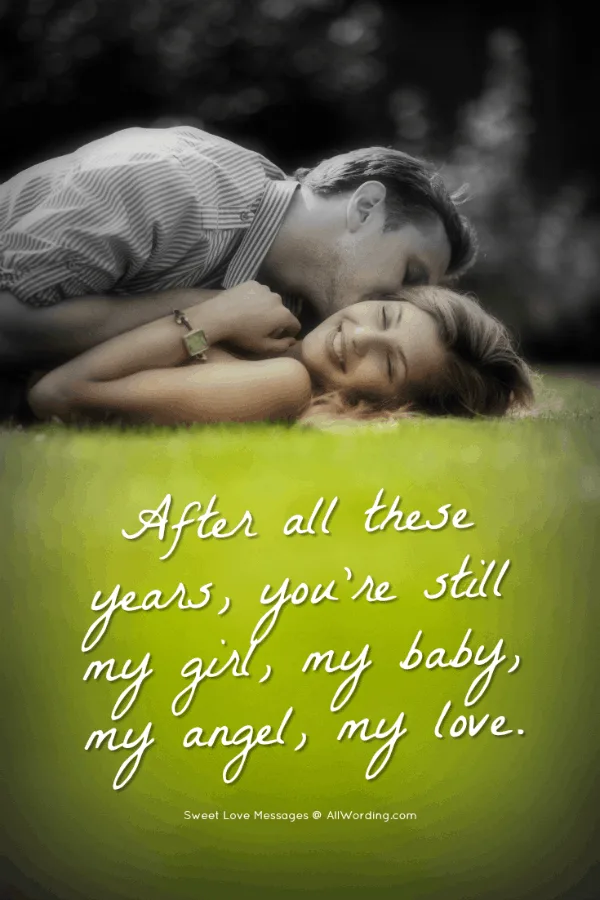 I love being your husband, and I don't know what I could have possibly done to deserve such an honor.
You're a wonderful wife and partner, and if I ever start taking you for granted, please just slap me.
For a Girlfriend
Here are some cute love messages written specifically for a girlfriend.
I can't wait to see you again, baby. Somehow, you get lovelier every time we meet.
You're a beautiful woman and a lovely person. I'm so proud to call you my girlfriend.
Just wanted to remind you that you are, without question, the best girlfriend in the world.
Hey pretty girl, wanna go steady?
Ouch! Sorry, I was just thinking about the fact that you're my girlfriend and had to pinch myself to make sure I wasn't dreaming.
You're just a fantastic person. Even if I couldn't have you as my girlfriend, I would still need you in my life.
You are the kindest and cutest girlfriend a guy could ask for.
Life is so much easier when you have a wonderful girlfriend. No matter how frustrated or annoyed I get, I can always think of you and be happy again.
Deep Love Messages For Her
Finally, here are some especially powerful and deep love messages for her. Before sending one of these messages, pause and make sure you really mean it.
I'm falling so hard for you that I can't catch my breath. It's scary and wonderful.
I'll never have the words to tell you how much I love you. I'll just have to do my best to show you every single day.
I didn't really start living until you came into my life.
I didn't know I was capable of loving someone so much. I had to meet you to find out.
The question isn't whether I want to be with you forever. The question is, is forever long enough?
You're a lovable person, and any guy would consider himself lucky to be with you. But could anyone love you as much as I do? I don't think it's possible.
I love you more and more each day. How is even possible to love someone this much?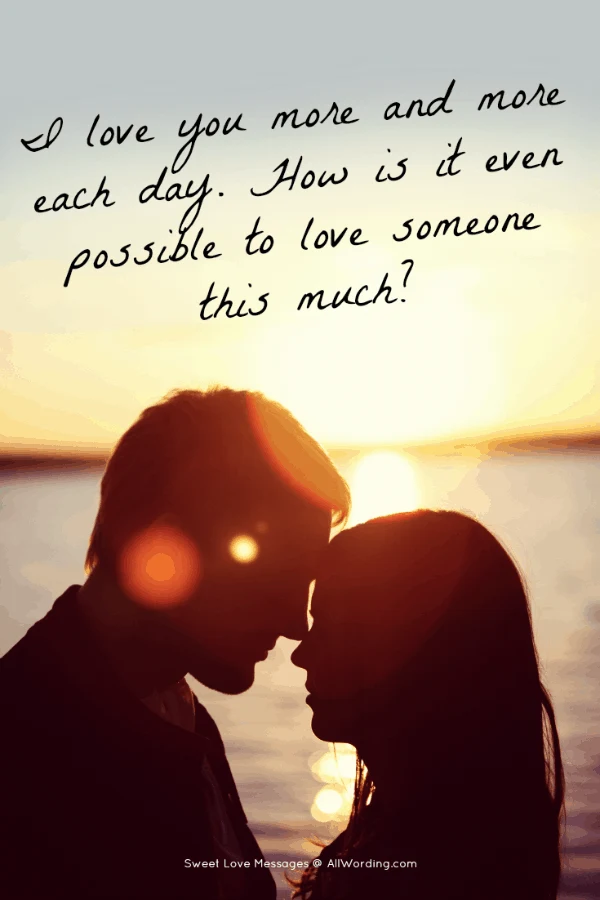 Whatever you need, I'll give it to you. Whenever you need me, I'll be there. Wherever you go, I'll follow.
The thought of you being with someone else makes me crazy. The thought of me being with someone else makes me sad. I think this means that we belong together.
You are the only girl for me. I don't need any others, because your love is enough to last me the rest of my life.
Still looking for the perfect romantic message for your wife, fiancée, or girlfriend? If you couldn't find one above, it might be time to consult the master. Yes, we're talking about Shakespeare.