Ever notice how the concepts of time and love seem to go hand-in-hand?
You spend your whole life looking for someone. You fall in love at first sight. You spend every waking moment thinking about that person. When you kiss, time stands still. And if the two of you are meant to be, your love lasts forever.
So, what explains the link between time and love? Maybe spending time with that special someone makes us realize how precious every moment is. Or perhaps it's because love makes us look to a future of marriage, kids, and growing old together.
In any case, here are some famous (and not-so-famous) quotes about time and love. Share them with someone you love, or just enjoy them on your own. It's time well spent.
"If you live to be a hundred, I want to live to be a hundred minus one day so I never have to live without you."

A.A. Milne (Winnie-the-Pooh)
"I would rather spend one lifetime with you than face all the ages of this world alone."

J.R.R. Tolkien (The Lord of the Rings)

"True love is eternal, infinite and always like itself. It's always equal and pure. Without violent demonstrations: It is seen with white hairs and is always young at heart."

Honore de Balzac

"Lovers don't finally meet somewhere. They're in each other all along."

Rumi
"I knew why love was always described with eternity. A single minute stretched out for lifetimes."

Shannon A. Thompson

"True love stories never have endings."

Richard Bach

"Love is an act of endless forgiveness; a tender look which becomes a habit."

Peter Ustinov

"If I had a flower for every time I thought of you, I could walk through my garden forever."

Alfred Tennyson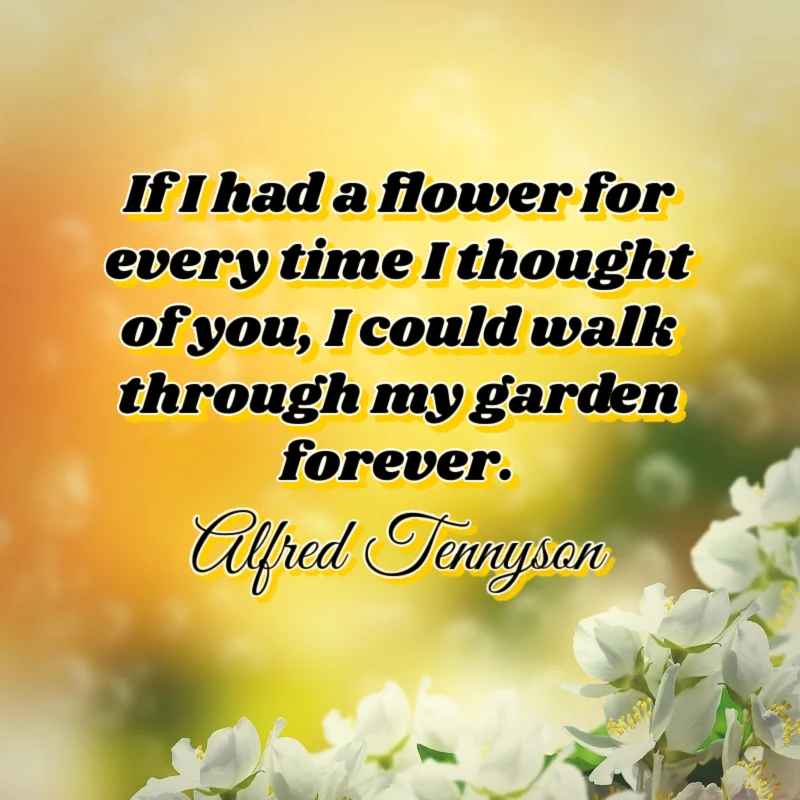 "Grow old along with me! The best is yet to be!"

Robert Browning

"Love doesn't just sit there, like a stone, it has to be made, like bread; remade all the time, made new."

Ursula K. Le Guin

"Love is the voice under all silences, the hope which has no opposite in fear; the strength so strong mere force is feebleness: the truth more first than sun, more last than star."

e.e. cummings

"Love is like an hourglass, with the heart filling up as the brain empties."

Jules Renard
"I swear I couldn't love you more than I do right now, and yet I know I will tomorrow."

Leo Christopher

"I seem to have loved you in numberless forms, numberless times, in life after life, in age after age, forever."

Rabindranath Tagore

"It is love, not reason, that is stronger than death."

Thomas Mann

"Never part without loving words to think of during your absence. It may be that you will not meet again in this life."

Jean Paul Richter
"Love is not about how many days, weeks or months you've been together, it's all about how much you love each other every day."

Unknown

"There is never a time or place for true love. It happens accidentally, in a heartbeat, in a single flashing, throbbing moment."

Sarah Dessen

"Love is like war: easy to begin but very hard to stop."

H. L. Mencken

"When you are missing someone, time seems to move slower, and when I'm falling in love with someone, time seems to be moving faster."

Taylor Swift

"Age does not protect you from love, but love, to some extent, protects you from age."

Anais Nin
"I would rather live and love where death is king than have eternal life where love is not."

Robert Green Ingersoll

"We sat side by side in the morning light and looked out at the future together."

Brian Andreas

"You will never age for me, nor fade, nor die."

Marc Norman (Shakespeare in Love)

"Love is a flower you got to let it grow."

John Lennon (Mind Games)

"If you remember me, then I don't care if everyone else forgets."

Haruki Murakami
"My heart is, and always will be, yours."

Jane Austen

"Souls do not have calendars or clocks, nor do they understand the notion of time and distance. They only know it feels right to be with one another."

Lang Leav

"Love is space and time measured by the heart."

Marcel Proust

"Come out of the circle of time and into the circle of love."

Rumi

"What we have once enjoyed we can never lose. All that we love deeply becomes a part of us."

Helen Keller
"I believe in love. I think it just hits you and pulls the rug out from underneath you and, like a baby, demands your attention every minute of the day."

Jodi Picoult

"All that you are is all that I'll ever need."

Ed Sheeran

"I'll be there, 'til the stars don't shine
'Til the heavens burst and the words don't rhyme
I know when I die you'll be on my mind
And I'll love you always"

Bon Jovi (Always)

"Have enough courage to trust love one more time and always one more time."

Maya Angelou
"Love does not begin and end the way we seem to think it does. Love is a battle, love is a war; love is a growing up."

James Baldwin

"Pleasure of love lasts but a moment. Pain of love lasts a lifetime."

Bette Davis

"Love is so short, forgetting is so long."

Pablo Neruda

"Loved you yesterday, love you still, always have, always will."

Elaine Davis
"Love is the emblem of eternity; it confounds all notion of time; effaces all memory of a beginning, all fear of an end."

Madame de Stael

"Love is a choice you make from moment to moment."

Barbara De Angelis

"I love her, and that's the beginning and end of everything."

F. Scott Fitzgerald

"For you see, each day I love you more, today more than yesterday and less than tomorrow."

Rosemonde Gérard

"Love doesn't make the world go 'round. Love is what makes the ride worthwhile."

Franklin P. Jones
"It isn't possible to love and part. You will wish that it was. You can transmute love, ignore it, muddle it, but you can never pull it out of you. I know by experience that the poets are right: love is eternal."

E.M. Forster (A Room with a View)

"Unable are the Loved to die
For Love is Immortality,"

Emily Dickinson

"When you realize you want to spend the rest of your life with somebody, you want the rest of your life to start as soon as possible."

Nora Ephron (When Harry Met Sally)

"He is not a lover who does not love forever."

Euripides
If you liked these quotes about time and love, you might also appreciate these long-distance relationship quotes.