Do we really need a day devoted to appreciating bosses? One might think that their higher status, better pay, and primo parking spots would be all the recognition they would need. Then there's the fact that some employees already suck up to the boss, with or without a day designated for that purpose.
Be that as it may, Boss's Day has become a thing. That means that on or around October 16 of every year, workers are obliged to express their appreciation for their managers – whether they want to or not. This could translate into a gift for the boss, or just a few words in a text, email, or greeting card.
If you truly love your boss, it's best to craft a heartfelt message in your own unique style. Unfortunately, the right words don't always come easily. And what if you're not close with your boss? That's even tougher. To help you out, here are some examples of happy Boss's Day messages for various situations.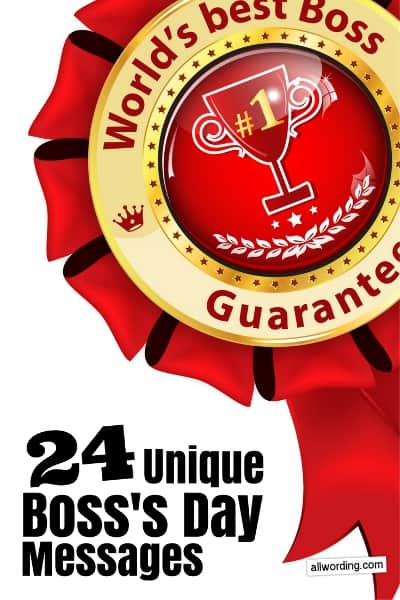 Formal
Here are some straightforward wording ideas that work for just about any employee-boss relationship.
One day a year isn't enough to recognize you and the great work you do. Thanks!

Thanks for the example you set and the support you give. You bring out the best in us all.
Just wanted to let you know that I appreciate everything you do for this company and the employees who work for it.
You're more than a boss – you're a mentor and a leader. Thanks for everything you do.

Happy Boss's Day to someone who does so much for this company and its employees.
Happy Boss's Day to someone who works hard every day.
Funny
If you're closer with your manager, or work in a more relaxed environment, one of these funny Boss's Day messages might be just the thing.
We'd be at a loss… without you as our boss!

Happy Boss's Day from your favorite employee!
Managing people isn't easy, especially with knuckleheads like me in the office. How do you do it?
Somehow you manage to wade through a ton of B.S. every day and still come out smelling like a rose.
You're the best boss I've ever had, and I'm not just saying that because I want a raise.
Whoever invented National Boss's Day was probably trying to suck up to their boss. With that said, Happy Boss's Day to the greatest manager who has ever lived.
You make every day feel like Casual Friday.

Happy Boss's Day! I regret to inform you that everyone will be too busy kissing your butt today to get much work done.
Special Boss
Finally, if you truly appreciate your boss, a more heartfelt message is in order. Here are some wording samples to consider.
You make work feel like play, and that's the greatest compliment I can give any manager.
Happy Boss's Day to someone who is never too busy to lend a hand, answer a question, or offer support.
The best perk of this job is having you as a manager. You're awesome!

There's a reason they pay you the big bucks. As far as I'm concerned, you're worth every penny.
Thanks for your support and understanding through some very challenging times. I couldn't ask for a better supervisor.
No amount of money or perks could adequately compensate you for everything you do for your employees. You truly go the extra mile.
You're living proof that you don't have to be bossy to be a great boss.

I hope your boss is as good to you as mine is to me. You deserve it.
You're a great boss, but you're an even better friend. Thanks for all you do!
Best. Boss. Ever.
Remember that National Boss's Day is on October 16 (or the closest workday if the 16th falls on a weekend). Whether you use one of the above message examples or not, don't miss your chance to express your appreciation for all your boss does. Your next evaluation could depend on it.