They're sneaky, creepy, and Halloween-y. Spiders, more than just about any creature you care to name, give people a major case of the willies. In fact, according to some estimates, upwards of 15% of the population suffers from full-on arachnophobia – making it one of the most common phobias around.
If spiders give you the heebie-jeebies, one surefire antidote is to inject a little humor into the situation. That's what the following list of spider puns is all about. It's positively crawling with clever wordplay about webs, venom, fangs, and all the other traits that make spiders so extraordinary.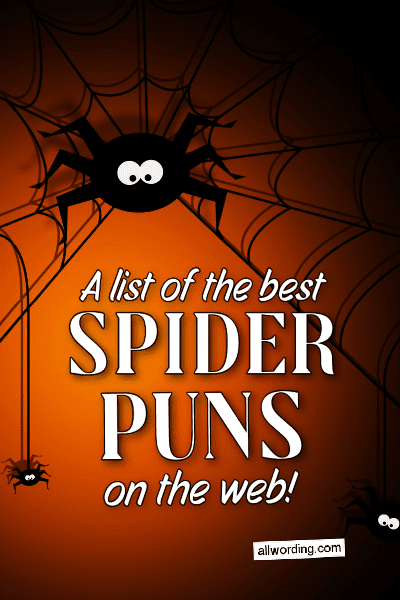 Riddles
To get things spinning, here are some spider puns in the form of riddles.
Why did the nice little spider starve to death?
He wouldn't hurt a fly!

Why is it so easy for female black widows to find a mate?
Because all the guys are dying to meet them!
How do other spiders find a partner?
They usually meet on the web!
Why does Spider-Man always have exact change on him?
Because of his spidey cents!
What do spiders do when they want to learn more about flies?
They search the web!
What did the spider say when something finally landed in its web after a long week?
Thank god it's fly-day!
What is a wolf spider's favorite holiday?
Howl-oween!
What do spiders do when they have trouble making webs?
They go see a spin doctor!
What sport do all spiders refuse to play?
Squash!

What did the spider call his mom's sister?
Tar-aunt-ula!
What did the astronaut say when he found a spiderweb aboard the spaceship?
Houston, weave got a problem!
Why do spiders make good outfielders?
They're great at catching flies!
What's the scariest type of spider?
The terror-antula!
Why did the company hire a spider for their online division?
The needed a new website!
Why did the company fire the spider who made them a website?
It had too many bugs!
Short Sayings
Here are a few snappy spider puns for captions, signs, and the like.
My house has so many spiders, it's practically a no-fly zone.

Spiders are a real buzzkill.
I like looking for spiders. I guess that makes me a web browser.
Spiders are the original web designers.
Fangs for the memories.
Oh what a tangled web we weave.
Just thinking about spiders sends me into a tailspin.
Halloween Messages
Finally, here are a few Halloween messages featuring spider wordplay. For more spooky season silliness, see our big list of Halloween puns.
Let's hang out this Halloween!

Have a hairy scary Halloween!
May your Halloween be like a spider under your shoe – a smashing success!
Remember to exercise caution when searching the web this Halloween!
Hope your Halloween doesn't bite!
Hope your October is crawling with fun!

My spidey sense says it's going to be a great Halloween!
Hope you get a leg up on the competition when trick-or-treating this Halloween!
Like a fly caught in a spiderweb, I'm totally stuck on Halloween!
Looking for more creepy pun fun? Head over to our articles on witches, vampires, and skeletons.