Christmas is known for being the most wonderful time of the year, but it's also quite possibly the most hilarious. Let's be honest – many of the holiday's traditions are ridiculous when you stop and think about them. You've got people bringing trees into their homes, a fat man in a flying sleigh, and bizarre rituals like the tacky sweater contest.
Yep, Christmas is ripe for comedy, and that's great news if you're looking for funny things to write in a Christmas card. Even better, you don't have to come up with your own wording – you can just steal one of the many cute and/or witty Christmas messages already in circulation. After all, who's going to stop you? The Christmas card police?
To help you out, here's a collection of 25 funny Christmas card sayings, with a mixture of the well-known, the obscure, and the totally original. They're guaranteed to make the people on your Christmas card list just a bit more jolly this holiday season.
Warning: Some of the humor here is on the raunchy side and may not be appropriate for your Aunt Betty.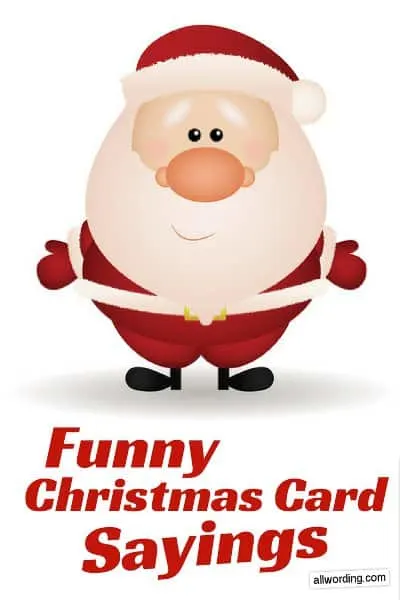 Christmas Humor
You want funny Christmas card wording? The most obvious choice is an awful, groan-inducing holiday joke.
What does Santa call his little helpers?
Subordinate clauses!
What do you call a kid who won't sit on Santa's lap?
Claustrophobic!
Why did Santa quit smoking?
Because it was bad for his elf.
What's the difference between a snowman and a snowwoman?
Snowballs!
Whoever said "All is Calm" has never been to our house around Christmas. Some might say we're not very bright, either.
God bless us, every one!
(Excluding assholes, of course.)
I put out for Santa.
Cookies, I mean!
Want more holiday silliness like this? Check out AllWording's list of terrible Christmas puns.
Funny Holiday Wishes
Here are some short and witty Christmas messages to try if you're looking for an alternative to the standard "Merry Christmas." You can find even more humorous ideas in our list of short Christmas greetings.
Bah humbug!
(Just kidding – Merry Christmas!)
Sure, being on the Nice list gets your more presents, but being Naughty is its own reward.
Keep Calm and Wait For Santa.
May you be surrounded by ho's this Christmas season.
Don we now our ugly sweaters.
May your nuts remain uncracked this holiday season.
Santa is looking younger each year.
Funny Christmas Quotes
When all else fails, use a quote from someone famous. Here are some good ones.
The main reason Santa is so jolly is because he knows where all the bad girls live.
George Carlin
Christmas is a time when everybody wants his past forgotten and his present remembered.
Phyllis Diller
You'll shoot your eye out, kid.
A Christmas Story
The Supreme Court has ruled that they cannot have a nativity scene in Washington, D.C. This wasn't for any religious reasons. They couldn't find three wise men and a virgin.
Jay Leno
You can tell a lot about a person by the way they handle three things: a rainy day, lost luggage and tangled Christmas tree lights.
Maya Angelou
Mail your packages early so the post office can lose them in time for Christmas.
Johnny Carson
Nothing's as mean as giving a little child something useful for Christmas.
Kin Hubbard
One of the nice things about Christmas is that you can make people forget the past with a present.
Unknown
The best way to spread Christmas cheer is singing loud for all to hear.
Buddy the Elf
There are three stages of man: he believes in Santa Claus; he does not believe in Santa Claus; he is Santa Claus.
Bob Phillips
Money's scarce
Times are hard
Here's your fucking
Xmas card
Phyllis Diller
And that's as good a place as any to end this collection of funny Christmas card wording ideas. Happy Holidays to all, and remember… it's all fun and games until Santa checks the Naughty list. Speaking of Santa, you might want to check these festive Christmas Eve wishes.