Why are funny birthday messages so popular? Perhaps it's because laughter is the greatest gift you can give someone.
Also, it's cheaper than sending a present.
That said, using humor to wish someone a happy birthday comes with certain pitfalls. You could offend someone who's sensitive about their age. You could crack a joke that's inappropriate for the situation. Worst of all, you could send a funny birthday wish that simply isn't funny.
To help you avoid those perils, we've put together this gigantic list of funny birthday wishes. We've divided them into different categories, so you can find a message aimed directly at the funny bone of the birthday girl or boy.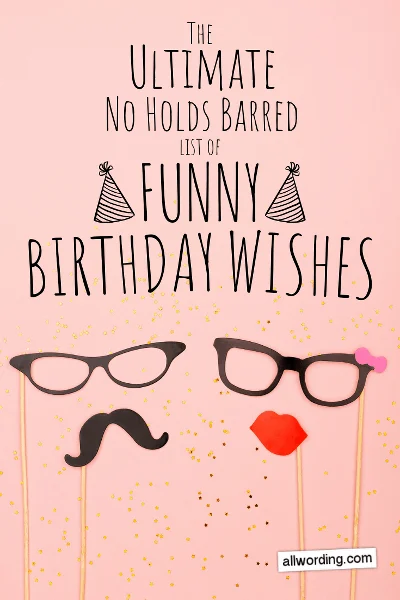 Getting Older | Overindulging | For Men | For Women | Miscellaneous
Getting Older
By far the most common type of funny birthday wish is the one that makes fun of the person's age. Here are some hilarious examples.
You're still hot after all these years… just not as hot as your birthday cake will be once all those candles are lit!

Another birthday? You're going to need a bigger cake… or smaller candles!
Don't fret over another birthday. You were already old.
Happy Birthday! How does it feel to be REDACTED years old?
Your birthday is the perfect time to recognize all your wonderful qualities, including the fact that you're older than me.
Don't worry about having another birthday. Your body may be piling up the years, but your mental age continues to stagger along in the single digits.
Let me be the first to wish you a Happy Birthday… and point out that you are older than dirt.
Did you know that birthdays are good for you? Studies have shown that the more of them you have, the longer you live!
Happy Birthday! I'm not saying you're old, but your birth certificate is on papyrus.

Happy Birthday! There may be a few more wrinkles in your birthday suit, but you're still looking good!
You look great for your age. Happy [age + 10] Birthday!
Happy Birthday! Don't hurt yourself blowing out all those candles!
Don't worry about turning a year older. Pretty soon you won't be able to remember your age anyway.
It's your birthday! This is a big one. Then again, at your age, every birthday is a big one!
I'm not saying you're old, but if you were milk I'd sniff you before pouring you on my cereal.
Happy Birthday! For everyone's safety, please skip the candles this year.
Overindulging
Here are some humorous birthday wishes that focus on drinking and other indulgences.
May your birthday be filled with all the happiness and joy that an immoderate amount of alcohol can provide.

May you have loads of fun on your birthday. Remember: Not only does wine getter better with age, but age gets better with wine!
Hope you have a wild time tonight. Just keep in mind that "It was my birthday" is not an actual legal defense.
I hope your birthday celebration is full of many memorable moments, and that you can actually remember some of them the next day.
Follow These Steps: 1) Eat cake. 2) Get drunk. 3) Have hot sex. 4) Repeat until you've had a Happy Birthday.

It's your birthday? As if you needed an excuse to act irresponsibly!
Just because you're older doesn't mean you can't party all you want on your birthday. Of course, getting up the next morning may be a problem.
It's your birthday! Time to drink beer and eat sheet cake until you barf.
At last you've reached an age where it's time to eat healthy, exercise, and limit your consumption of alcohol. (Are you laughing yet? This is the funniest birthday wish I could think of.)
Happy Birthday! If you wake up in a strange place tomorrow morning, you either 1) had too much to drink or 2) have gone senile. At your age, it could go either way.
Hope you take plenty of pictures on your birthday. Just don't forget to delete the incriminating ones!
For Men
Here are some funny birthday messages specifically for a guy.
Happy Birthday to a guy who still isn't showing his age… or acting it!

Happy Birthday! Hope you consume plenty of cake, beer, and ED meds.
Happy Birthday to a guy who's witty, manly, handsome… and reminds me a lot of myself!
Happy Birthday! Don't worry – I would never make fun of your age. You might hit me with your walking cane!
Sure, you've got more wrinkles, less hair, and your balls are sagging ever closer to your knees, but… eh, I got nothin'. Happy Birthday!
Happy Birthday, man! I was going to arrange for a beautiful woman to jump out of a cake for you, but your age, it could trigger a heart attack.
For more humorous birthday wishes for him, see this list of ways to say "Happy Birthday, old man."
For Women
Here are some funny birthday wishes for a lady.
Happy Birthday to an old lady who still knows how to party!

Happy Birthday to someone who's an even bigger diva than me!
Remember: It's better to be a year older than a month late. Happy Birthday!
It's your birthday! Turn up the sass, fill up your glass, and go kick some ass!
Happy Birthday, lady! You keep looking young, and I'll keep refusing to tell people how old you really are. Deal?
For a different type of birthday wish for a woman in your life, see these "Happy Birthday, beautiful" messages.
More Funny Birthday Wishes
Finally, here are some miscellaneous birthday wishes to put a smile on someone's face.
I didn't get you a gift or a card, but please accept this half-assed Happy Birthday wish sent via social media.

Congrats on escaping the womb many years ago.
Happy Birthday to someone who's not completely annoying most of the time.
Happy Birthday! I totally would have remembered without Facebook's help.
I was going to send you a big wad of cash for your birthday, but then I realized that just knowing me was enough of a gift.
Congrats on avoiding death's clutches for another year.
Your birthday is a good time to take stock of your life, remember all the good times, and marvel at the fact that you've managed to survive this long.
Looking for ways to thank you for birthday wishes? We have some ideas for you.