Puns make great birthday gifts. Everyone can afford them (seeing as how they're free). They bring joy to many. And unlike the birthday girl or boy, they never get old.
Of course, that last point is a matter of opinion. Puns, much like birthdays, are not universally loved. Still, if there's one day out of the year when a normally pun-averse person might be inclined to enjoy some silly wordplay, it's his or her name day.
With that in mind, here are some lighthearted happy birthday puns to share with a spouse, friend, family member, or other special person in your life. If you like puns, we think you'll agree that these sayings really take the (birthday) cake.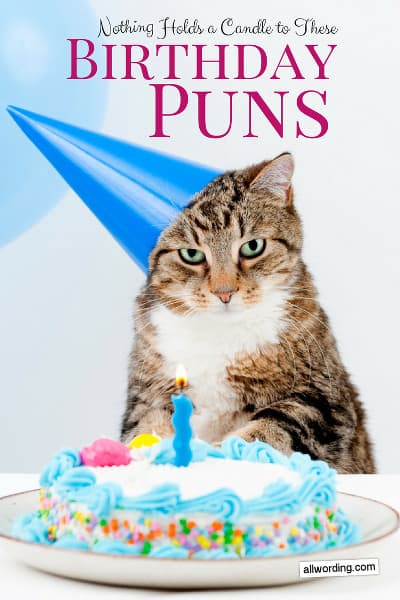 Riddles
To start off, here are some punny birthday riddles.
What do you call it when you give a child a training toilet for her birthday?
A surprise potty!
Why don't owls exchange birthday gifts?
They don't give a hoot!
Why do people write on birthday cakes?
Because everyone wants to have their cake and read it too!
What type of birthday cake did Peter Pan get?
A pan-cake!
What kind of birthday cake do you serve to a fan of Stranger Things?
An upside-down cake!
What do you say to a Mexican sheep on his birthday?
Fleece cumpleaños!
What do you say to a female sheep on her birthday?
Happy birthday to ewe!
What do you say to a tree on its birthday?
Sappy birthday!
Why did the unhappy husband buy sexy lingerie for his wife's birthday?
So he could give her the slip!
Did you hear about the birthday boy who swung his bat 100 times before finally hitting the piñata?
He really busted his ass!
Punny Birthday Wishes
Looking for a funny/punny way to wish someone a happy birthday? Here are some options.
There's nothing better than presents from friends and family on your birthday, unless it's the presence of friends and family on your birthday.
It's a sad fact that the older you get, the more your birthday suit needs to be pressed. Hope you don't have any pressing concerns on your birthday.
As a friend, you really take the birthday cake. Have a great one.
I know getting older is no piece of cake, but try not to think about that when you're blowing out your birthday candles. Enjoy every last bite.
It's time to blow up the balloons and blow out the candles. Otherwise, I hope your birthday doesn't blow.
This whole birthday thing is getting old, don't you think?
For more ideas, check out this list of funny birthday wishes.
Animals
Finally, here are some funny birthday puns featuring animals.
The cat's out of the bag – you're one year older. Hope your birthday leaves you feline good.
Have a purr-fect birthday.
I heard some-bunny was turning [age]. Happy birthday!
Dogs age seven times faster than humans. And you think you have it ruff!
Have a howling good time on your birthday, but don't wolf down your cake too fast.
It's okay to go a little hog wild on your birthday.
Have a bear-y happy birthday.
Happy birthday to a paw-some friend.
Looking for a funny saying to put on a birthday cake? There's a whole other list for that.