The internet has done wonders for belated birthday wishes. In the past, you had to send your belated birthday card via snail mail, knowing it would be even more tardy by the time it made it to its destination. Of course, without the benefit of Facebook, you probably wouldn't even know you missed someone's birthday in the first place.
These days, you can send a belated birthday wish in an email, text, or social media post, so it's not quite so belated. The hard part is figuring out what to say. To help on that front, here's a big list of belated birthday wishes for friends, coworkers, and other acquaintances (if you missed the birthday of a sweetheart or best friend, sorry, you're on your own).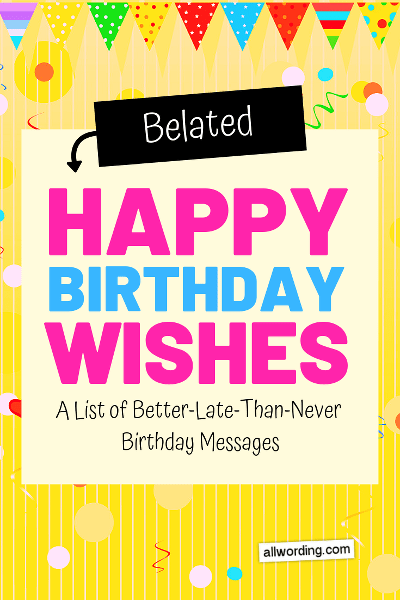 Note: Whatever you do, don't use the phrase "Happy Belated Birthday." As any grammarian will tell you, it's not the birthday that's late, but the birthday wish.
Funny
Humor is good for both birthday wishes and awkward situations, making it ideal for a late birthday message. With that in mind, here are some funny belated birthday wishes.
I must have been in a fog when your birthday came around… because I mist it.
Let me be the last one to wish you a Happy Birthday.
Sorry I forgot your birthday! Somehow whenever you get older, I get more forgetful.
I didn't forget your birthday. I just didn't want you to get all your birthday wishes on the same day.
Belated birthday wishes from your most forgetful friend.
Hope you had a wonderful birthday surrounded by people who didn't forget it. Sorry I missed your big day!
I forgot your birthday. On the bright side, I also forgot how old you are.
You didn't hear from me on your birthday due to a technical problem. My brain malfunctioned. Happy Birthday – hope it was great!
Happy Birthday to someone who is truly unforgettable. Unfortunately, your birthday is forgettable, which is proven by the fact that I forgot it. Sorry!
You forgot to remind me not to forget your birthday. But don't worry, I forgive you. But seriously, Happy Birthday!
How could I forget your birthday? Must be because you look like you haven't aged a day since the last one!
Sincere
Here are some sincere messages to send when you've missed someone's birthday.
I know it's too late to wish you a Happy Birthday, so instead I'm wishing you a happy day today.

I'm so sorry I missed your birthday. I hope it was spectacular.
Belated birthday wishes. I hope your big day was as amazing as you are.
Just because this birthday wish is late, doesn't mean you aren't special to me. Hope your big day was wonderful.
I heard you just had a birthday. Hope it was incredible. Please accept my late (but very sincere) birthday wishes.
Forgive me for missing your birthday. Life gets hectic sometimes, but there's always time to recognize the people who are special to us.
This birthday wish is late, and I can't even blame the mailman. Sorry! Hope you had an awesome birthday.
VERY Belated
Finally, here are some messages to send when you've missed someone's birthday by more than a day or two.
Do you believe in the old adage "better late than never?" I hope so, because this birthday wish is waaay late!

This birthday wish is so late, I might as well wish you an early Happy Birthday for the next one.
I forgot your birthday. In fact, it was so long ago, that I forgot that I forgot your birthday. So, before I forget again, Happy Birthday!