If the task of coming up with wording for a retirement plaque makes you a little nervous, that's understandable. After all, the words you choose are going to be engraved, and likely displayed in the retiree's home for years to come. Besides all that, the idea of trying to sum up someone's career in a few words might in itself seem daunting.
The good news is, you don't have to do it all on your own. For one thing, there may already be a company or industry boilerplate for you to follow. For another, you've got the following article, which has tips and examples to help you craft the perfect retirement plaque wording.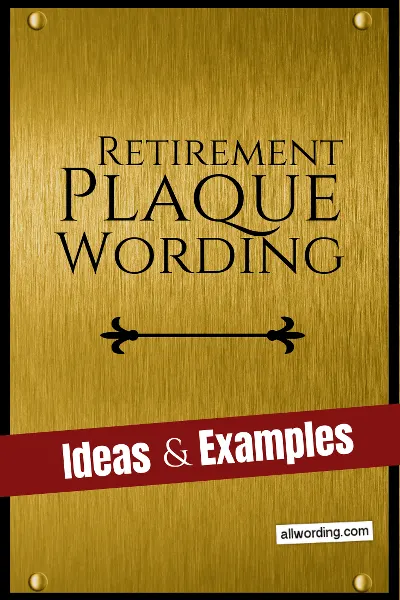 General Tips
To start, here are a few rules of thumb for crafting a good retirement plaque message.
1. Draw upon relevant examples. The best way to get ideas for retirement plaque wording is to find out what your company or organization has done in the past. Another option is to see how others in your line of work have been recognized upon their retirement. If there's an established convention in place for what goes on retirement plaque, consider following it.
2. Keep it professional. A lighthearted or funny message might be appropriate for a more casual employer/employee relationship. But for most other situations, stick with a formal tone.
3. Make it concise. Retirement plaques, much like retirement cakes, don't give you a lot of room to work with. To make sure the wording can be in a large and legible type, keep it short. That said, it's common to devote some space on a retirement plaque to a farewell message or inspiring quote.
Wording Examples
Here are some retirement plaque wording examples. You can use one of these as a template, or just pick up ideas to craft your own wording.
35 Years of Employment
35 years full of good days and bad days, problems, achievements, coffee breaks, office pranks and many, many friendships.
For 35 Years of Excellence
Hannan Tech Would Like to Thank
Darlene Rodgers
We Wish You All the Best in Retirement, Darlene!
September 20, 2023
Recognizing
Elizabeth Owens
For 30 Years of Service
At Bayman Systems Corporation
Congratulations on Your Retirement!
October 12, 2023
Congratulations on Your Retirement
to
James Alvarez
from
Anderson Supply
We hope you enjoy your well-earned rest and relaxation after 17 years of hard work and dedication. You will be missed.
May 3, 2023
Presented to
Sergeant Major
Jaime Holbrook
In recognition of his many years of leadership and dedication to the United States Army.
1999 – 2023
At Ease, Soldier!
In Honor Of
Mary Cruz
For 38 years of teaching and countless lives touched. Congratulations on your retirement!
June 14, 2023
Retirement Plaque Phrases
Here are some miscellaneous phrases to consider for a retirement plaque.
Happy Retirement!
The Best is Yet to Come
You Made a Difference
You Will Be Missed
Thank You For Your Hard Work and Dedication
Best of Luck on Your Retirement
Best of Luck as You Begin This New Chapter in Your Life
In Appreciation For Your Years of Dedication and Commitment
You Have Inspired Us All
We Wish You a Long and Happy Retirement
If you're looking for a poignant message to add to the retirement plaque, see our curated list of famous farewell quotes. Yet another place to look for inspiration is our guide to writing a certificate of appreciation.