To say that beach weddings are "romantic" doesn't do them justice. Going for a walk on the beach is romantic. But getting married on the beach, with the warm sand beneath your feet and the soothing sound of ocean waves crashing in the distance? That's fairy tale stuff.
Of course, the magic doesn't happen on its own – nor is there any fairy dust involved. Planning a wedding is always hard work, and beach weddings come with their own particular challenges. One of those challenges is figuring out what sort of invitations to send out for such a unique event.
The right design or invitation template can work wonders, but the wording you use is also crucial. For ideas, check out the following examples of beach wedding invitation wording in various styles and for various situations.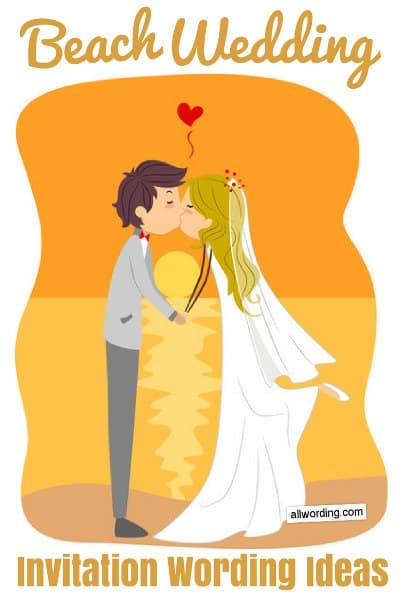 Formal
Formal invitation wording is perhaps the most straightforward way to convey the important details of your beach wedding.
"Love rests on no foundation. It is an endless ocean, with no beginning or end." – Jalaluddin Rumi

Along With Their Families
Melissa Grand and James Holt
Invite You to Attend Their Seaside Wedding
Saturday, June 15, 2021 at 2 pm
American Resort
1234 Sandytoe Way,
Luguna Beach, CA
Reception to Follow

"As the ocean is never full of water, so is the heart never full of love."

Mr. and Mrs. Walter Smith
Cordially Invite You to Attend the Beach Wedding of Their Daughter
Janet Smith to William Wittman
Eversail Hotel
1234 Sandal Street
St. Petersburg, FL
Reception Immediately Following the Ceremony
No Gifts Please – Your Presence is Gift Enough
From Bride and Groom
Here's some beach wedding invitation wording written in the voice of the bride and groom.
With the Sun Above Us,
The Sand Below Us,
The Sea Behind Us
And Our Future Before Us
We'll Say Our Vows
And Make the Sound of Ocean Waves Our Wedding Bells

Please Join Us
Jessica Berry and Allen Jones
As We Get Married in a Seaside Ceremony

There are plenty of fish in the sea
But some things were just meant to be
There's no need to sink our hooks deeper
Because we both came up with a keeper!

Please Join Us
Sarah Kearns and Mike Foley
As We Say Our Vows on the Beach
And Reel in a Happy Future Together
Casual
Casual wording is fitting for the relaxed atmosphere of the beach and the nontraditional nature of the ceremony.
On an ocean shore
They'll say "I do"
What could make it better?
Just one thing – you!

You're Invited to the Beach Wedding Of
Andrew Forge and Johnathon Yoo

With the sand beneath their toes, they will step into the future together.

The Jackson and Williams Families Invite You
To the Wedding of Their Children
Stephanie Jackson and Ryan Williams
In a Sunset Ceremony by the Ocean
Funny
The beach is a place to kick back and have fun. Here are some wording samples that reflect that.
Life's a beach, but their lives are about to get a lot better.

You Are Cordially Invited to the Beach Wedding Of
Angelica Adams and Kelsey Vandersmith
Hope to "Sea" You There!

Swab your poop deck and hold onto your booty, because you're invited to our seaside wedding!
For more funny wording ideas, check out these beach puns.
Destination Wedding
Many beach weddings are also destination weddings. Here are some wording ideas to entice people to an exotic beach.
On a Faraway Shore
We'll Start a New Life
Won't You Join Us
As We Become Man and Wife?

We Welcome You to Come With Us
Janice Weeks and George Miller
As We Say Our Vows in a Very Special Place

On the Beach We've Walked Together
Now it's Time to Make it Forever

Julie Sanchez and Bill Foyer
Together With Their Families
Invite You to Come Along For a Romantic Destination Wedding
If you're having the reception back home, check out these wording ideas.
Hawaiian Wedding
Hawaiian beach weddings are especially popular. Here are some invite wording ideas for an Aloha State wedding.
We've Got Two Tickets to Paradise
How About You?

It Is With Joy That We
Anna Krug and Brian Stoltz
Invite You to Join Us as we Exchange Vows on the Big Island of Hawaii

Aloha!
It Means "Hello" and "Goodbye"
Join Us As We Say "Goodbye" to Our Single Days
And "Hello" to a New Life Together

Along With Their Families
Karen Wright and Phillip Kline
Invite You to Witness Their Wedding on the Warm Sands of Hawaii