Moving into a new home is one of life's most exciting occasions. And it's a good thing, too, because without that sense of excitement you probably wouldn't be able to survive the grueling process of finding a house, negotiating a deal, packing and unpacking umpteen boxes, yada yada yada…
Before you completely settle into your new place, there's one more item on the agenda – the housewarming party. At first it might seem like an extra hassle you don't need, but you'll probably be kicking yourself later if you skip it. A housewarming party is a chance to fortify bonds with old friends and neighbors and start things off right with your new neighbors. Besides, what good is a new house if you can't show it off?
For a housewarming party, you don't need to send out invitations super-early – a couple of weeks before, or even a couple of days, should be just fine. Whether you're going with an electronic invite or a paper one, this article will help you come up with the right wording.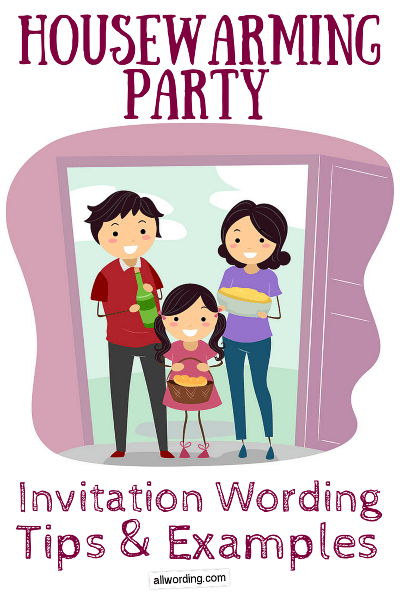 Housewarming Party Invite Tips
The best way to write your own housewarming party invitation is to look at other examples until you feel suitably inspired. That said, it's worth keeping a few general points in mind before you get to work:
1. Simple is A-OK. Housewarming parties are generally casual affairs, so feel free to use simple conversational wording in your invite. If you find yourself tinkering with the wording too much, try to remind your perfectionist self that no one expects perfection. Everyone has been through a big move at one time or another and knows how hectic it is.
2. Ask yourself whether directions are in order. With everyone using cellphone navigation these days, the idea of providing directions seems almost quaint. Still, if there's anything confusing about getting to your new home, you may want to at least offer a tip or two for the sake of old friends who have never visited.
3. Let people know what to expect. The default housewarming party involves drinks, h'ordeurves and lots of chitchat. If you have something different in mind, such as dinner or a game night, you might want to mention it on the invite.
Obviously, your housewarming invite should also include all the basic information your guests need – street address, date, time, etc. If you're unsure about any of that, check out our party invitation primer.
Samples
Here's some example wording to consider for your housewarming party invitation. Note that all the examples except the first are abbreviated to avoid repetition. Make sure you include all the required information when you sit down to write your actual housewarming invite.
You Are Invited To A
Housewarming Party
At the New Home Of
Nancy and Kyle
Come Enjoy an Evening of Food, Wine & Music!
Saturday, May 24
5 pm – 9 pm
1234 Realtor Way, Glendale
RSVP to Nancy (239-1754 / [email protected]) by May 17
The Smiths Have Moved!
Please Join Us For A
Housewarming Party
Friday, March 3
From 7 pm to 12 am
At Our New Home
5678 Mortgage Street, Ashville
Home Sweet Home
Please Drop by For Our
Housewarming Party
Open House: 2 pm – 6 pm
Please Join Us For
Elaine & Kevin's
Housewarming Party
Bring the Whole Family and a Dish to Share!
Housewarming Party
Come Check Out Our New Digs!
Dinner Will Be Served
Help Us Break in Our New Home!
Join Us For A
Housewarming Party
At Brian and Mark's New Place
We've Been in Our New Home 6 Months!
Join Us For a Belated
Housewarming Party