The point of a baby shower is to shower the expectant mother with things she'll need for the new arrival. But what if it's a second child and mom is already awash in baby stuff? In that case, it would seem a bit greedy to ask friends and family to contribute more.
This is why the baby sprinkle was invented. A baby sprinkle is simply a shower for a second baby (or third, or fourth…) where the expectations for gifts are kept low or completely nixed. The idea is to sprinkle the expectant mother with just the essentials.
If you're in charge of planning a baby sprinkle – whether it's for yourself or a friend – sending out invitations is probably near the top of your to-do list. The good news is, a sprinkle invitation doesn't have to be an expensive production. Sprinkles are typically casual affairs, with invitations often coming via do-it-yourself paper invites or email.
To help you along, we've put together a range examples of baby sprinkle invitation wording. Feel free to use these samples as templates for your own invitations.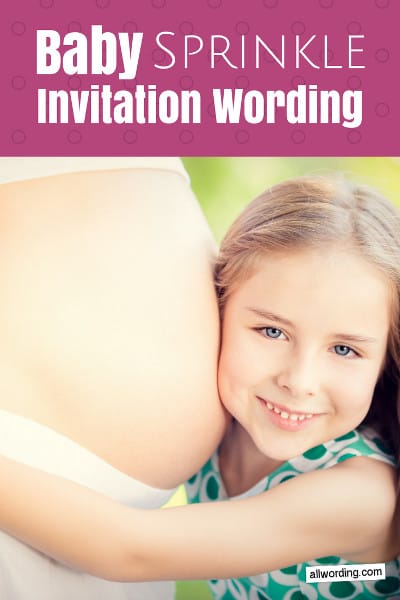 Basic
Here are some basic wording ideas for a sprinkle invite. Note that the first example is more fleshed out, while the others are abbreviated to avoid repetition.
Twinkle Twinkle
It's a Baby Sprinkle!
Join Us As We Honor
Mary Holton
Saturday, March 21st
2-4 PM
The Johnson Home
1234 Raindrop Lane, Evandale
RSVP to Amelia (123-4567 / [email protected]) by March 10
Mary is registered at Target for those who wish to bring a gift.
When It Rains, It Pours!
Please Join Us For A
Baby Sprinkle
As We Honor Three-Time Mommy
Wendy Olson
The Rumors Are True
We're Having Number Two!
Please Join Me For a Casual
Baby Sprinkle
No Gifts Please!
If the sprinkle includes a diaper raffle, you should include some wording for that as well.
Baby Boy
Here are a couple examples of sprinkle wording for a baby boy.
Oh Boy – It's a Sprinkle!
Join Us For a Baby Sprinkle For
Jane Preston
Celebrating the Imminent Arrival of Her Baby Boy
Boy Oh Boy
It's Another Bundle of Joy!
Join Us For a Casual Get-Together For
Amy Price
To Celebrate the Coming Birth of Her Son
Baby Girl
Here's some invitation wording written with a baby girl in mind.
Our Hearts Are Awhirl
We're Having a Girl!
Please Join Us For An Informal
Baby Sprinkle
Celebrating the Imminent Arrival Of Our Daughter
Sugar and Spice and Everything Nice
One Wasn't Enough, So They Did It Twice!
Let's Get Together For A
Baby Sprinkle
Honoring Mommy-To-Be
Karen Joyce
Email Text
Finally, here's what a simple email invite might look like.
Greetings Everyone,
As you probably know, Jennifer Lewis is expecting her second child! In honor of the new addition to the family,
I'm hosting a Baby Sprinkle (it's like a baby shower, but more casual). Here are the details:

Saturday, April 9
2:30 – 5:00 PM
My House
1234 Sprinkle Road, Allentown

As this is a sprinkle and not a shower, don't feel obligated to bring a gift. This is all about getting together with friends to celebrate the new baby. However, if you do want to bring something, Jennifer is registered at Walmart.

If you can make it, please let me know by April 1 (respond to this email or give me a call at 123-4567). Thanks!
Along with baby sprinkles, another popular new trend is the gender reveal party. If you're interested in hosting a gender reveal, we have invitation wording ideas for that as well.