Is it a boy or a girl? Oh, the suspense!
Finding out the sex of your unborn child is one of life's big moments – and increasingly, parents-to-be are sharing that big moment with friends and family. At its simplest, this could involve sending out a cute video, or pictures from a professional photo shoot. At its grandest, it means throwing a "gender reveal party" where everyone – including, in many cases, the expecting couple – gets the news at the same time.
If you're hosting a gender reveal party, there are plenty of decisions to make right off the bat, including how the news will be shared (cakes with pink or blue filling are popular) and how the news will be kept secret from the parents (note from the doctor passed on to the bakery?). Once you've settled those details, it's time to craft a party invitation that conveys the spirit of the occasion and imparts the crucial event information. Read on for a revealing discussion of invitation wording.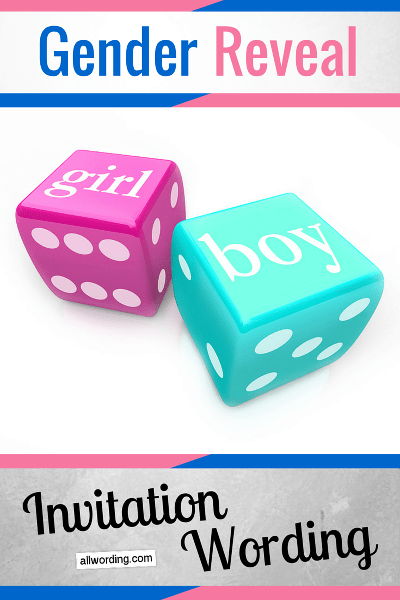 Note: If you haven't announced the pregnancy yet, you may want to send out a separate message for that.
Gender Reveal Party Invite Tips
The best way to come up with invite wording of your own is to read through lots of examples (see below). That said, it's worth going over a few key points first to make sure you don't lose anything as you piece together your own unique invitation. So here's some general advice:
1. Explain the concept. If you're confident that the people on your invite list know what a gender reveal party is all about, maybe you can ignore this advice. However, in almost any group, there are going to be folks who have never heard of this relatively recent trend. For their sake, explain the concept in a few words, or at least follow up with a more detailed email. Of course, if you've got any special rules such as a request for people to wear pink or blue, those must be spelled out.
2. Play up the drama. Increase interest in the party by tapping into the invitee's curiosity about the "mystery" that's about to be solved. If the expectant couple will be learning the news at the same time as everyone else, be sure to mention that on the invite. For a lot of people, learning about the child's gender is less enticing than the idea of witnessing the parents' reaction.
3. Address the baby shower situation. The first thing many people are bound to wonder is whether the gender reveal party doubles as a baby shower, or is a separate event with a shower possibly to follow. If a baby shower is part of the proceedings, the invite should include gift registry information. If it's a separate party, you might want to say whether you expect gifts. Keep in mind that some people might bristle at the thought of attending two separate parties (never mind buying two separate gifts).
Samples
Here are some snippets of wording you can mix, match, and customize for your gender reveal party invitation. Keep in mind that not all of these wording examples have a full set of information you would need for an actual invite (that would get repetitive). Make sure your final wording has all the important details, including the place, time, RSVP info, and so on.
LITTLE MAN or LITTLE MISS?
Let's Find Out Together!
Join Us For A
Gender Reveal Party
The Smith Home
1234 Bundle Way
Bismarck, ND 58501
No Gifts Necessary!
Bring a Dish to Share
RSVP to Nancy Smith (nancysmith@emailprovider.com / 876-4502)
Will it Be
ACTION FIGURES or DOLLIES?
Join Us For A
Gender Reveal Party
To Learn Whether Baby Matheson is a BOY or a GIRL
BABY GIRL or BABY BOY?
Find out at the Same Time We Do!
Wear BLUE or PINK and Let Us Know What You Think
Will Baby Stevenson Be A
BOY or a GIRL?
Join Us For a Gender Reveal Party and be One of the First to Find Out
HE or SHE? What Will It Be?
We're Having A
Gender Reveal Party
To Share the News About Baby Carter
TEAM PINK or TEAM BLUE?
You're Invited to a Gender Reveal Party
Find Out Whether Baby Peterson Will Be a BOY or a GIRL
Join Us For Food, Drink, Games, and the BIG NEWS
If you're serving cake at your gender reveal party, here are some cute ideas on what to write on top of it.