Asking someone for a date is usually an informal thing – and there's a good reason for that. Keeping things casual and seemingly spontaneous (even if you've been practicing in the mirror for hours) is the best way to avoid scaring off the target of your affection.
However, there's also a time and a place for a formal date night invitation. Maybe it's a special occasion like Valentine's Day or an anniversary. Maybe you simply want to spice things up with your longtime significant other. Maybe you're too shy to ask someone in person. Or maybe you just want to make an impression.
Whatever the case may be, finding the right words to say is vital. To help you come up with the perfect date night invitation wording, here's some general advice and specific examples to consider.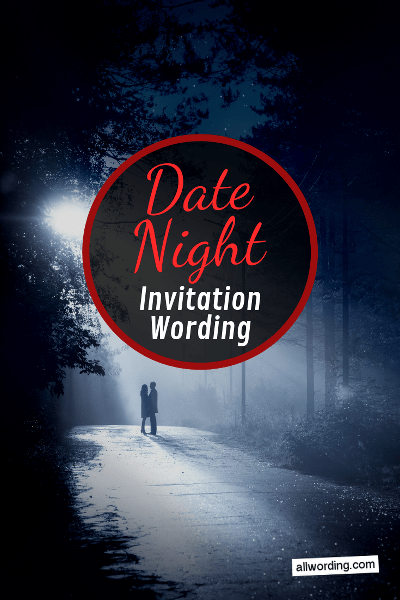 Date Night Invitation Tips
At the risk of stating the obvious, this isn't your typical invitation. The mere fact that you're sending your romantic proposition in such a form should be enough to impress the recipient. Still, a well-crafted invite is guaranteed to score more points than an ordinary one. Here are some tips:
1. Be playful. This is a good time to let down your guard and be a little goofy. Depending on the status of the relationship, you may even want to get provocative with some sexy double entendres. For a sense of what we're talking about, check out this list of cheesy Valentine's Day sayings.
2. Be yourself. Okay, this is something your mom probably told you during your teen years. Doesn't mean she wasn't right. If your romantic dinner invitation is for a spouse or significant other, they should be able to recognize your personality in the wording. If it's for someone you don't know as well, this is a chance to show who you are.
3. Focus on presentation. If it's a paper invitation, buy some nice stationery or find a great printable online. If it's an ecard, spend some time looking for the right design. Small details show how much you care, which is kind of the whole point of this exercise.
Samples
Ideally, the words in your romantic invite should be your own. That said, looking at examples is a good way (if not the only way) to get your writing juices flowing and come up with your own date night invitation wording. Here are some ideas to get you started.
Wanna join me for an adventure? I promise it will be worth your while.
Date: February 14
Time: 8:30 PM – ???
Place: It's a surprise (I will pick you up at your front door. Don't be late… or else!)
If you're in, text YES to 123-4567
P.S. Dress casual
Will You Be My Date?
Join Me For Dinner and Drinks At
The French Table
Saturday, October 3
7 PM
Dress Your Best!
Will you be mine tonight? Let's hit the town for some dinner and dancing, followed by whatever other activities strike our fancy. To reserve a place by my side, all you have to do is dial 123-4567.
For Husband
Dearest William,
You're invited to an exclusive party… a party of two. Join me for dinner, a movie, and a moonlit carriage ride on Saturday, August 19. I will be VERY appreciative of your company.
Love,
Francine
Hey Handsome,
How about we get together for some alone time? I'm thinking dinner, drinks, dessert, and whatever else the evening brings (wink). Let's make it a night to remember.
For Wife
Dear Amy,
May I have the pleasure of your company this evening? I've hired a babysitter and made reservations for dinner and an overnight stay at a nice hotel. Tonight, I want the focus to be all on you.
My Love,
Thank you for making my life so fun, meaningful, and fantastically unpredictable. I want to take my beautiful girl out for a romantic dinner to show my appreciation. Are you game?
As you can see, romantic dinner invitation wording can take a lot of different forms. No sample or template is likely to work for every situation. Good luck coming up with your own unique date night invitation – and good luck with your date!