Why do babies command so much attention? There are lots of reasons, including the fact that we're hard-wired to love and protect our own kind. However, the simplest explanation is that babies are just friggin' cute.
Anyhoo, because people are so fascinated and obsessed with babies, it's only natural that there are many English words and expressions related to them – and that fertile environment creates the perfect incubator for puns. As a result, putting together the following list of cute baby puns was like, well, taking candy from a baby. Use these clever sayings on a pregnancy announcement, shower cake, or just to amuse yourself while you're waiting for your due date.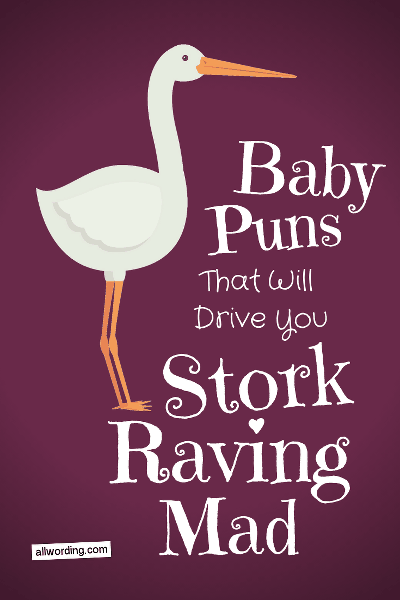 Tell me, does the stork deliver babies with their diapers on?
No, they're stork naked!

You can't just ignore a lady with a huge belly. It's the elephant in the womb.
What's a breast-feeding baby's least favorite holiday?
Hallo-wean!
How did the two babies end up getting switched at the hospital?
Someone was told to change one of them!
We decided to have a baby just for shits and giggles.
What do you do with a fussy baby girl?
You pacify her!

Did you hear about the lady who traveled to the ocean to have her baby?
She needed a sea section!
How did it work out for the lady who had a sea section?
She gave birth to a bouncing baby buoy!
Why did the man bring his pregnant wife a small lizard?
She told him to pick up a baby monitor!
Did you hear that the Pillsbury Doughboy's wife is pregnant?
Yep, she's got a bun in the oven!
Do you remember what you used to call your security blanket when you were little?
No, I'm drawing a blankie!
How can you tell an adult snake from a baby snake?
The baby snake has a rattle!

How do you make a baby ghost laugh?
Play peek-a-BOO!
How did Batman decorate baby Robin's crib?
With a bat mobile!
Where do baby fish sleep?
In a bass-inet!
A mother's milk is the newborn's breast friend.
How do you get a baby from Krypton to go to sleep?
You rocket!
For an expectant mother, having a baby is worth the weight.
Did you hear about the pear who had triplets?
She became a pear-ant and enjoyed the fruits of her labor!
Did you know that you can get a wooden car seat?
It comes with a sign that says "Baby on Board!"
Did you hear about the collie pup who liked to give kisses?
She was col-licky!

Did you hear about the baby turkeys that were all upset?
They were crying fowl!
Why didn't the baby want to be born?
Because she didn't want to give up her free womb and board!
What did the statistician's baby call his father?
Da-ta!
What did the new mom say to her newborn baby when he bit down her nipple?
You suck!
Admittedly, these baby puns stink like a full diaper after an extra helping of sweet potato puree. If you're ready for a change, you might want to check out these funny Mother's Day puns.