The great thing about games is that they're almost always better with more people. In fact, many popular card and board games require three or more players. So, if you want to play that Game of Thrones board game that everyone's raving about, or your beloved Catch Phrase! that's been collecting dust on a shelf, you're going to have to get off your antisocial butt and invite some people over.
Of course, an invitation to a game night doesn't have to be anything fancy, especially if it's just going out to "the usual suspects." In fact, most people probably expect to hear about your game night through a simple email message. But where's the fun in that?
This article will help you write a game night invitation that will score you major bonus points with your guest list. Read on for our winning tips and examples.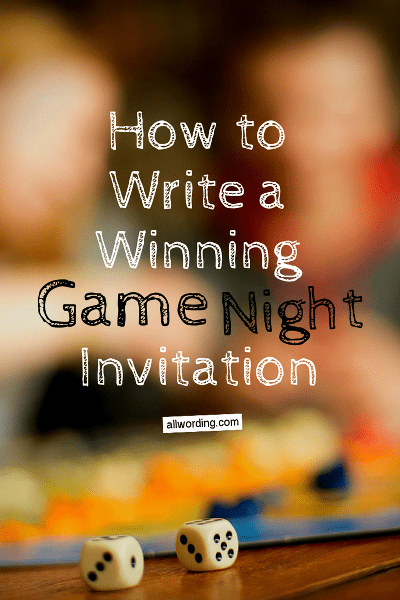 Game Night Invite Tips
A game night might be very different from a typical house party, but the invitation contains many of the same details. That said, we do have a few pieces of game night-specific advice for you to keep in mind when coming up with your wording.
1. Get people excited about the game(s). If you have a set lineup of games, list them on the invitation. Make your invitation tie into the games visually or through wordplay (terrible puns are permitted in this situation).
2. Say whether kids are welcome. Parents of young children will immediately want to know whether they need to hire a sitter. If kids are invited, you may also want to let people know what activities there will be to keep them occupied (assuming they're not playing games with the adults). If kids are not invited, choose tactful and friendly wording to get your message across without offending anyone.
3. Make sure people know what to expect. Games come in lots of different flavors, from old-fashioned card games, to simple luck-based board games, to deep strategy games that can last all night. Even if you don't have a particular game in mind and plan to wing it when the guests arrive, it's a good idea to let people know what type of games are on the menu. If someone comes expecting to play Dominoes and finds themselves sucked into a marathon murder mystery game, they might not ever forgive you.
Samples
Here are a variety of wording samples you can use for your own game night invitation.
General
You Are Invited To A
Game Night
Saturday, June 19
From 7 pm until 12 am
The Johnson Home
1234 Monopoly Way, Shoreville
RSVP to Jeremy (306-5954 / jeremy@emailprovider.com) by June 16
Bring Your Own Board Game to Share
Kids Welcome – We'll Have Games For Them, Too!
Who's Got Game?
Find Out at Our
Couples Game Night
Enjoy an Evening of Grownup Company!
Family Board Game Night
Join Us For Trouble, Monopoly, Sorry, and More
Kids Can Play Along!
Apples to Apples
It's a Game Night Without Compare!
Join Us For An Evening Of
Apples to Apples
(And Other Games, Time Permitting)
Cards Against Humanity
Find Out What A Terrible Person You Are
Join Us For One Demented Night As We Play
Cards Against Humanity
Not Appropriate For Children (Duh)
Casino
You're Invited To A
Casino Party
We'll Play Texas Hold 'Em, Roulette, and Other Casino Games
Come Dressed Like a High Roller
Charades
Guess What I'm Thinking?
That's Right – Couples Game Night!
Join Us For an Evening of Charades
A Game of Thrones
Game Night is Coming
Join Us For An Evening Of Cutthroat Scheming As We Play
The Game of Thrones Board Game
Pictionary
Do I Have to Draw You a Picture?
It's Game Night, and We're Playing Pictionary!
Scattergories
What's a Fun Event That Starts With a G?
Game Night!
Join Us For an Evening of Scattergories
Settlers of Catan
Settlers of Catan Night
Come to Our Settlement For an Evening of Fun
Trivia
Question: What's an Awesome Way to Spend an Evening?
Answer: Trivia Night at Our House!