Hosting a party can be murder. In fact, for certain parties, murder is the whole point.
Of course, we're talking about murder mystery parties here. This type of theme party is increasingly popular with people who like their social gatherings to have a macabre twist. Rather than making small talk over dinner or drinks, guests play the part of characters in a whodunnit, piecing together clues in an attempt to uncover the identity of a fictional killer.
But if you're reading this, you probably know all that because you've decided to host one of these parties. What you're looking for is some help with the invitations. Before we get to some examples of murder mystery party invitation wording, here are a few general points to consider:
1. Murder mystery party kits often come with their own invitations. If you're planning on getting a murder mystery party kit, be aware that they often come with invitations you can send out. That could save you the trouble of making your own (or reading the rest of this article).
2. RSVPs are key. You really need to have the guest list nailed down as soon as possible, so make sure the RSVP information is prominent on your invitation. Sending your invites early is also important to make sure you get commitments for the key roles.
3. Send the details out later. Your invitation should cover all the basics of the event, but feel free to send out personalized character information after guests confirm. That not only keeps your invites simple, but gives you some flexibility to reassign roles if one or more invitees can't make it.
Here, finally, are some wording samples you could use for a murder mystery party invite. Keep in mind that you may need to adjust or add details as required.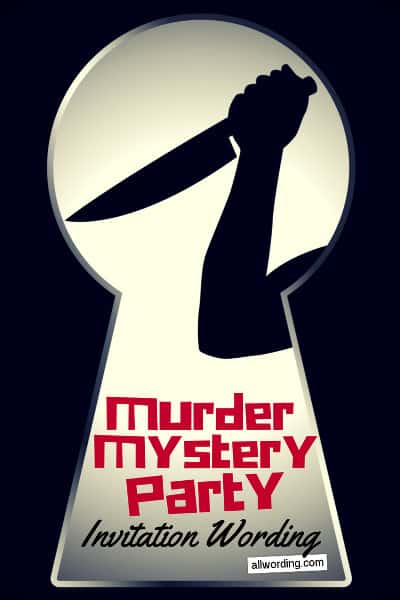 Basic
Please Join Us For A
Murder Mystery Party
Saturday, January 17 at 6 PM
The Reynolds Home
1234 Homicide Street, Arden Hills
RSVP to Jim (123-4567 / [email protected]) no later than Jan. 5 to receive further TOP SECRET instructions
What: A Murder Mystery Party
Where: Emily and John's Home (1234 Marlow Way, Greenville)
When: Friday, August 9 at 6:30 PM
Why: Why Not?
Who: You'll Never Know Unless You Come!
Murder Most Fowl!
You're Invited to A
Murder Mystery Dinner Party
Don't Be Clueless!
Join Us For A Suspenseful
Murder Mystery Party
Murder is in the air…
Join Us For A Murder Mystery Party
We'd KILL to Have You Join Us!
Birthday
Getting Old is Murder
Please Join Us For A
Murder Mystery Dinner Party
In Celebration Of
Bill White's 50th Birthday!
Maria Parker is Turning a Year Older
However, SOMEONE ELSE is Not So Lucky
You're Invited To Help Us Solve A
Birthday Murder Mystery
An Evening To Die For
Join Us For a Thrilling Whodunnit
As We Celebrate the 40th Birthday Of
Ann Ramirez
For more birthday wording ideas, check out this section.
Halloween
A Crime Will Be Committed On All Hallows Eve
Please Join Us For A
Harrowing Halloween Dinner Party
And Help Us Catch the Killer Before He (or She) Strikes Again!
Please Join Us For A
Murder Mystery Masquerade
Dress Up, Wear a Mask, and Help Us Solve A
Haunting Halloween Whodunnit
You're Invited To A
Truly KILLER Halloween Party
Join Us As We Attempt to Solve
The Case of the Bloody Pumpkin
For more ideas, see our article on Halloween invite wording.