Making it to 80 isn't the rare feat it used to be. For a variety of reasons, more and more people are reaching the eight-decade mark without breaking a sweat. Many of them are still working, learning new skills, enjoying active social lives – basically doing everything except acting their age.
Still, an 80th birthday is a pretty big deal. If you know someone hitting this major milestone, an ordinary "Happy Birthday" doesn't quite cut it. To help you find a message that rises to the occasion, here's a list of 80th birthday wishes for the freshly minted octogenarian in your life.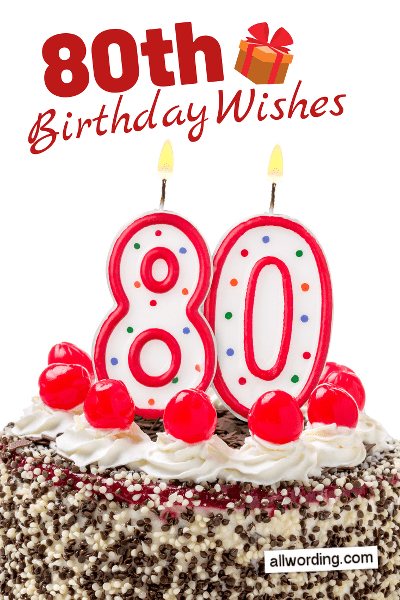 General
Here are some 80th birthday messages that work for anyone, whether it's a friend or family member.
Remember, 80 is just a number – a BIG, round number. Have a great birthday, and congratulations on reaching a major milestone.
Congratulations on eight decades of life! You've seen the world change tremendously, been through many personal hardships and triumphs, and guess what? You turned out all right.
Best wishes on your big day, and all the days to come.
Happy 80th Birthday! It took you awhile, but you've finally aged to perfection.
Happy Birthday to the youngest 80-year-old I know. Maybe by the time you're 90 I'll be able to keep up with you!
Happy Birthday to someone who has seen a lot in his 80 years… and forgotten most of it!
80 years old and still going strong! Hope you have a wonderful birthday!
Sorry, you're still too vibrant and sexy to turn 80. Maybe next year.
Mom
Here are some special birthday wishes for a mom turning 80. For more ideas, check out our big list of birthday wishes for mom.
A very special lady is turning 80. Happy Birthday, Mom!
80 years old and still the prettiest mom in the world. Happy Birthday!
Happy 80th Birthday to a lady who could probably still run me down and spank my butt if she had a mind to.
Dad
Here are some birthday wishes specifically for a dad turning 80. If you're looking for a funny message, you might also want to check out this list of "old man" birthday wishes.
Happy 80th Birthday, Dad! I feel blessed that I've been able to have you in my life all these years, and I look forward to many more.
Happy 80th Birthday to the man who taught me everything I know… which sadly, isn't much. Clearly your teaching skills aren't the best, but you're a great dad anyway!
Congrats on turning 80, Dad! I'd tell you to slow down, but I know you wouldn't get the message due to that selective hearing problem you have.
Grandma
Have a grandma turning the big 8-0? Here are some birthday wishes you can send to her.
Happy 80th Birthday, Grandma! Will I get to be as cool as you when I'm your age?
Happy Birthday to the cutest 80-year-old lady in town. I guess spoiling your grandkids is one way to stay young.
Happy 80th Birthday to my sweet, fun, and all-around amazing Grandma!
Grandpa
Finally, here are some birthday messages you can use if your grandpa is the one turning 80.
Hey Grandpa, what did the pirate say on his 80th birthday? Aye Matey! Get it? I'm eighty!
Happy 80th Birthday, Grandpa! Hope you're planning to stick around, because I'll be needing you in my life for many years to come.
80 years old, and still the same ornery, hilarious, inspiring, mischievous Grandpa that I've loved my whole life. Happy Birthday!