Okay, huddle up. There's a key player in your life who has a birthday coming up. This person is always there for you and pushes you to be your best, so I want to see maximum effort when it comes to thinking of the perfect birthday message.
We're talking of course about your coach. Whether your relationship with your coach is confined to the gym, or goes much deeper, it's important to show your appreciation on a regular basis. And what better time to give Coach some props than on his or her birthday?
Of course, coming up with the perfect birthday wish is no layup. If you're in need of an assist, just check out the following list of birthday wishes for a coach. Whether you're looking for something hilarious or heartfelt, you can find a winning message in this All Star lineup.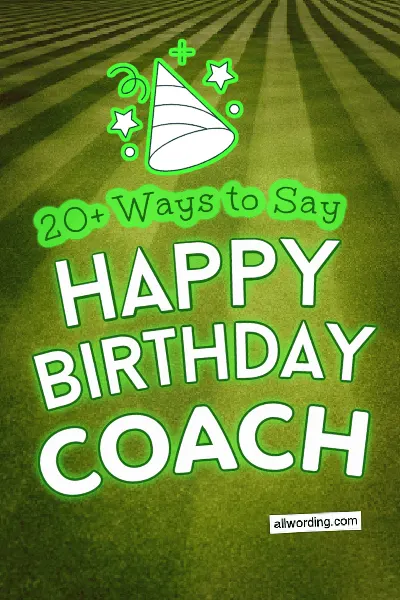 Note: Coaching and teaching often overlap. If you're looking for a birthday message for a special teacher, you might want to spend some time studying this list.
Happy Birthday to a superstar coach!

I'm rooting for you to have an amazing birthday, Coach!
Having you as a coach is my biggest win. Happy Birthday!
Happy Birthday, Coach! I was going to make fun of you for getting older, but then I realized that you can make my life hell in so many ways.
Hope your birthday is a winner, Coach!
A good coach kicks your ass but always has your back. Happy Birthday to one of the best coaches around!
Best birthday wishes for someone who always brings out the best in me. Happy Birthday, Coach!

I really scored when I got you as a coach! Happy Birthday!
Happy Birthday, Coach! I was going to buy you something expensive, but then I realized that coaching me is enough of a present.
Hope you party like a champ on your birthday, Coach!
You're more than a coach to me – you're also a mentor and a friend. Happy Birthday to an all-around spectacular person!
You're not getting older. You're just running up the score. Happy Birthday, Coach!

Happy Birthday to someone who was born to coach.
Another year of being a great coach and an even better person. Happy Birthday!
Fitness? Try fit'ness whole piece of birthday cake in your mouth! Happy Birthday, Coach!
Happy Birthday to someone who has taught me many things, including new and creative ways of cussing! Hope you have a great birthday, Coach!
They say leaders are born, not made. Happy Birthday to a great coach and leader!
You may not have the strength, flexibility, or physical stamina you had when you were younger, but… I forgot where I was going with this. Anyway, Happy Birthday, Coach!
If being awesome were a sport, you'd be a surefire Hall of Famer. Happy Birthday to a wonderful coach!

You're not old. You're a seasoned veteran. Happy Birthday, Coach!
You always push me to be the best I can be. Now I'm pushing you to have the best birthday ever. Happy Birthday, Coach!
Looking for more ways to wish your coach a Happy Birthday? Check out this big list of silly birthday messages. If Coach is a guy, you may also find a winner in this collection of "old man" birthday wishes.