When you think of October, a certain spooky holiday comes to mind. But October is about more than jack o' lanterns and candy. It's also the first full month of fall, with cooler temperatures, longer nights, delicious fruits and vegetables, and beautiful autumnal colors.
Oh, and there's pumpkin spice. Lots and lots of pumpkin spice.
In short, October is pretty awesome in its own right. Even if you're not one of those people who eagerly counts down the days until the 31st, you can find something to love about this unique time of year.
To help you celebrate the season, we've put together the following list of October greetings to share with friends. Like freshly harvested produce, they come in a variety of flavors, so you can pick the one that fits your tastes.
Sincere | Funny | October Quotes
Note: If you like these seasonal greetings, you might also want to check out some ways to say Happy November.
Sincere
Here are some fun and heartfelt messages to wish people a Happy October 1st. If you're looking for a special message for someone who was born in October, see our list of Halloween birthday wishes.
It's officially October. Let the countdown to Halloween begin.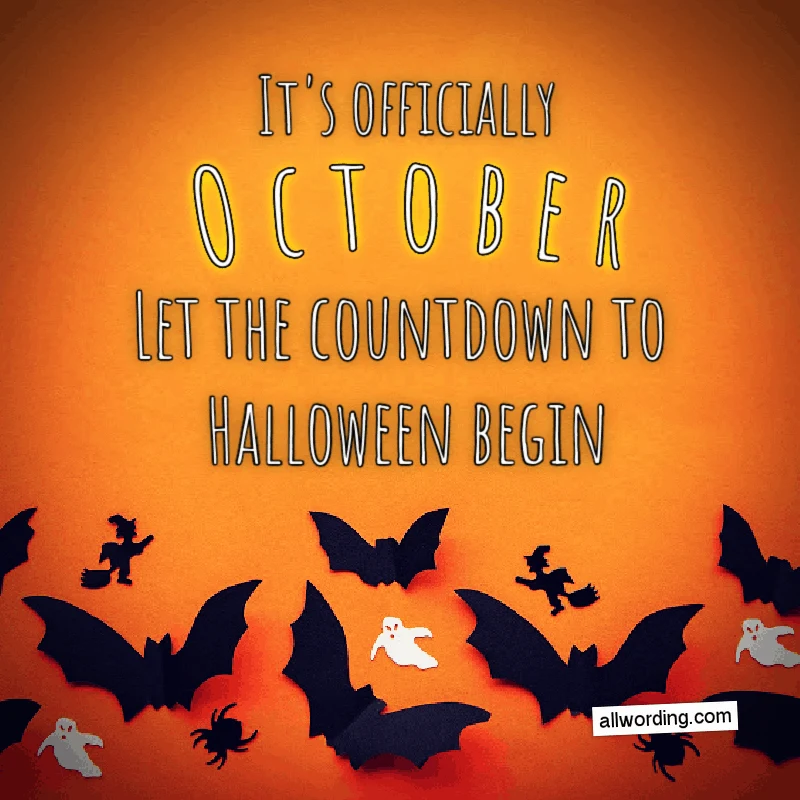 Happy October! Hope you enjoy the longer nights, colorful sights, and Halloween frights.
Hope the cool temps and vibrant colors of October leave you feeling refreshed and rejuvenated.
The start of October has me grinning like a jack o' lantern. Have a magical month!
October is fall at its finest. Have a great one.
Apples, caramel, and pumpkin spice… hope your October is extra-nice!
The heat of summer is done, and the chill of winter hasn't yet begun. It must be October!
Happy October 1st, Pumpkin!
It's the most spook-tacular time of the year. Happy October!
Break out the warm socks and hot apple cider… October is here!
Happy Fall! Happy October! And best of all, Happy Halloween!
Hello, October. Thanks for bringing some refreshing weather with you.
Enjoy these precious days of October. Winter is just around the corner!
May your days be as vibrant as the autumn colors. Happy October 1st!
Happy October to all my friends! Hope this cooler weather has you feeling frisky!
The air is crisp, the colors are beautiful, and Halloween is just around the corner. Happy October!
Have a fantastic fall and a spooky good October!
Happy October 1st, everyone. Hope you enjoy this hauntingly boo-tiful time of year.
October is here and Spooky Season has begun! That means 31 days of frightful fun!
Wishing you an October full of pumpkin spice and everything nice.
Whether you're a big Halloween fan or not… I hope your October is a real treat.
Pumpkins, cool air, and colorful leaves… it must be the month of All Hallows' Eve! Happy October, everyone!
Happy first day of October! Enjoy 31 days of spooky sights, corn mazes, bonfires, pumpkin patches, hayrides, and everything else this thrilling month has to offer!
Crisp, cool air and color everywhere… October is my kind of month!
Wishing you an amazing October and a fabulous fall.
Happy Fall, y'all! Hope October treats you right!
It's time to FALL in love with October all over again!
Funny
Here are some silly October greetings. If you like these, don't leaf without also checking out our list of fall puns.
Happy October to all of my fellow Halloween junkies!
Happy October, people. Get ready for pumpkin spiced… everything.
It's finally October, which means I can put out my Halloween decorations without being judged.
Happy October, everyone! The scariest thing about this month isn't the holiday at the end of it, but the weather that comes after it!
It's October! As if I needed an excuse to eat candy and watch horror movies.
Now that it's October, we can all buy bags of candy and "accidentally" eat it all well before Halloween.
Happy October 1st! Anyone who mentions Christmas before the end of the month will be immediately blocked.
The longer nights and cooler air make October a great month for sleeping. Wake me when it's Halloween, guys.
Can it stay October forever? Just asking.
Break out the Halloween decorations… October is here! I mean, I've had my decorations out for a month already, but now the rest of you can join me!
Now that October is here, I can finally tell people that all the dust and cobwebs in my house are "Halloween decor."
Happy October 1st, everyone! Time to begin stocking up on Halloween candy… you know, "for the kids."
Welcome to October. If the cooler temps don't put a little spring in your step, the creepy clown hiding in the bushes surely will.
Happy October. May you make it through the month without getting TP-ed, egged, or scared shitless.
Hello, October. Feel free to stay as long as you like.
Welcome to October, the only month when kids are encouraged to stay out after dark and take candy from strangers.
Hope your October is more fun than a barrel of werewolves!
October Quotes
Finally, here are a handful of famous sayings about the month of October. For Halloween-specific quotes, see this article.
"The end of the summer is not the end of the world. Here's to October…"

A.A. Milne
"October is the opal month of the year. It is the month of glory, of ripeness. It is the picture-month."

Henry Ward Beecher

"October is crisp days and cool nights, a time to curl up around the dancing flames and sink into a good book."

John Sinor

"Bittersweet October. The mellow, messy, leaf-kicking perfect pause between the opposing miseries of summer and winter."

Carol Bishop Hipps

"October is a symphony of permanence and change."

Bonaro W. Overstreet

"My favorite color is October."

Unknown
"There is no season when such pleasant and sunny spots may be lighted on, and produce so pleasant an effect on the feelings, as now in October."

Nathaniel Hawthorne

"I have been younger in October than in all the months of spring."

W.S. Merwin

"October had tremendous possibility. The summer's oppressive heat was a distant memory, and the golden leaves promised a world full of beautiful adventures."

Sarah Guillory

"I wish that every day was Saturday and every month was October."

Charmaine J. Forde

"He loved October. Had always loved it. There was something sad and beautiful about it – the ending and beginning of things."

Jacqueline Woodson
Halloween obviously looms large on the October calendar. However, if you have someone special in your life, you might also be interested in a little holiday known as Sweetest Day.