There's always a lot going on in November. For one thing, it's a pivotal month between the hoopla of Halloween and the craziness of Christmas. But of course, November also features its very own heavyweight holiday, Thanksgiving (not to mention Veterans Day).
In the United States, there's also the small matter of Election Day, set by law as the Tuesday following the first Monday in November. That's one date every American should keep in mind.
November is also the month when the leaves come off the trees and the weather starts to get nippy in many places. Fall is in full effect, and winter is signaling its imminent arrival in December. It's a great time to slip on some warm socks, grab a warm drink, and get cozy with loved ones.
It's also a perfect time to send greetings to all the important people in your life. If you're wondering how you can wish everyone a Happy November in a way that captures the spirit of the season, here are some ideas.
Sincere
Here are some genuinely nice options for sending November greetings.
May November bring you many things to be grateful for.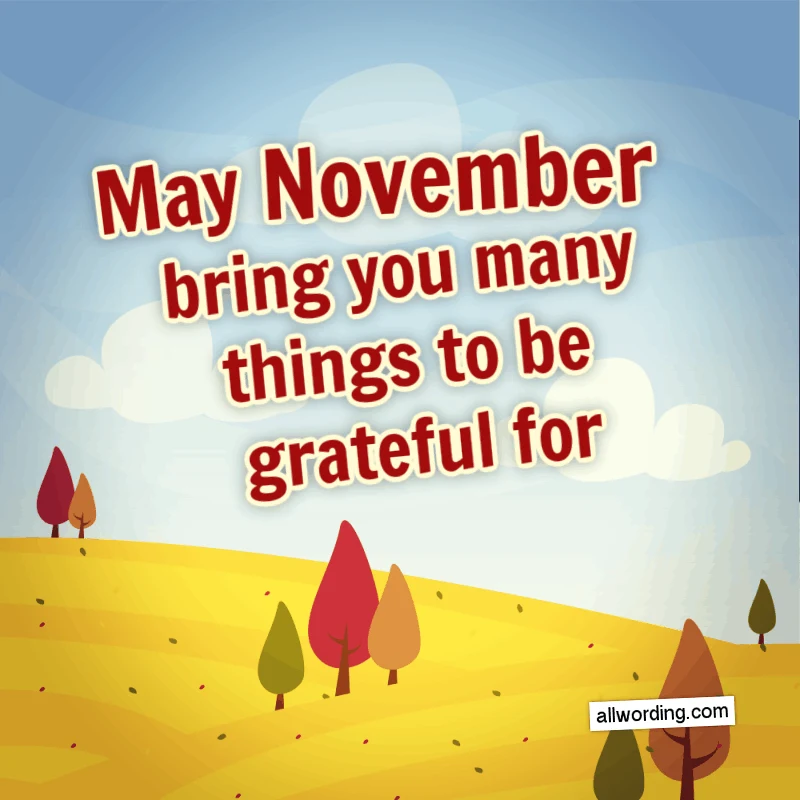 I'm thankful for cool evenings and fall colors. Happy November, everyone!
Happy November! Enjoy the cooler weather and time spent with family.
It might not be Thanksgiving yet, but it's never the wrong time to say how grateful I am for my wonderful friends. Happy November, everyone!
Thanksgiving is almost here, and Christmas is just around the corner. Happy November!
May your November be as sweet as a pile of leftover Halloween candy.
Wishing you a November filled with good friends, good food, and good times.
Happy November! Hope this cooler weather puts a little pep in your step.
Happy first day of November, everyone! Hope you enjoy this beautiful fall weather while it lasts.
Thankful for November evenings, fall colors, and wonderful friends like you.
Wishing you all the best on these last days of fall. Happy November!
Happy first day of November! Hard to believe the holidays are just around the corner!
Happy November. Remember that it's never too early to start being grateful for your blessings.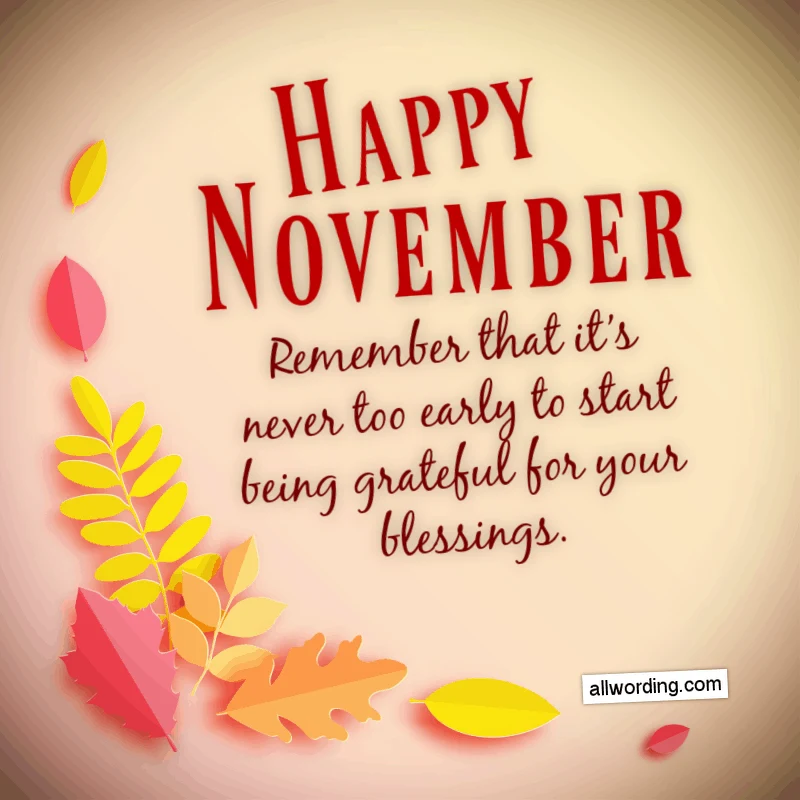 Happy first day of November, everybody! Hope your month is turkey-riffic!
This cooler weather is a great excuse to cuddle up with loved ones. Happy November, all!
Funny
Here are some humorous November wishes to share with friends.
November reminds me of the many things I am thankful for… such as the fact that the election will soon be over. Happy first day of November, everyone!
You gotta love this time of year… that is, unless you're a turkey. Happy November!
Hope you have a wonderful November free of any thoughts of the awful weather that's coming our way.
Hope your November is unbe-leaf-able!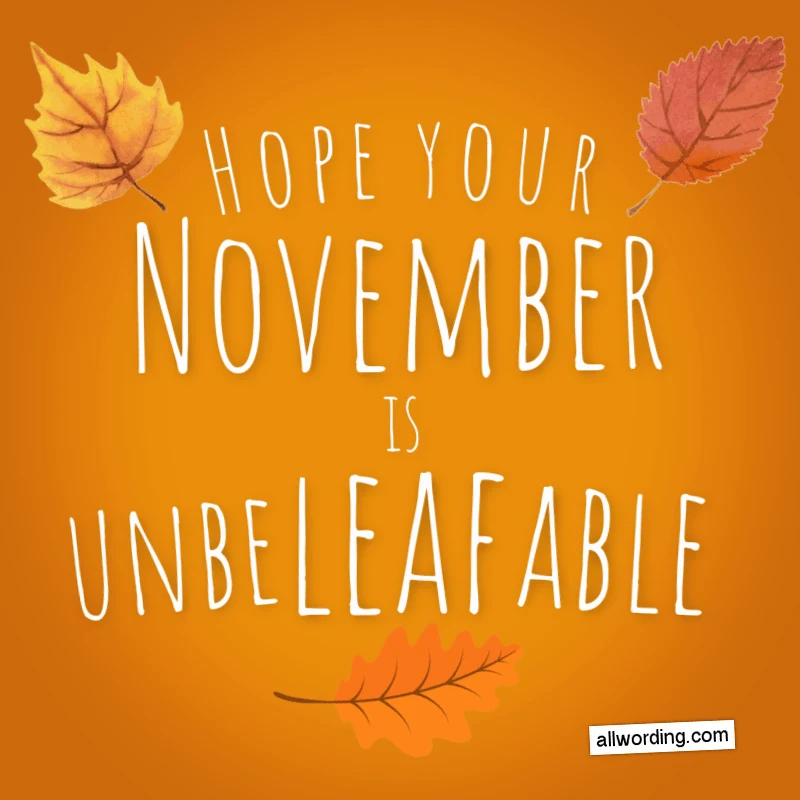 Happy November, people! Every day that it doesn't snow is something to be truly grateful for.
Turkeys beware: November is here.
November is here, which means it's almost time to break out the fat pants.
I don't know about you, but I for one am grateful that this awful year is almost over. Happy November, folks!
November Quotes
Finally, here are a few well-known quotes about November.
"Welcome sweet November, the season of senses and my favorite month of all."

Gregory F. Lenz
"Now in November nearer comes the sun down the abandoned heaven."

D.H. Lawrence

"The month of November makes me feel that life is passing more quickly. In an effort to slow it down, I try to fill the hours more meaningfully."

Henry Rollins

"November always seemed to me the Norway of the year."

Emily Dickinson

"October is its sunset sky; November the later twilight."

Henry David Thoreau

"Some of the days in November carry the whole memory of summer as a fire opal carries the color of moon rise."

Gladys Taber
If it's November, it's time to start thinking about Thanksgiving greetings for the important people in your life. We have unique Turkey Day messages for everyone from business clients to romantic partners.