Coming up with the perfect name for your party is huge, especially if it's a Christmas party. After all, this is the time of year when seemingly everyone is crushed for time. To grab people's attention and squeeze onto their cramped social calendars, you need every advantage – including a catchy name.
To lend a hand, we've assembled this list of creative Christmas party names. These name ideas feature Santa Claus, mistletoe, Jingle Bells, candy canes, and other beloved symbols of the holiday season. They could be just what you need to put a pretty bow on your party planning.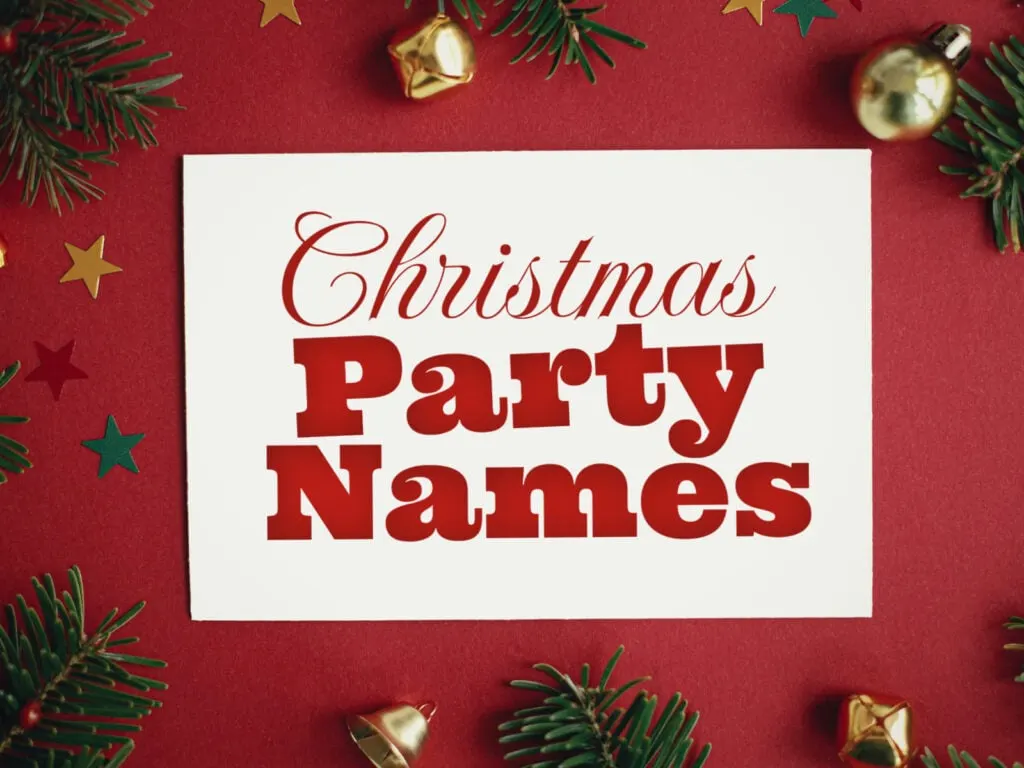 Note: While you could use one of these names as-is, it's more likely that you'll want to take an idea and run with it. This could include adding the name of the host(s), the year, or an adjective that captures the spirit of the event.
General | Ugly Sweater Party | Gift Exchange | Secret Santa | Cookie Exchange
General Name Ideas
Here are some names that work for just about any holiday gathering, whether it's a friends-only get-together, an office party, or a big celebration open to the public.
Gingerbread Jubilee
Kris Kringle Cocktail Party
"In the Spirit" 2023
An Elfin' Good Time
A Flurry of Fun
1st Annual Yuletide Ball
Shimmer and Shine 2023
Magic & Mistletoe
"So Much Humbug" Holiday Party
Holiday Brews & Christmas Spirits
A Celebration of the Season
Sleigh Bell Social
Holly Jolly Holiday Party
Jingle Bell Rockout
Gingerbread House Party
A Jolly Good Time
Sugarplum Celebration
1st Annual "Naughty or Nice" Party
Miracle on [Host Street Address]
Rudolf's "Ho's Before Does" Christmas Party
Jack Frost Jubilee
Holiday Hoopla 2023
Jingle Ball 2023
Merry Little Christmas Party
A December to Remember
Mistletoe Mania
Chillin' Holiday Hangout
Holidaze 2023
Cocktails and Candy Canes
Holiday Ho-Ho-Hoedown
Jolly Jamboree
1st Annual Goodwill Gala
Blitzen's Ball
An Evening of Merrymaking
1st Annual Snow Ball
A Not-So-Silent Night
A Christmas Party (Don't Shoot Your Eye Out, Kid!)
Winter Wingding
Festive Fiesta
Candy Cane Cordial
Nutcracker Bash
Winter Wonderland 2023
Santa Soiree
Snowman Social
Under the Mistletoe 2023
X-mas X-citement
Tidings & Tinsel
Yuletide Magic
A Very Tipsy Christmas
Rudolf's Rockin' Reindeer Bash
Frosty Fest 2023
Ugly Sweater Party
Here are some funny names for a Christmas party that features an ugly sweater contest. For help with invitation wording, see this article.
1st Annual Ugly Sweater Contest
Ugly Sweater Get-Together
"Gaudy or Nice" Ugly Sweater Contest
Wacky Tacky Sweater Party
Nasty-Ass Sweater Party
Sweater Weather Get-Together
"You Better Wear a Sweater" Christmas Party 2023
Gift Exchange
Here are some clever names for a White Elephant gift exchange party. If it doesn't go by White Elephant in your neck of the woods, substitute Yankee Swap, Dirty Santa, or whatever you call it. For help with the invitation, check out this article.
[Host's] 1st Annual White Elephant Gift Exchange
Swap 'Til You Drop 2023
A White Elephant You'll Never Forget
White Elephant Wonderland 2023
X-citing X-mas X-change
Secret Santa
Secret Santa is one of the most famous types of gift exchange (thus warranting its own section). If you're planning this type of party, be sure to see our article on Secret Santa invitation wording.
"Who's Your Santa?" Secret Santa Party
Secret Santa Social
"Sleigh Hello to My Little Friend" Secret Santa Party
Rudolph's Rollicking Secret Santa Soiree
Secret Santa: The Revealing 2023
Cookie Exchange
Finally, here are some cute names for the ever-popular (and ever-tasty) Christmas cookie exchange. See this article if you need ideas for the invites.
[Host's] "Batch Made in Heaven" Christmas Cookie Exchange
Clarice's Cookie Doe Party
Cookie Fest 2023
1st Annual "Sweet Relief" Cookie Swap
Sweet Tidings Cookie Exchange 2023
Cookies & Cocktails
"Iced to Meet You" Christmas Cookie Exchange
Sweet Celebrations Cookie Swap
Smart Cookies 2023
Didn't find what you were looking for? You might have luck checking our main list of party names.