Teachers don't get paid what they're worth. That's not an original sentiment, but it's one that needs to be repeated every so often. For while the best teachers find ample non-monetary rewards in the work they do, it's also appropriate and important to thank them every so often.
If you're pondering a thank you note to a daycare teacher, here are a few general suggestions:
1. Be specific. Your words have greater impact when you include specific examples of how the teacher has helped your child.
2. Personalize it. Avoid language that makes the note come across as generic. In other words, use your own words as much as possible.
3. Get your child involved. Young children may not be able to write a thank you note, but they can always draw a picture, write their names, and of course hand-deliver the envelope.
While you should strive to write a sincere message in your own unique style, there's nothing wrong with finding inspiration in sample thank-you notes. You can find a range of examples below.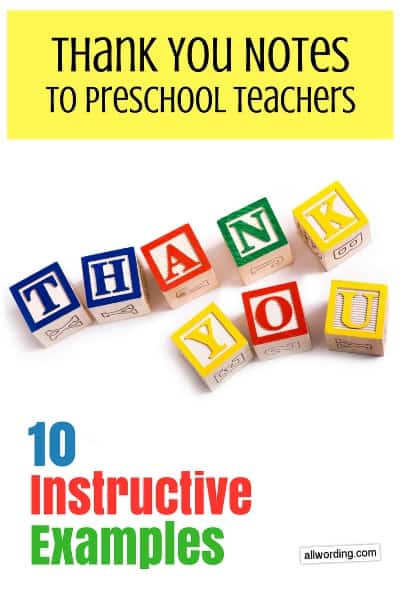 Short Notes
Here are a handful of shorter examples that are perfect for jotting down in a greeting card.
Just wanted to let you know how much we appreciate the work you do every day. I know we don't say it enough, but you're the best nursery teacher Sofia could possibly have. Thanks!
Thanks for being such a patient and compassionate teacher for Aiden. You really put the "care" in "daycare."
On behalf of Emma and her whole family, I would just like to say: You're awesome!
Thank you for everything you've taught Emily this year. It's remarkable how much she's learned, and how excited she is to tell us about each new discovery.
You make learning an adventure for Alex. I'm so grateful that we found you, and I hope he keeps the lessons you've taught him for the rest of his life. Thanks so much!
If every preschool teacher were as kind and dedicated as you are, the world would be a much better place. I know Hannah is a better person thanks to everything you've taught her.
Longer Examples
Here are some examples of more expansive notes to a daycare teacher.
Just wanted to drop you a sincere note of thanks for everything you do for Andre. We've noticed marked improvement in his social skills, and he's now writing his name like a pro. For the first time, he actually enjoys going to daycare (even if he doesn't always show it at drop-off time). That's all thanks to you, and we're so grateful for it!
I hope you know what a wonderful teacher you are. We sure do, and we appreciate it more than words can say. Ava has gone through so many positive changes in the past year, and we know that a lot of it is due to your loving guidance. Please keep being yourself and doing what you do!
We can't thank you enough for everything you've done for Noah this past year. He went into your care as a baby, and he's coming out as a little man who can count and spell his name! The kind of care you have provided is truly priceless. The best we can do is express our appreciation. So, on behalf of Noah and his entire family, thank you for the big difference you've made in his life!
Goodbye Note
Here's an example that's more along the lines of a farewell letter (for more ideas, check out this list of farewell quotes).
Liam is really going to miss having you as his preschool teacher. However, we know that a part of you will always be with him because of all the wonderful things you've taught him. If all his teachers are half as smart and kind as you are, he'll be a very lucky boy. Thank you!