Different people have different reactions to turning 30. In fact, the same people often have different reactions to turning 30. It's a big, bad, sometimes sad milestone that can bring on conflicting emotions.
But in the end, a 30th birthday is always a big deal. If you know someone turning 30, it's worth spending the time to come up with a birthday wish that's extra clever, extra cute, and above all, extra-ordinary.
To help you out, we've put together the following list of 30th birthday wishes. They come in a variety of styles, so you can say "Happy 30th Birthday" in your own way.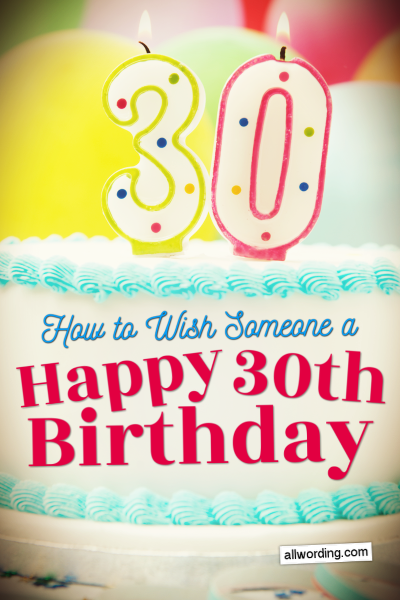 Sincere | Funny | Romantic Partner | For Her | For Him
Sincere
Here are some nice, simple, sweet ways to wish someone a Happy 30th Birthday.
Turning 30 sucks, but you certainly don't. You're awesome. Happy 30th Birthday!

Happy Birthday! I hope when you look back on your first 30 years, you can appreciate how much you've touched other people's lives – including mine!
Don't worry, you're just as awesome at 30 as you were at 29. Happy Birthday!
Happy Birthday! Thanks for gracing us with your awesomeness for the past 30 years.
Happy Birthday to an amazing person. I can't wait to see what you do with your next 30 years!
Your 30th birthday is a great time to look back at your life. Just remember that you're still young and can go anywhere from here. Wishing you all the best on your birthday and in the years to come.
Happy 30th birthday to a true friend and truly nice person.

Say goodbye to your 20s, and hello to the adventures and opportunities of your 30s. Happy Birthday!
Hope you have an amazing 30th birthday. Three decades on the planet is a pretty awesome milestone.
In your 20s, you learned a lot, grew as a person, and had tons of fun. Now keep that shit up. Oh, and Happy Birthday!
Funny
These 30th birthday wishes are meant to coax a chuckle out of the birthday girl or boy. For lots more ideas, see this collection of funny birthday messages.
Turning 30 doesn't mean you can't still party. It just means you've gotten really good at it! Happy Birthday!

Welcome to 30, when you're old enough to know better, but still young enough not to care.
Don't worry about turning 30. You will always be the same irresponsible person I know.
When high schoolers start looking like preschoolers to you… you might be a 30-year-old. Happy Birthday!
Happy Birthday! And thanks so much for turning 30 before me! Signed, your 20-something friend.
They say your 20s are overrated. Of course, they are usually pretty old. Happy 30th Birthday!

Have fun on your birthday, but don't get too crazy. Remember that you can't blame your irresponsible behavior on "being in your 20s" anymore.
Enjoy your 30th birthday, if such a thing is possible.
Don't let anyone tell you you're old just because you're turning 30. I want to be the one to do that.
Romantic
Here are some 30th birthday messages for a husband, wife, boyfriend, girlfriend, etc. For more options, see this big list of birthday wishes for your sweetie.
Thirty years old, and still drop-dead gorgeous. Happy 30th Birthday!

Happy 30th Birthday to my best friend and true love. Our life together is only beginning, and my love for you will never die.
Happy Birthday to the sexiest 30-year-old I know!
My love, as you turn 30, know that I will always be there for you… especially since you are now old and frail, and need constant supervision.
You just keep getting better and better with each passing year. Happy 30th Birthday, baby!
For Her
Here are some ways to say Happy 30th Birthday to a special lady in your life. You might also want to check out these "Happy Birthday, Beautiful" messages.
Thirty, flirty, and downright dirty. Happy 30th Birthday!

Happy Birthday! Don't worry about turning 30. You can say you're 29 for several more years and people will believe it!
Happy Birthday to one beautiful, fun, and youthful 30-year-old.
For Him
Finally, here are some 30th birthday wishes for him. If you're looking for some brutally funny ideas, also see this list of birthday wishes for an "old" guy.
Happy 30th Birthday! The good news: guys often get better looking as they age. The bad news: there are plenty of exceptions!

You may be 30 years old now, but you're still cool in my book. Happy Birthday, dude!
Welcome to 30, when you're too old for cougars and too poor for gold diggers. Enjoy your birthday as best you can.