Receiving Christmas cards from friends and family is one of the pleasures of the season. Sending them out, on the other hand, can be a real grind. Before you even get to the tedious envelope-licking stage, there's the small matter of figuring out exactly what you want to say.
As always, a good first step is to read what others have written – and when it comes to Christmas card sayings, you can be sure that a lot has been written. Whatever your tastes, you can likely find a yuletide message that captures your own sentiments or a sparkly turn of phrase that strikes your fancy.
While a comprehensive collection of Christmas greetings would fill a book (or two), the following list contains a wide selection of the wittiest, most famous, and just plain best quotes and sayings about the holidays. Use them to craft your own Christmas card wording, or just copy them as-is.
Short | Poems | For Kids | For Family | For Friends | For Coworkers | More Sayings
Short Quotes
You don't need a lot of words to evoke the holiday season. Here are some familiar Christmas quotes that do the trick. For some unique wording ideas, see our list of short Christmas greetings.
Joy to the World!
Joy to the World
'Tis the season!
Deck the Halls
Have a holly jolly Christmas
It's the best time of the year
Holly Jolly Christmas
I will honor Christmas in my heart, and try to keep it all the year.
Charles Dickens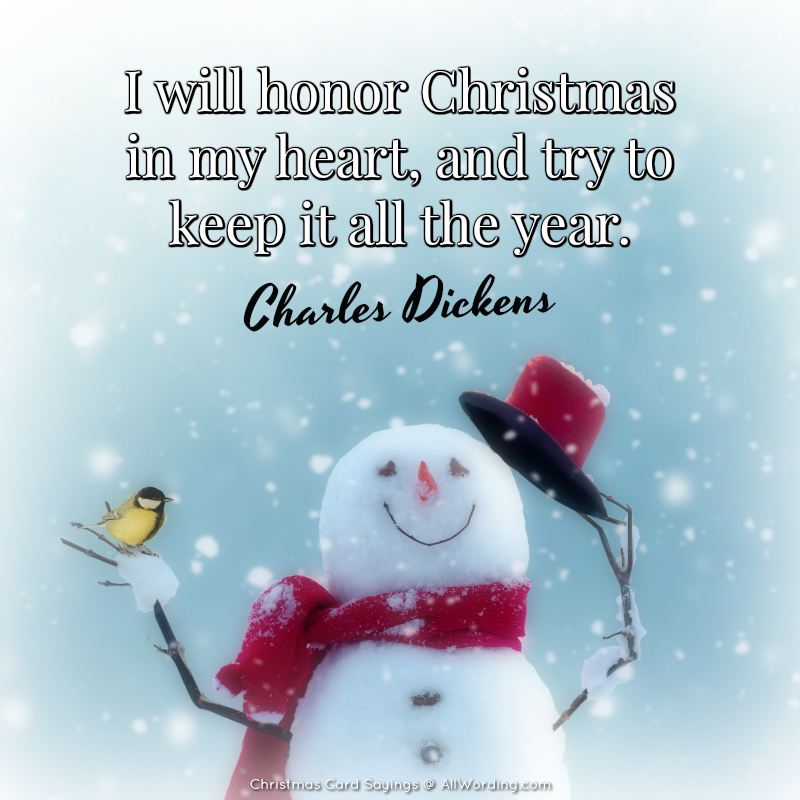 May your days be merry and bright
White Christmas
Christmas is the day that holds all time together.
Alexander Smith
Have yourself a merry little Christmas.
Have Yourself a Merry Little Christmas
It's the most wonderful time of the year!
It's the Most Wonderful Time of the Year
Christmas is doing a little something extra for someone.
Charles M. Schulz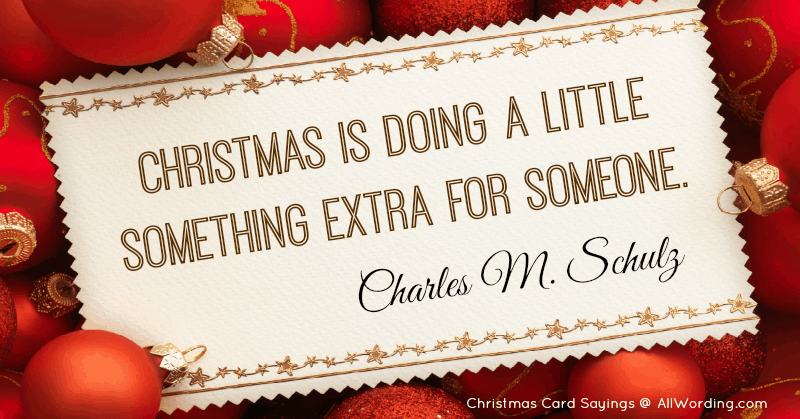 Deck the Halls!
Deck the Halls
All is calm, All is bright
Silent Night
Every time a bell rings an angel gets his wings.
It's a Wonderful Life
It is Christmas in the heart that puts Christmas in the air.
W.T. Ellis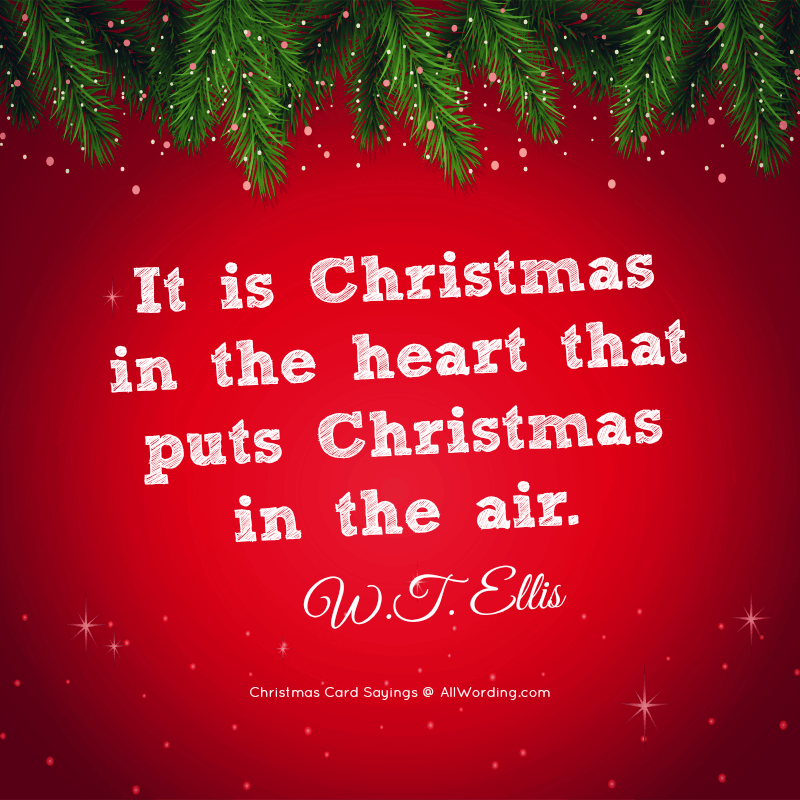 We wish you a Merry Christmas
And a Happy New Year
We Wish You a Merry Christmas
God bless Us, Every One!
Tiny Tim/Charles Dickens
Poems
Whether it's funny, cute, or profound, poetry has the power to express a lot in a few short words.
Peace on earth will come to stay
When we live Christmas every day
Helen Steiner Rice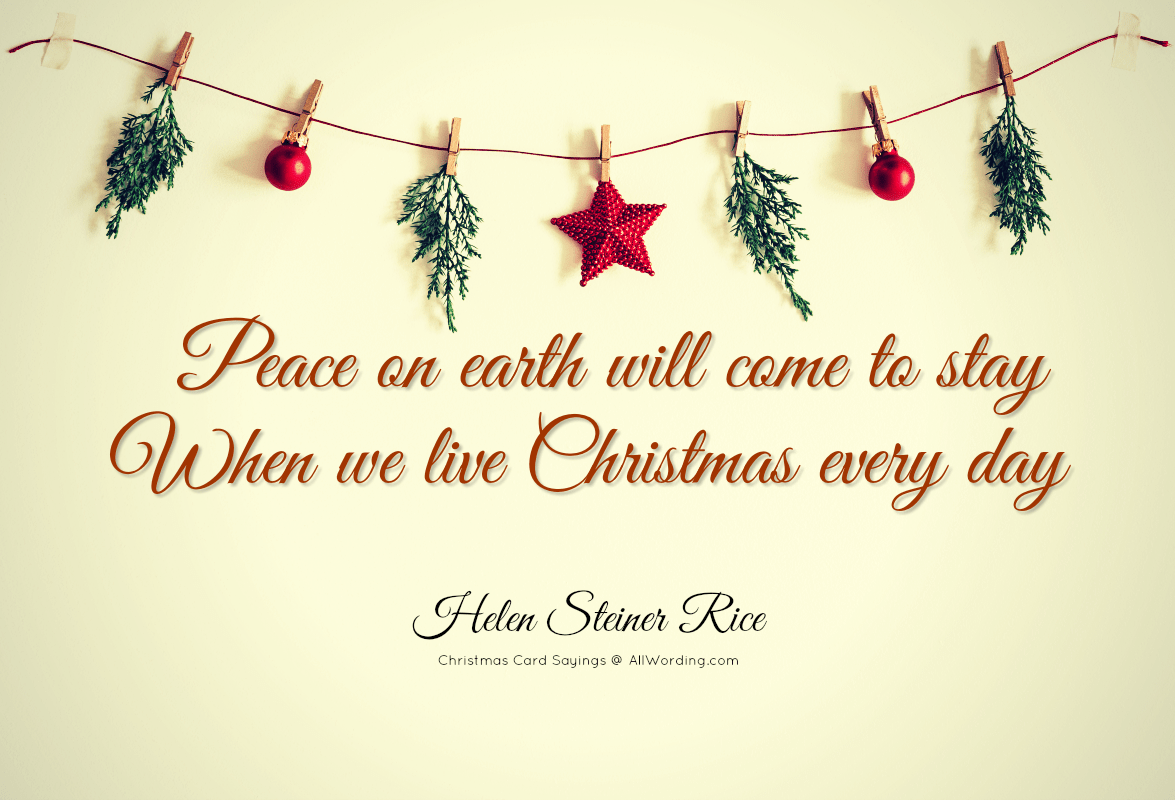 I love the Christmas-tide, and yet,
I notice this, each year I live;
I always like the gifts I get,
But how I love the gifts I give!
Carolyn Wells
A Christmas candle is a lovely thing;
It makes no noise at all,
But softly gives itself away;
While quite unselfish, it grows small.
Eva K. Logue
A little smile, a word of cheer, A bit of love from someone near, A little gift from one held dear, Best wishes for the coming year… These make a Merry Christmas!
John Greenleaf Whittier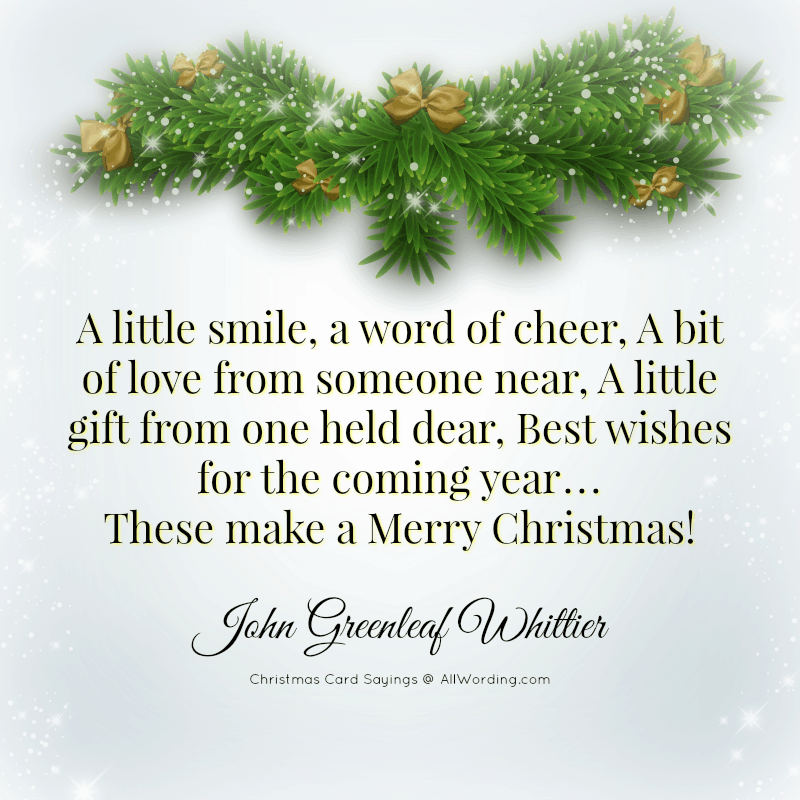 Christmas is forever,
not for just one day,
for loving, sharing, giving,
are not to put away
like bells and lights and tinsel,
in some box upon a shelf.
The good you do for others
is good you do yourself.
Norman W. Brooks
'Twas Christmas broach'd the mightiest ale;
'Twas Christmas told the merriest tale;
A Christmas gambol oft could cheer
The poor man's heart through half the year
Sir Walter Scott
At Christmas play and make good cheer, for Christmas comes but once a year.
Thomas Tusser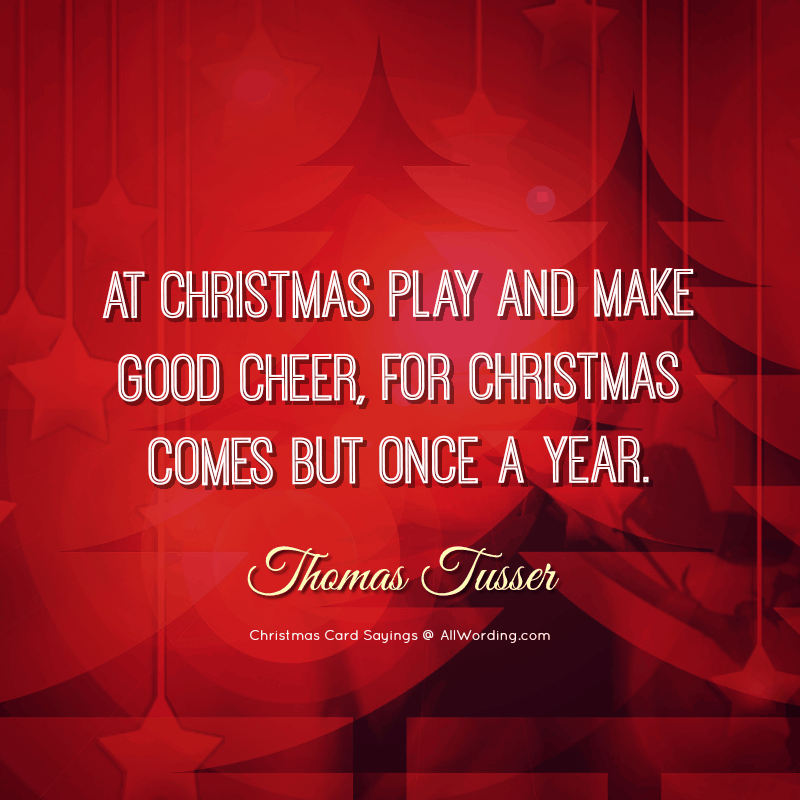 From Home to home, and heart to heart,
From one place to another
The warmth and joy of Christmas
Brings us closer to each other.
Emily Matthews
Somehow, not only for Christmas
But all the long year through,
The joy that you give to others
Is the joy that comes back to you.
John Greenleaf Whittier
Heap on more wood – the wind is chill;
But let it whistle as it will,
We'll keep our Christmas merry still.
Sir Walter Scott
May joy be yours today,
And radiantly abide
Within your heart until
Another Christmastide.
Gail Brook Burket
Love came down at Christmas,
Love all lovely, Love Divine,
Love was born at Christmas,
Star and Angels gave the sign
Christina Rossetti
I heard the bells on Christmas Day
Their old, familiar carols play,
And wild and sweet
The words repeat
Of peace on earth, good-will to men!
Henry Wadsworth Longfellow
A very Merry Christmas
And a happy New Year
Let's hope it's a good one
Without any fear.
John Lennon and Yoko Ono
May you count your blessings, one by one
And when totaled by the lot
May you find all you've been given
To be more than what you sought
For Kids
Sending a Christmas card to (or from) kids? Here are a few holiday messages that reflect a childlike spirit.
All I want for Christmas is my two front teeth.
All I Want for Christmas is My Two Front Teeth
Twas the night before Christmas, when all through the house,
Not a creature was stirring, not even a mouse.
Clement Clarke Moore
Up on the rooftop
Click, click, click
Down thru the chimney with
Good Saint Nick
Up on the Rooftop
Then the Grinch thought of something he hadn't before! What if Christmas, he thought, doesn't come from a store. What if Christmas… perhaps… means a little bit more!
How the Grinch Stole Christmas!
You better watch out,
You better not cry,
You better not pout,
I'm telling you why:
Santa Claus is coming to town!
Santa Claus Is Coming to Town
For Family
Of course, family is always at the top of the Christmas card list. Here are some Christmas sayings that seem particularly appropriate for relatives near and far.
The best of all gifts around any Christmas tree: the presence of a happy family all wrapped up in each other.
Burton Hillis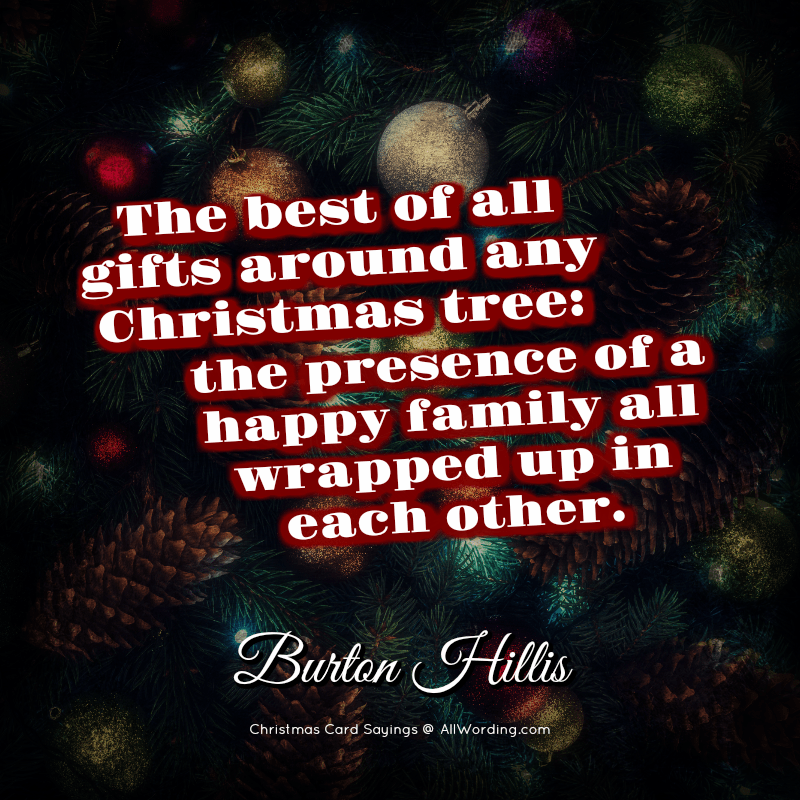 At Christmas, all roads lead home.
Marjorie Holmes
Christmas is not an external event at all, but a piece of one's home that one carries in one's heart.
Freya Stark
For Friends
The holidays are a time to affirm bonds of friendship, sometimes with people we haven't seen in a long time. Here are some Christmas quotes and sayings for friends, wherever they may be.
Mankind is a great, an immense family. This is proved by what we feel in our hearts at Christmas.
Pope John XXIII
Remember, George: No man is a failure who has friends.
It's a Wonderful Life
The joy of brightening other lives, bearing each others' burdens, easing other's loads and supplanting empty hearts and lives with generous gifts becomes for us the magic of Christmas.
W.C. Jones
This is the message of Christmas: We are never alone.
Taylor Caldwell
My idea of Christmas, whether old-fashioned or modern, is very simple: loving others. Come to think of it, why do we have to wait for Christmas to do that?
Bob Hope
Remember This December,
That love weighs more than gold!
Josephine Dodge Daskam Bacon
I have always thought of Christmas time, when it has come round, as a good time; a kind, forgiving, charitable time; the only time I know of, in the long calendar of the year, when men and women seem by one consent to open their shut-up hearts freely, and to think of people below them as if they really were fellow passengers to the grave, and not another race of creatures bound on other journeys.
Charles Dickens
Wouldn't life be worth the living
Wouldn't dreams be coming true
If we kept the Christmas spirit
All the whole year through?
Unknown
May you have the gladness of Christmas which is hope; the spirit of Christmas which is peace; the heart of Christmas which is love.
Ada V. Hendricks
Christmas is the season for kindling the fire of hospitality in the hall, the genial flame of charity in the heart.
Washington Irving
For Coworkers
Figuring out what to write in a Christmas card to coworkers can be tough, especially if you don't know them intimately. Here are some office-appropriate holiday messages that get the job done. If you're looking for something to say to the boss, you'll also want to check out this article.
Christmas gift suggestions:
To your enemy, forgiveness.
To an opponent, tolerance.
To a friend, your heart.
To a customer, service.
To all, charity.
To every child, a good example.
To yourself, respect.
Oren Arnold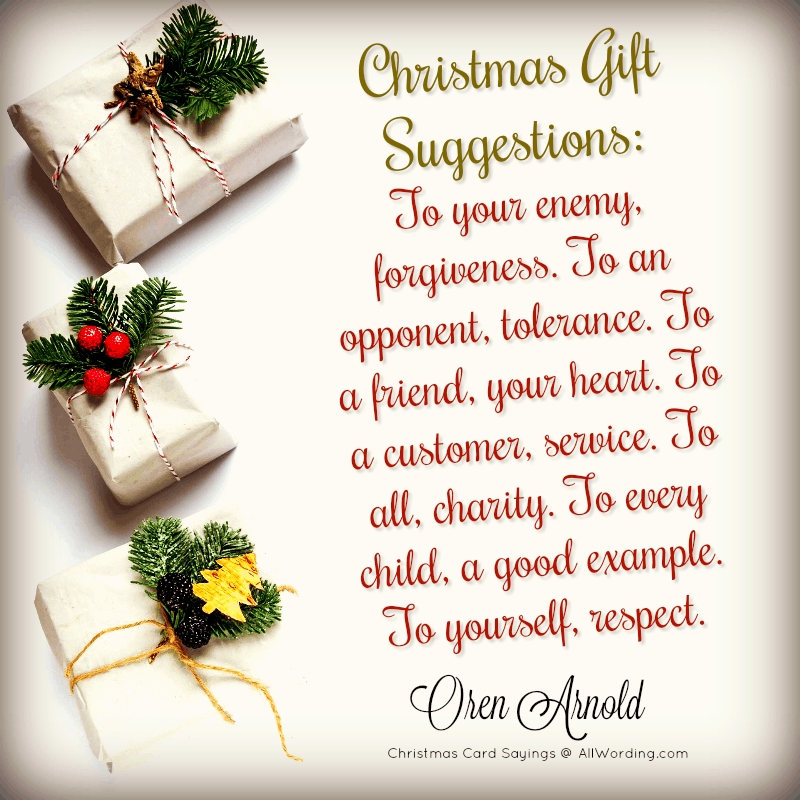 A lovely thing about Christmas is that it's compulsory, like a thunderstorm, and we all go through it together.
Garrison Keillor
Thanks for all you do to make our office a fun place to be all year round. Wishing you and yours a very Merry Christmas.
What a great year it's been. Wishing the best to you and yours this holiday season.
It is the apathetic person that sees the cause while the charitable person sees the need.
Shannon L. Alder
The Best of the Rest
We're not done yet – not even close. Here are some more ways to say "Merry Christmas" that don't quite belong in any of the categories above.
Happy, happy Christmas, that can win us back to the delusions of our childhood days, recall to the old man the pleasures of his youth, and transport the traveler back to his own fireside and quiet home!
Charles Dickens
Something about an old-fashioned Christmas is hard to forget.
Hugh Downs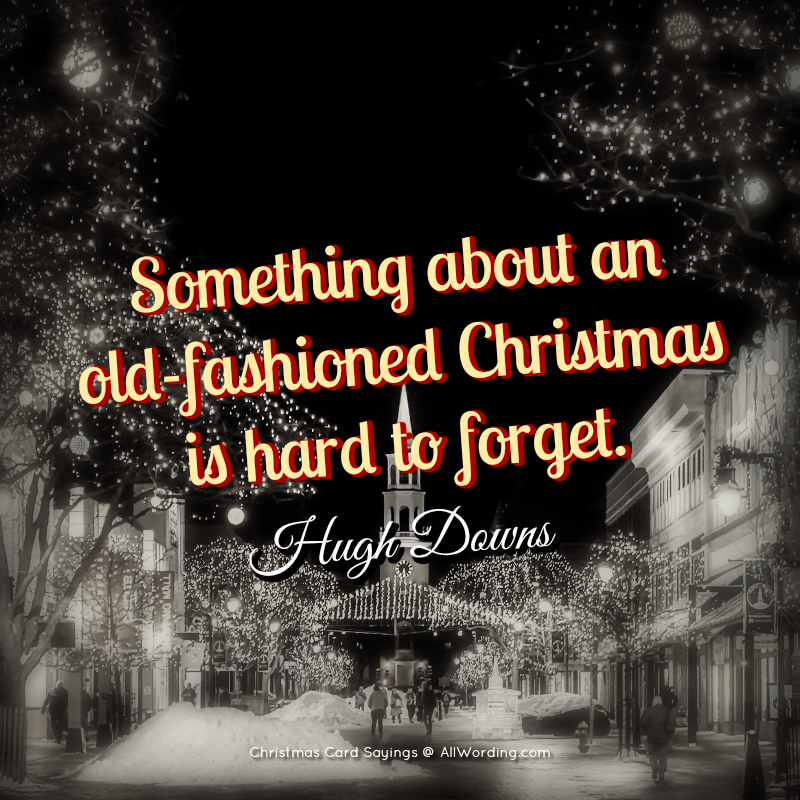 Our hearts grow tender with childhood memories and love of kindred, and we are better throughout the year for having, in spirit, become a child again at Christmas-time.
Laura Ingalls Wilder
One of the most glorious messes in the world is the mess created in the living room on Christmas day. Don't clean it up too quickly.
Andy Rooney
Christmas is for children. But it is for grown-ups too. Even if it is a headache, a chore, and nightmare, it is a period of necessary defrosting of chill and hide-bound hearts.
Lenora Mattingly Weber
Christmas, my child, is love in action. Every time we love, every time we give, it's Christmas.
Dale Evans
When we recall Christmas past, we usually find that the simplest things – not the great occasions – give off the greatest glow of happiness.
Bob Hope
I sometimes think we expect too much of Christmas Day. We try to crowd into it the long arrears of kindliness and humanity of the whole year. As for me, I like to take my Christmas a little at a time, all through the year.
David Grayson
He who has not Christmas in his heart will never find it under a tree.
Roy L. Smith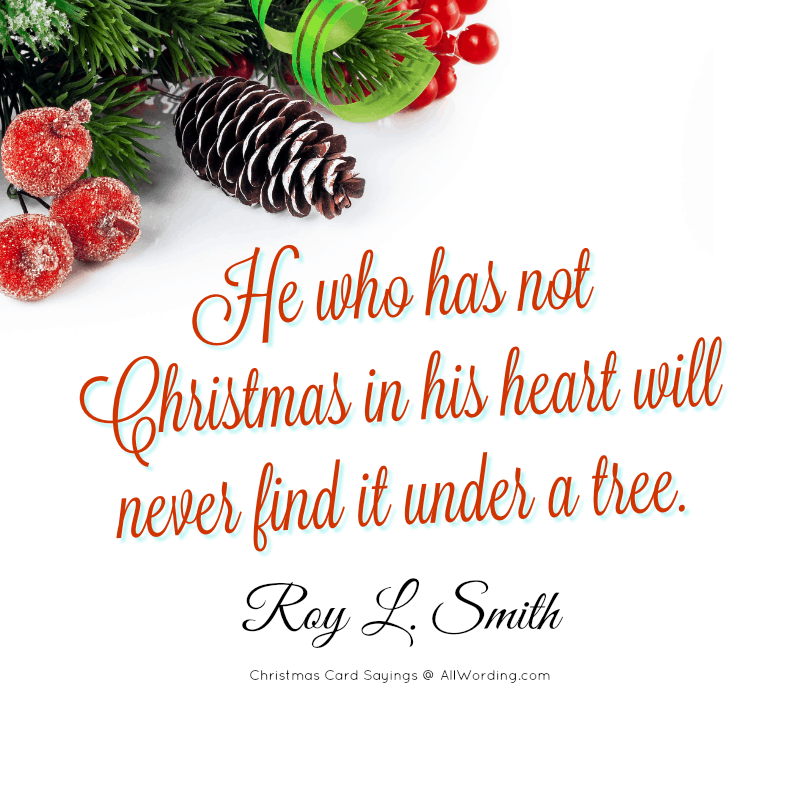 Unless we make Christmas an occasion to share our blessings, all the snow in Alaska won't make it white.
Bing Crosby
Gifts of time and love are surely the basic ingredients of a truly merry Christmas.
Peg Bracken
Christmas, in its final essence, is for grown people who have forgotten what children know.
Margaret Cousins
Christmas – that magic blanket that wraps itself about us, that something so intangible that it is like a fragrance. It may weave a spell of nostalgia. Christmas may be a day of feasting, or of prayer, but always it will be a day of remembrance – a day in which we think of everything we have ever loved.
Augusta E. Rundel
What is Christmas? It is tenderness for the past, courage for the present, hope for the future. It is a fervent wish that every cup may overflow with blessings rich and eternal, and that every path may lead to peace.
Agnes M. Pharo
They err who think Santa Claus enters through the chimney. He enters through the heart.
Charles W. Howard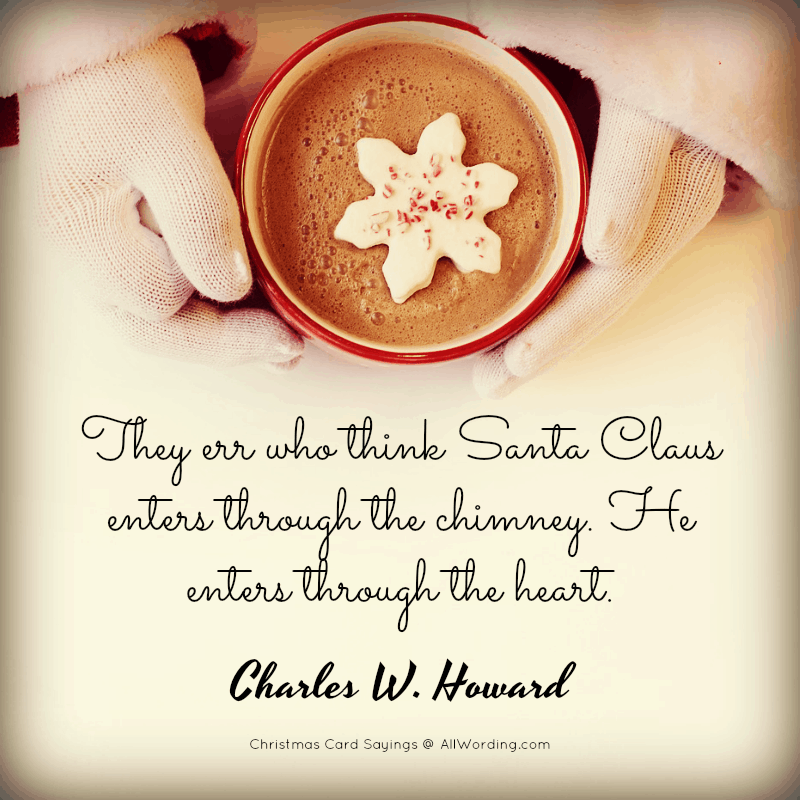 Christmas is not a time nor a season, but a state of mind. To cherish peace and goodwill, to be plenteous in mercy, is to have the real spirit of Christmas.
Calvin Coolidge
Christmas waves a magic wand over this world, and behold, everything is softer and more beautiful.
Norman Vincent Peale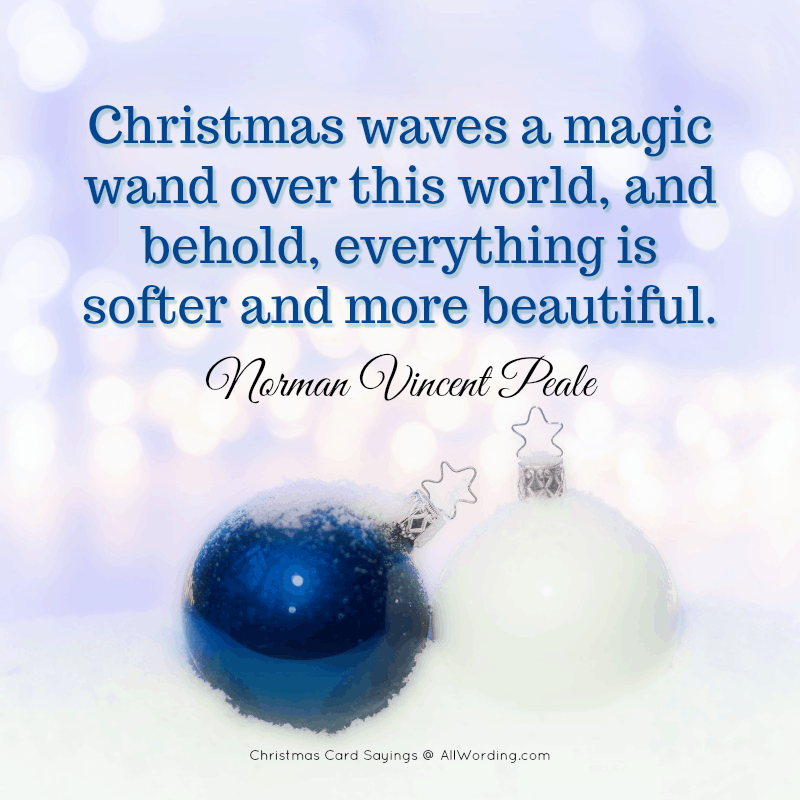 Christmas is not as much about opening our presents as opening our hearts.
Janice Maeditere
Want even more Christmas card sayings? Check out our list of religious holiday messages. Or, for something completely different (and maybe a touch off-color in places), see our list of funny things to write in a Christmas card.