Want to see a grown man get choked up? Ask him to describe how he feels about his daughter. Want to see a grown woman frantically dig through her purse for tissues? Ask her to talk about her feelings toward her dad.
To be sure, not every father-daughter relationship is blissful. In fact, even relatively strong relationships between fathers and daughters can be complicated and imperfect. Still, for many people, this is one of those subjects that's so close to the heart that words often fail.
Then again, words sometimes succeed. Here are 16 famous father-daughter quotes that put this precious relationship into perspective. These short sayings are cute, funny, and most of all, touching. Grab a tissue.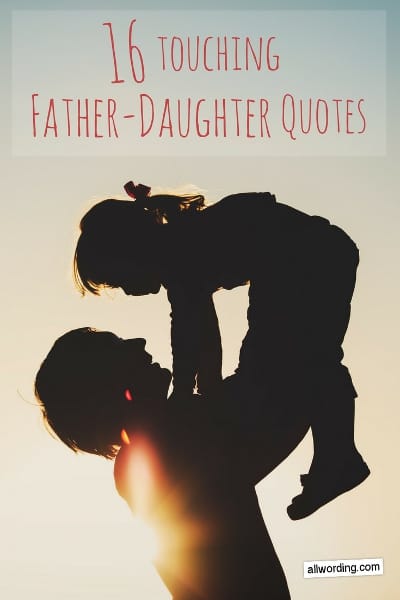 "I am not ashamed to say that no man I ever met was my father's equal, and I never loved any other man as much."

Hedy Lamarr

"A son is a son 'til he gets a wife, but a daughter is a daughter all her life."

Emily Giffin

"It is admirable for a man to take his son fishing, but there is a special place in heaven for the father who takes his daughter shopping."

John Sinor

"The father of a daughter is nothing but a high-class hostage. A father turns a stony face to his sons, berates them, shakes his antlers, paws the ground, snorts, runs them off into the underbrush, but when his daughter puts her arm over his shoulder and says, 'Daddy, I need to ask you something,' he is a pat of butter in a hot frying pan."

Garrison Keillor

"There will always be a few people who have the courage to love what is untamed inside us. One of those men is my father."

Alison Lohman

"A daughter may outgrow your lap, but she will never outgrow your heart."

Anonymous

"To a father growing old, nothing is dearer than a daughter."

Euripides

"A father is always making his baby into a little woman. And when she is a woman he turns her back again."

Enid Bagnold

"A wedding is for daughters and fathers. The mothers all dress up, trying to look like young women. But a wedding is for a father and daughter. They stop being married to each other on that day."

Sarah Ruhl

"When my father didn't have my hand… he had my back."

Linda Poindexter

"Watching your daughter being collected by her date feels like handing over a million dollar Stradivarius to a gorilla."

Jim Bishop

"Clever father, clever daughter; clever mother, clever son."

Russian Proverb

"There's something like a line of gold thread running through a man's words when he talks to his daughter, and gradually over the years it gets to be long enough for you to pick up in your hands and weave into a cloth that feels like love itself."

John Gregory Brown

"Any astronomer can predict with absolute accuracy just where every star in the universe will be at 11:30 tonight. He can make no such prediction about his teenage daughter."

James T. Adams

"Old as she was, she still missed her daddy sometimes."

Gloria Naylor

"I am a princess not because I have a prince, but because my father is a king."

Anonymous
If you're looking for a touching message to share with your Dad on his birthday, be sure to check out this article.